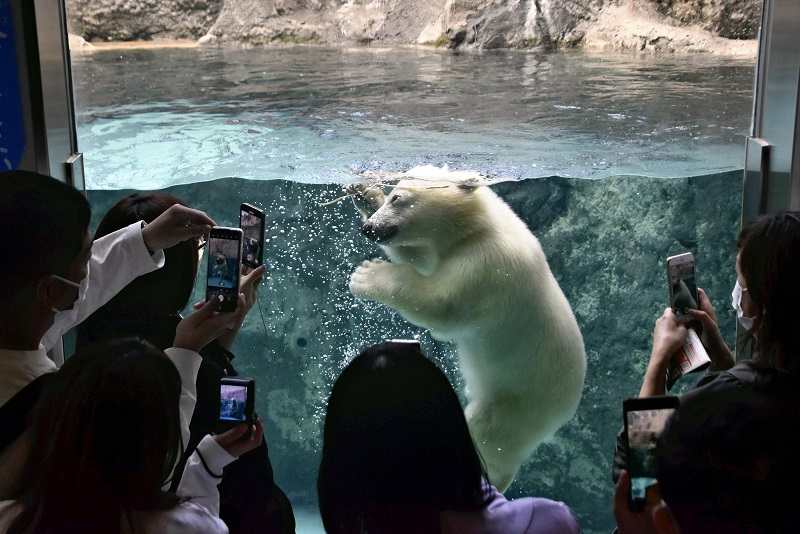 18:17 JST, June 9, 2022
ASAHIKAWA, Hokkaido — A female polar bear cub on display at the Asahiyama Zoo in Asahikawa, Hokkaido, is quickly becoming the zoo's star.
The cub, now about 6 months old and about 80 centimeters in length, is the first polar bear to be born through the zoo's breeding program in 40 years.
"We were finally able to bring in a new generation," said the zoo's director Gen Bando, who has been working with other zoos and organizations nationwide on breeding polar bears.
The parents of the cub — born on Dec. 10, 2021 — are Hokuto, a 21-year-old male from Himeji City Zoo in Hyogo Prefecture, and Pirika, a 16-year-old female at Asahiyama Zoo.
The cub currently spends her days running and swimming in the Polar Bear Pavilion.
"I came to the zoo for the first time in a long time because I heard a cub was born," said a 51-year-old woman from Asahikawa. "She's so cute and active."
In 1974, the Asahiyama Zoo became the first zoo in Japan to successfully breed polar bears and had bred five by 1981. The zoo established an organization to promote breeding in 2011.
Add TheJapanNews to your Google News feed.