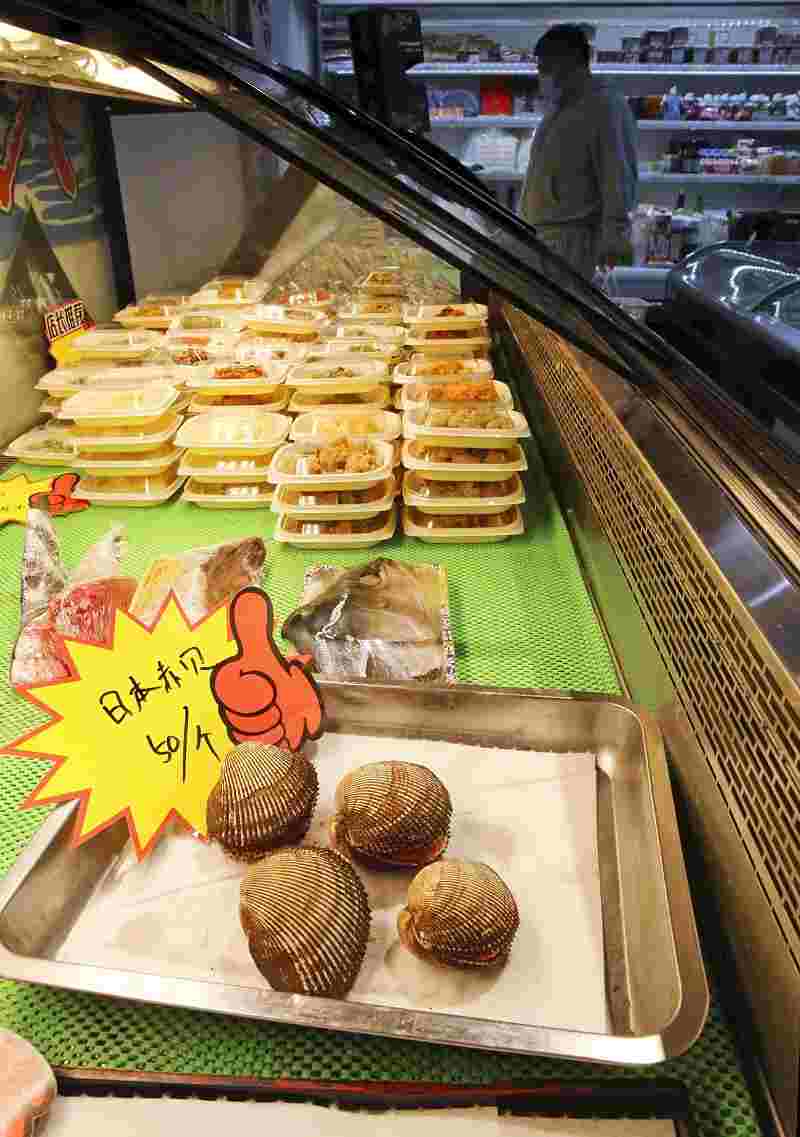 1:00 JST, June 6, 2022
China continues to restrict imports of Japanese foods, including a total ban on fruit and vegetables. Beijing introduced the curbs following the 2011 nuclear accident in Fukushima Prefecture and has continued them waving around theories that are considered to have little scientific ground. While Beijing seems to use the easing of the measures as a diplomatic bargaining chip, the maneuver may impact talks on China becoming a member of the Trans-Pacific Partnership.
Fine quality recognized
"I understand that Japan has strict quality controls," said a 50-year-old clerk at a Japanese foods store in central Beijing. "I'm no longer concerned about [the impact of] the nuclear accident." While the store offers marine products, rice and sake from Japan, it does not sell Japan-grown fruit or vegetables, despite their popularity among Chinese consumers who value their high quality.
A 46-year-old food importer in Dalian, Liaoning Province, said, "Chinese people who have visited Japan recognize that Japanese fruit is sweet and fine in quality."
Beijing initially slapped restrictions on foods produced in Tokyo, Fukushima, and 8 other prefectures. But measures were later introduced for other prefectures, too, including constraints on the import of fruit, vegetables, dairy products and tea leaves, among other items.
When screening food imports for radioactive materials, China looks at strontium levels rather than cesium, whereas most other countries screen for cesium. Beijing refuses to budge on this stance. It takes about two weeks to determine radioactive strontium levels in food items, during which time perishable foods will begin to deteriorate, leading to a higher number of items being subject to import restrictions.
Two-decade ban
China's ban on Japanese beef imports has been in place for over 20 years. The ban was introduced following an outbreak of Bovine Spongiform Encephalopathy (BSE) in Japan in 2001. However, there have been no cases of BSE in Japan-born cows since January 2002. Beijing has retained the ban, despite the widespread popularity of wagyu (Japanese cattle) meat in China.
The interdict has even led to instances of wagyu smuggling: At the end of March, a ship carrying about 80 tons of special-brand wagyu and other Japanese meats — worth about ¥1.2 billion — was seized by authorities off the coast of Shandong Province. According to a diplomatic source in Beijing, it was highly likely the foods came via Cambodia, the biggest importer of Japanese beef in 2020 and 2021.
"Taking such a detour means costs go up and the safety of the meat declines, which is bad for Chinese consumers," said a restaurant-related official in Beijing.
Gauging the mood
In the wake of the Fukushima nuclear accident, as many as 55 countries and regions placed import restrictions on certain foods from parts of Japan, either by halting imports entirely, or demanding that foods be accompanied by documentation proving they had undergone radiation inspections.
Today, 14 countries and regions have still continued the restrictions, and four of them — including China and South Korea — ban imports of Japanese foods.
In late February, however, Taiwan lifted its ban on food products from Fukushima and four other prefectures. Britain also is expected to lift related restrictions by the end of June. According to government sources, Japan contacted the two governments to ask them to lift their embargoes, asserting that Japan-made foods are safe as they have been subject to stringent inspections on radioactive materials.
China is a different story, however. According to a source with knowledge of Japan-China relations, Chinese custom officials "won't even pick up the phone" when the Japanese side calls in hope of negotiating the matter.
But following a 2018 visit by then Prime Minister Shinzo Abe, China removed restrictions only on rice from Niigata Prefecture. Some observers say China is easing its import restrictions little by little so it can tout the move as an achievement during summit talks and other exchanges with Japan.
Later this year, Beijing and Tokyo will mark 50 years since normalizing diplomatic ties. Yet, under the current circumstances, working-level officials in China "are somewhat reluctant to agree to talks with Japan, after gauging sentiment among the upper ranks," the source with knowledge of Japan-China relations said.
China, Taiwan, and Britain are all keen to join the TPP. But the free-trade bloc stipulates that sanitary and plant-quarantine measures aimed at ensuring food safety must be based on scientific grounds. According to a source with knowledge of TPP negotiations, however, China "is nowhere near the starting point in terms of negotiating its entry into the bloc," due to its tendency to ease restrictions based on political motives, rather than on scientific grounds.
Add TheJapanNews to your Google News feed.