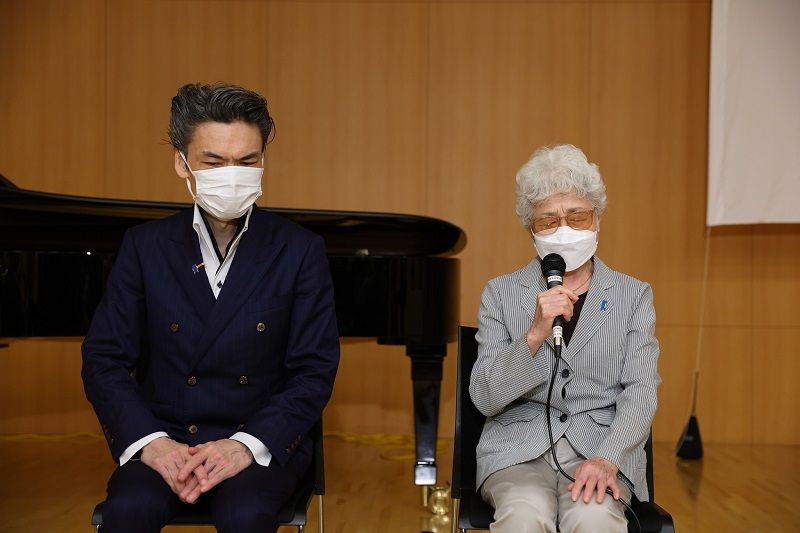 14:39 JST, June 5, 2022
KAWASAKI, Kanagawa, (Jiji Press) — Sakie Yokota, mother of Megumi, who was abducted by North Korea in 1977, said Saturday that she still feels the presence of her husband, Shigeru, who died two years ago.
"I really miss him, but I feel like he is still around me," Sakie, 86, told reporters on the day before the second anniversary of Shigeru's death.
Shigeru, who died at 87, established in 1997 a group of relatives of Japanese nationals abducted by North Korea and served as its first leader.
He devoted himself to holding lectures and running signature campaigns in order to realize an early return of his daughter, who was 13 when kidnapped, and other abductees.
"I just keep remembering our memories endlessly, such as us drinking together and me running after him, who walked as if he were running," Sakie said.
They used to sit side by side to eat dinner at home, according to Sakie.
Sometimes, she forgets that he is gone and tries to start conversations with him.
"Such moments make me realize that he is really gone, and I get teary and talk to him seeing his pictures," she said.
Sakie said that her older brother who lived in the western prefecture of Kyoto died on May 17 this year.
"I know that everyone has their turn to leave, but it still makes me sad," Sakie said.
Sakie said she says good morning to Shigeru's picture, put up at her home, every day and sometimes offers flowers and alcoholic beverages he liked.
"A long time, I don't even want to say how long, has passed" since the abduction of Megumi, the mother said.
"I wonder if this is really right," she added, sounding frustrated by a lack of progress over the abduction issue.
Add TheJapanNews to your Google News feed.