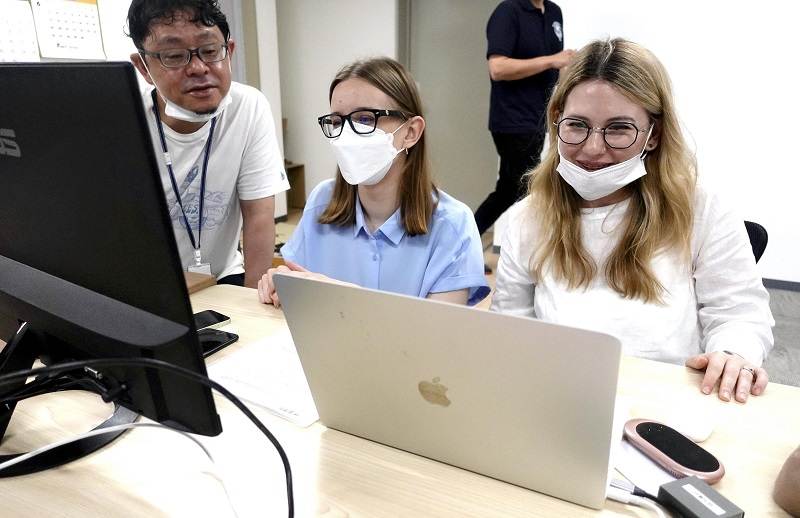 20:00 JST, June 4, 2022
Many of the Ukrainians who fled to Japan following Russia's invasion of their country are voicing concerns about their long-term prospects here.
Thursday marked three months since the government started accepting Ukrainian refugees, and more than 1,000 such individuals have embarked upon a new life in Japan with support from the private sector.
Olena Patrikei, who lived in Kyiv, started work Wednesday at welfare company Anispi Holdings Inc. in Tokyo. "I'd like to make character goods to promote the company," she said with a smile. Patrikei had worked as a designer in her home country.
In March, Anispi announced on its website that it would provide housing and job assistance to displaced Ukrainians. Patrikei, 29, learned of the offer from an acquaintance and arrived in Japan on May 6. She now lives and works at the company's facility in Funabashi, Chiba Prefecture.
Kyiv was exposed to heavy bombing and Patrikei could only evacuate with a single small backpack. The ¥100,000 she received from Funabashi City for clothing and daily necessities did not last long.
Though she has managed to secure a job, Patrikei still worries about her husband and parents who remain in Kyiv. When asked to move out of her apartment in the capital, she donated all her household goods to local residents who had lost their homes.
But Patrikei is worried about how long her present lifestyle will continue.
According to the Immigration Service Agency of Japan, as of May 31, 1,154 displaced Ukrainians had entered Japan. About 70, who have no relatives here, live in temporary accommodation provided by the government and receive a maximum of ¥1,000 per person per day.
The agency has been interviewing the refugees to help with housing, employment, schools, and introductions to local governments that have offered support. So far 20 people from 10 families have been accepted by local governments. After they move to Tokyo, Kanagawa, Aichi, Osaka, and other prefectures, their daily cash handout will increase to ¥2,400.
The government does not dispense living expenses if a displaced person has relatives or acquaintances in Japan who can act as a guarantor, on the grounds that a certain level of support is already available.
However, there have been cases in which refugees with relatives in Japan have been unable to find jobs and have subsequently fallen into poverty.
A 44-year-old Ukrainian woman who came to Japan in March with her three children had an acquaintance here who acted as her guarantor, but the person could not be relied upon financially. The woman's savings quickly ran out due to travel and food expenses. The woman, who speaks no Japanese, began working part-time in April at a transportation company, where she receives a modest income by putting flyers into envelopes. In Ukraine, she had worked as a psychotherapist.
"I smile in front of my children, but sometimes when I'm alone, I can't hold back my tears," she said.
The Tokyo Labor Bureau reports that Hello Work job placement offices in Tokyo had received about 10 inquiries for employment from displaced Ukrainians as of the end of May. However, none secured a job, as they spoke no Japanese.
Some refugees have started attending Japanese language classes, but classes are often held during the day on weekdays, making it difficult to balance work and lessons.
"Some guarantors can't financially support people in their homes," said Yuria Yokoyama of the Japan YMCA, a group supporting Ukrainians in Japan who fled their country. "We have to think about long-lasting support for each individual, with cooperation from the public and private sectors."
Add TheJapanNews to your Google News feed.