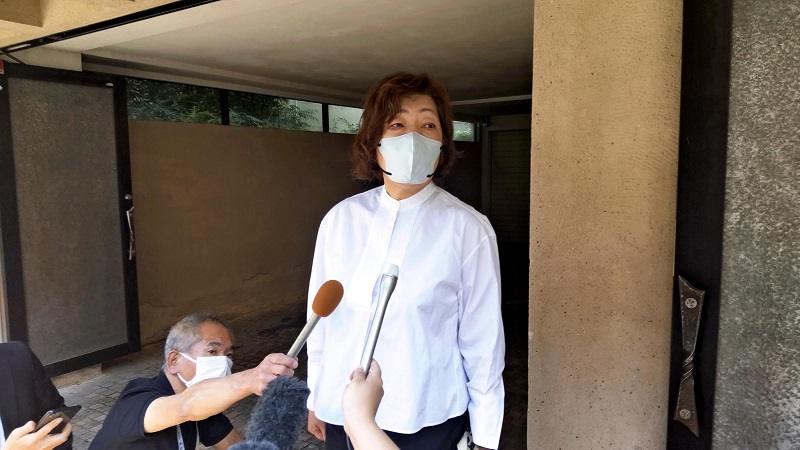 15:50 JST, June 2, 2022
Writer Mariko Hayashi has been unofficially named the new chairperson of Nihon University in Tokyo, after the school was shaken by criminal offenses by a former chairperson and other senior executives, according to sources.
"I was worried for the university as a graduate," Hayashi told reporters Thursday morning. "My desire to do something for my alma mater hasn't wavered."
The university's chairperson selection committee nominated Hayashi as a candidate to be the next chairperson on Wednesday. It is expected that her candidacy will be approved by the governing board of the university on Friday and she will officially assume the post in July.
"I am just a candidate today, so I can say nothing," Hayashi said. "Of course, I have a mind to accept the offer. If it becomes official, I'd like to tell you many things."
According to the sources, the six-member committee, which consists of four members from outside the university and two internal members, tried to select candidates from among former presidents of other universities and former bureaucrats. Since all of them declined the offer, the committee came up with the idea to ask Hayashi, a graduate of the Nihon University's College of Art.
The university has suffered several scandals in recent years. A former member of the governing board was indicted for breach of trust over a hospital affiliated with the university, and Hidetoshi Tanaka, 75, the university's previous chairperson, was found guilty of violating the Income Tax Law. A third-party committee formed after those cases compiled a report in March, which pointed out that the root of the problems was in Tanaka's dictatorial regime. In April, the university submitted to the Education, Culture, Sports, Science and Technology Ministry a report on governance reform, which said the new chairperson would be selected from among people who have never been involved in the management of the university.
Hayashi received the Naoki literary prize in 1986 for her short novels "Saishubin ni Maniaeba" (If I can catch the last flight) and "Kyoto made" (To Kyoto). She was awarded the Medal with Purple Ribbon in 2018. Since 2020, she has been serving as the chief director of the Japan Writers' Association.
Add TheJapanNews to your Google News feed.