Damage spotted on hull of salvaged Kazu I sightseeing boat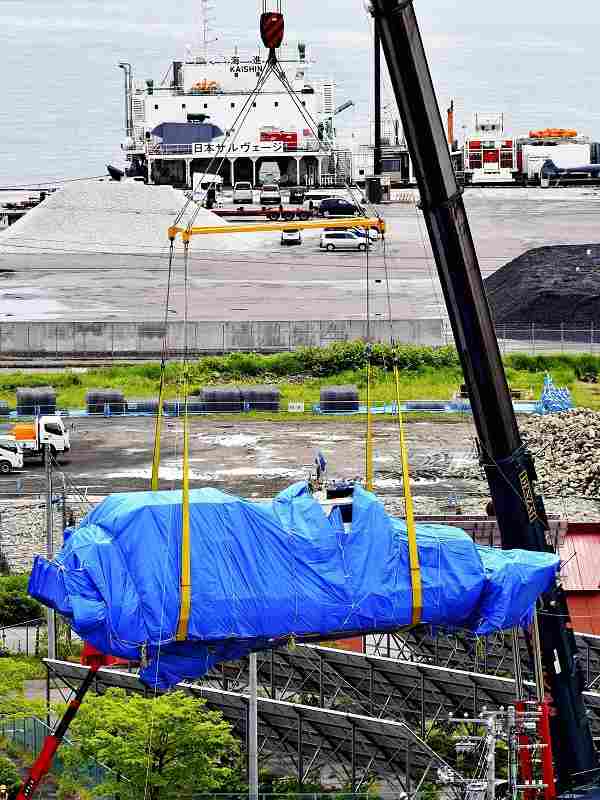 15:11 JST, June 2, 2022
Holes and cracks have been observed on the bottom of the salvaged hull of the Kazu I sightseeing boat that sank off the Shiretoko Peninsula in Hokkaido in April. The damage might have been caused after the vessel sank. The 1st Regional Coast Guard Headquarters is conducting a detailed examination to determine if the damage is linked to the fatal accident.
Of the 26 people who were aboard the Kazu I sightseeing boat when it sank, 14 have been confirmed dead and 12 remain unaccounted for.
The salvaged hull was unloaded from a barge at Abashiri Port in Hokkaido on Wednesday morning and shown to the family members of the victims later that day.
Twenty-seven people from nine families attended a ceremony and laid flowers at the site where the hull is being stored. Some family members cried when they saw the hull, according to Nobuaki Yokouchi, deputy director of the headquarters' Guard and Rescue Department.
He said they asked the coast guard "to conduct a thorough investigation to find the cause of the accident."
The initial 40-day search operation involved about 600 ship outings, including civilian boats, and 240 flights, according to the coast guard. An intensive search operation was conducted on May 29-31 with the cooperation of the Self-Defense Forces and police but Japanese authorities have not recovered any bodies since April 28.
When the Kazu I was moved ashore on Wednesday, damage such as holes and cracks was visible on the bottom of the hull through gaps in the tarpaulins covering the vessel.
People aboard the Kazu I reported that the ship's bow had been flooded and the engine had stopped before it sank on April 23. However, some experts doubt that the damage observed on Wednesday could have caused the accident.
"If the ship had run aground, there would have been bigger marks and holes," said Hiroyasu Ito, a former Japan Coast Guard vice commandant for operations and chairman of the Maritime Disaster Prevention Center.
The Kazu I was recovered from the seabed at a depth of about 115 meters on May 23. When it was being transported underwater the following day, belts used to tow the vessel broke, causing the hull to sink back down to the seabed to a depth of 182 meters.
According to Ito, the damage observed on Wednesday could be the result of the towing mishap.
If seawater had entered the engine room, the engines would have shut down, said Kobe University Prof. Nobukazu Wakabayashi of the maritime science department, who is an expert on marine accidents.
"There was a hatch at the bow. Water may have got in from here," Wakabayashi said. "An internal bulkhead usually prevents water from flooding the entire vessel, but due to aging of the hull or other technical issues, [the bulkhead] might not have been functioning properly."
Atsushi Toyama, the executive director of Marine Rescue Japan, said: "It will be necessary to inspect each and every bit of damage on the hull. It'll take a lot of time."