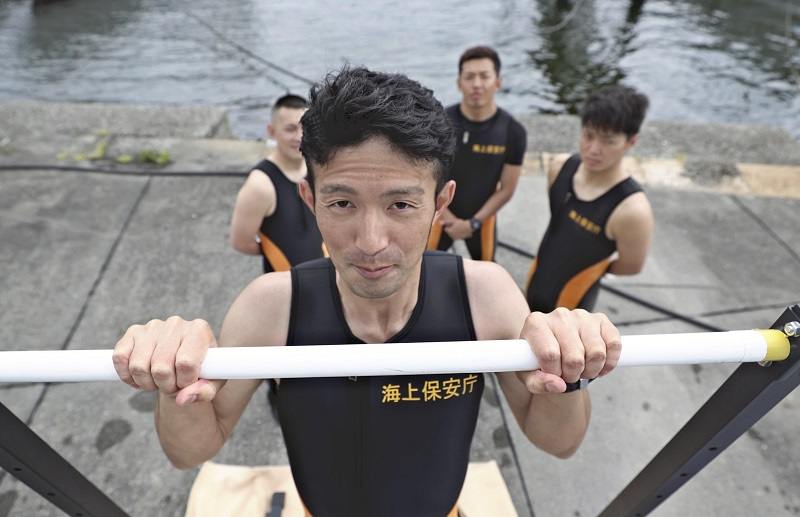 12:54 JST, May 28, 2022
No one can accuse Coast Guard diver Kenta Adachi of not pulling his weight. He did it 651 times with consecutive pull-ups, landing him in a place in the Guinness World Records.
"Pull-ups allow me to work on my upper body evenly," said the 34-year-old Adachi, who is currently assigned to the Tokuyama Coast Guard based in Shunan, Yamaguchi Prefecture. "I can make use of it when rescuing someone who is stranded."
Adachi, who joined the Coast Guard after seeing it featured in the movie "Umizaru," was a member of the Takamatsu Coast Guard when he made his world record attempt for consecutive pull-ups on March 4 at a rental studio in Takamatsu.
Proceeding according to the Guinness rule of "at least one pull-up within 15 seconds," he set off on the challenge that was captured on video. The 651 were completed in 1 hour 27 minutes.
The Shunan native was 19 when enrolled in the Japan Coast Guard School in Maizuru, Kyoto Prefecture, having been inspired by "Umizaru," in which Coast Guard divers play an important role.
During the physical fitness test, he could only do 12 pull-ups. The frustration over that result motivated him to get in better shape, and started a training program at the gym and at home. Even at sea, he uses any horizontal bar he can find on the ship.
Since fulfilling his dream and becoming a diver in 2012, pull-ups have become indispensable for improving his stamina for diving.
In April of this year, he was assigned to the Tokuyama Coast Guard. He is a navigation officer on the patrol vessel Kurokami, and also heads a squad of four divers.
On May 17, he received his Guinness World Records certificate. According to Guinness World Records Japan, there had been no previous world record for consecutive pull-ups, and the criteria for setting the record was set at a minimum of 530.
"It gave me confidence for the tough job I do," Adachi said. "It would make me happy if serves to raise morale and the desire to improve of my junior colleagues. I still don't want to lose, but I want to set a good example."
Add TheJapanNews to your Google News feed.