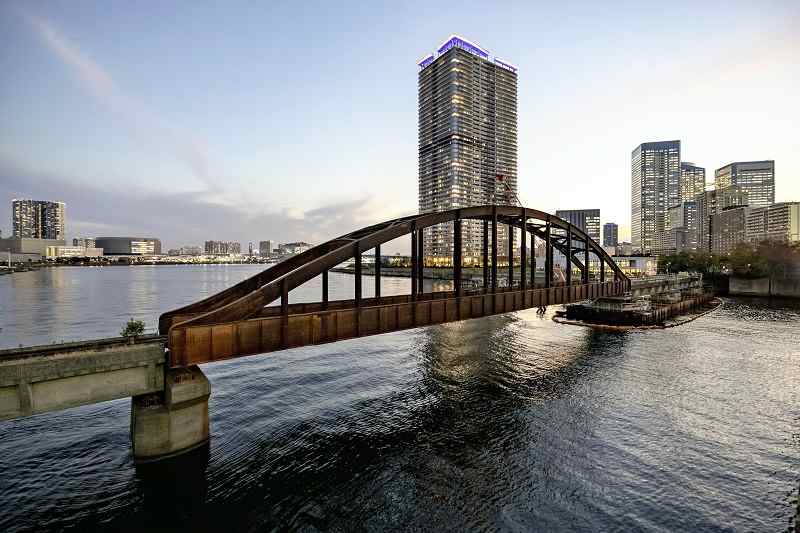 7:05 JST, May 27, 2022
Estimates of casualties and damage to property following a major earthquake in the Japanese capital have fallen about 40% from forecasts made in 2012 thanks to progress in making homes and other buildings more earthquake resistant, and improved fire-prevention measures.
The figure relates to a potential magnitude 7.3 quake in the southern part of central Tokyo.
New, related challenges have emerged, however, according to a report released Wednesday by the Tokyo metropolitan government that says social changes over the past decade have led to an increase in the number of condominium towers in the city.
Naoshi Hirata, a professor emeritus at the University of Tokyo and head of the metropolitan government's panel of experts who compiled the report, said, "[The declines] indicate that anti-quake measures are gradually being implemented thanks to the efforts of individuals and society."
According to the report, the percentage of quake-resistant buildings rose about 11 percentage points from 2012.
At the end of fiscal 2012, populated areas with wooden houses and narrow alleys covered about 16,000 hectares, but this figure had halved to about 8,600 hectares by the end of fiscal 2020 following work to make areas more fire-resistant by expanding road widths, building parks and demolishing vacant houses, among other approaches.
The report says it is possible to further limit damage by implementing more anti-quake measures. For example, it posits that deaths due to the collapse of or damage to residential buildings would decrease by 60% from the latest estimate if 100% of buildings were built or retrofitted to meet earthquake resistance standards. The report also suggests that if all old buildings were reconstructed to satisfy quake-resistance standards introduced in 2000, the death toll would be half that of the scenario in which 100% of buildings meet quake resistance standards.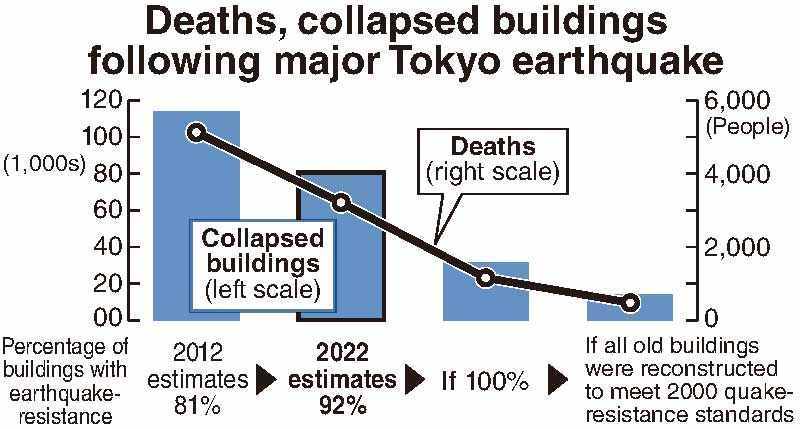 The report notes that some aspects of present-day circumstances could not be foreseen 10 years ago. One example cited is an increase in condominium towers higher than 45 meters: In fiscal 2020, there were 3,558 such buildings in Tokyo, up 40% from 2,481 in fiscal 2010.
If elevators stop operating in a condominium due to a disaster, moving to and from the ground floor becomes problematic. The report warns that it would be difficult to rescue injured people on upper floors, and says supplies stockpiled at home — such as food, drink and portable toilets — will run out.
The report also estimates that there are about 22,000 elevators in Tokyo incapable of stopping at the nearest floor in the event of an earthquake, meaning people could become trapped inside in the event of a disaster.
The report also says the percentage of households owning smartphones has increased from 14.6% to 93% in the 10 years to 2020. It notes the possibility that smartphone batteries could run out within a day or so after an earthquake, and that telecommunications might be disrupted for a week or more if rolling blackouts are implemented.
The report also warns of heatstroke-related concerns during evacuation, as air conditioners at evacuation centers may be unusable if rolling blackouts coincide with an earthquake in the summer, when the supply of electricity becomes tight.
"There are still many challenges to overcome, including those unique to large cities," Hirata said. "Because of the aging of the population, for instance, the rate of organization of volunteer groups for disaster resilience has faltered."
Add TheJapanNews to your Google News feed.