Shops introduce countermeasure to stem abuse of self-checkout system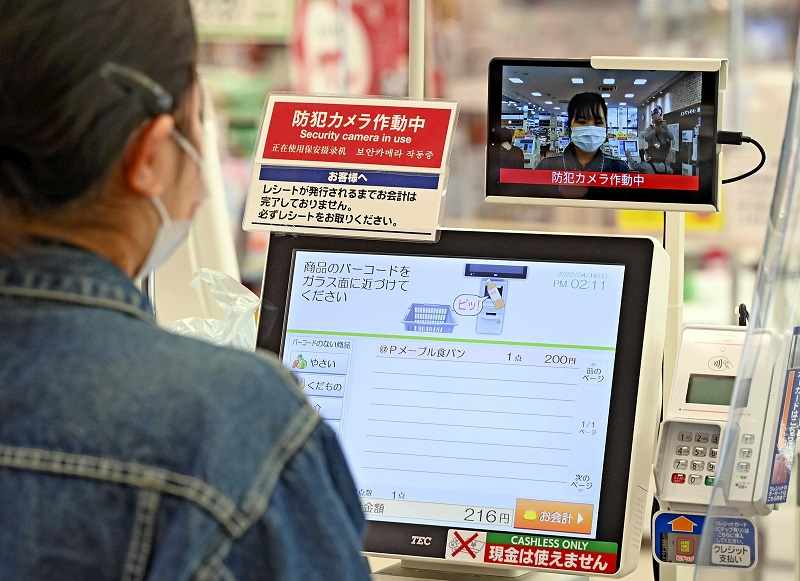 2:00 JST, May 25, 2022
Supermarkets and other retailers are suffering losses due to the malicious exploitation of self-checkout systems.
Thefts involving the systems — in which shoppers scan their own purchases and pay for goods without the involvement of store employees — have skyrocketed of late.
Stores are increasingly installing self-checkout systems to cut manpower costs, but the reduction in personnel on the scene is being exploited by thieves. Retailers are thus stepping up countermeasures, such as attaching cameras to checkout machines to monitor shoppers' hands.
According to the National Supermarket Association of Japan, self-checkout systems were initially introduced by large retailers in 2003. A survey conducted in 2021 found that 23.5% of shops had full-checkout systems — allowing customers to conduct the entire process themselves — increasing from 11.4% in 2019.
The inclusion of partial-checkout systems, in which shop employees scan barcodes for products and shoppers use the system to pay, drives the percentage even higher, showing higher uptake of the technology.
Staff shortages underpin the spread of self-checkout systems. Efforts to reduce direct contact between shop workers and shoppers amid the novel coronavirus pandemic have also played a role. But adoption of the technology has led to an uptick in thefts due to a lack of staff to monitor customers.
Yu Ito, a security guard in Tokyo, says some stores have suffered an about 30% increase in losses after installing self-checkout systems.
To steal goods, some shoppers cover up the barcode and pretend to scan items. In another method, thieves will place expensive items on the shopping cart frame under the main basket and leave the store without paying.
National Police Agency statistics for 2020 show that thefts employing one of six methods including snatch-and-grab and car theft — though excluding break-ins — have decreased by 70% to 90% over the past 10 years, while shop-related thefts have decreased by only 40%.
"It's becoming increasingly important to introduce countermeasures against self-checkout crimes," Ito said.
Hard to prove intent
"I thought I'd correctly completed payment at checkout, but I was wearing earphones so I wasn't sure whether there were sounds to confirm my items had been scanned," said a teenage girl when confronted by a Tokyo supermarket worker on suspicion of theft.
Despite her statement, a security worker spotted her secretly bagging about 20 items, including snacks and cosmetics, after pretending to scan the barcodes. The store reported the case to police.
In another case, a woman in her 40s was charged for failing to pay for a water tank in her shopping cart in a Nara supermarket. However, the Nara District Court acquitted the woman in January, stating that she was likely concentrating on dealing with her other purchases at the self-checkout machine, and it was not unnatural that she forgot to scan the water tank. Prosecutors did not appeal and the woman was found not guilty.
An official of a nationwide major supermarket chain said: "Conventional shoplifters are easy to recognize as they just pilfer items while in shopping areas. But at self-checkout machines, it is difficult to determine criminal intent, as people can make errors while interacting with the technology."
Monitoring faces
Stores are implementing tighter countermeasures to reduce self-checkout-related losses.
In February, supermarket chain Okuwa Co., which operates about 150 stores in the Kansai and Chubu regions, installed monitors on two self-checkout machines at its headquarters store in Wakayama City to display shoppers' faces during the checkout process.
"We hope the feeling of being watched will help discourage theft," an employee in charge of the system said.
Another major supermarket chain in the Kansai region uses self-checkout systems at 28 of its stores, and a shop clerk is assigned to monitor the area around the machines in each store. Cameras display and record shoppers' hands, and a system confirms that shopping basket weight tallies with the weight of the purchased items.
"It's effective to install high-performance cameras at self-checkout systems to monitor shoppers' eye and hand movements," said Tomoo Okubo, an associate professor specializing in criminal psychology at Kagawa University. "It's also essential to assign employees to appropriate areas to help deter crime."
Add TheJapanNews to your Google News feed.