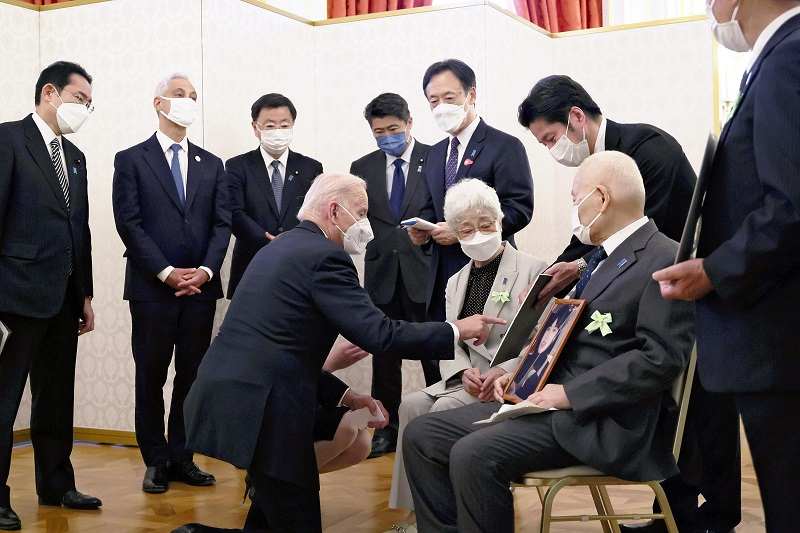 15:01 JST, May 24, 2022
Family members of Japanese nationals abducted by North Korea met U.S. President Joe Biden at the State Guesthouse in Motoakasaka, Tokyo, on Monday.
In a press conference after the 30-minute meeting, the relatives said Biden told them he is praying for a solution to the abduction issue and that the families have the support of his administration.
Eleven relatives from eight families attended the private meeting, including Sakie Yokota, 86, the mother of Megumi Yokota, who was abducted by North Korea in 1977 at the age of 13.
Prime Minister Fumio Kishida and Chief Cabinet Secretary Hirokazu Matsuno, the minister in charge of the abduction issue, also attended the meeting.
According to the participants, Biden shook hands with each of the family members, looked at photos of the abductees and listened intently as they spoke.
The U.S. president kneeled when speaking to Sakie and Akihiro Arimoto, 93, who were both seated due to old age. Arimoto is the father of Keiko Arimoto, who was 23 years old at the time of her abduction in 1983.
Biden reportedly hugged Sakie and told the pair that losing his son to illness and his daughter in a car accident meant that he understood what it felt like for a parent to lose a child.
In the press conference after the meeting, Sakie said next year she will be the same age as her late husband Shigeru when he passed away.
"I just want to see Megumi again. I want all the victims to return home," she said, hopeful of Biden's cooperation.
Biden is the fourth U.S. president to meet the families of abductees, following George W. Bush, Barack Obama and Donald Trump.
Takuya Yokota, 53, Megumi's younger brother and the leader of the Association of the Families of Victims Kidnapped by North Korea, was among the relatives who spoke with Biden at the meeting, which he claimed would send a strong message to North Korea.
"I realized that the United States is taking the abduction issue seriously," Takuya said at the press conference.
He also urged the Japanese government to "take responsibility and promptly lead the way so that all abductees can immediately return to Japan."
Add TheJapanNews to your Google News feed.