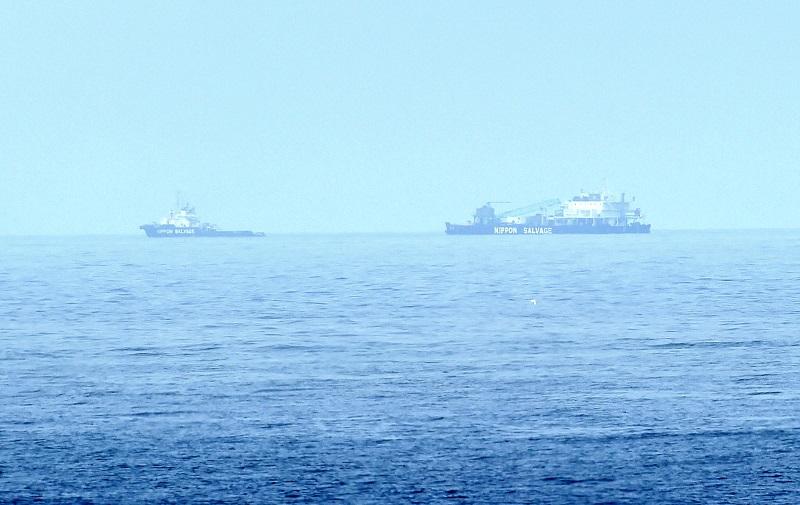 17:05 JST, May 24, 2022
The Kazu I sightseeing boat that sank off Hokkaido last month with 26 people aboard fell to a depth of 182 meters while being towed as part of salvage operations, the 1st Regional Coast Guard Headquarters said Tuesday.
The mishap occurred about 11 kilometers west of Utoro fishing port in Shari, Hokkaido, sometime between 8 a.m. to 10 a.m. Tuesday. The coast guard was notified at about 10:20 a.m.
The tour boat had been raised to about 20 meters below the ocean surface by a work barge, after sinking off the Shiretoko Peninsula on April 23.
An unmanned underwater vehicle equipped with a camera confirmed Tuesday that the ship sank with its bottom down and no major damage was apparent. The Kaishin work barge is operated by Nippon Salvage Co., which has been tasked with search operations by the Japan Coast Guard.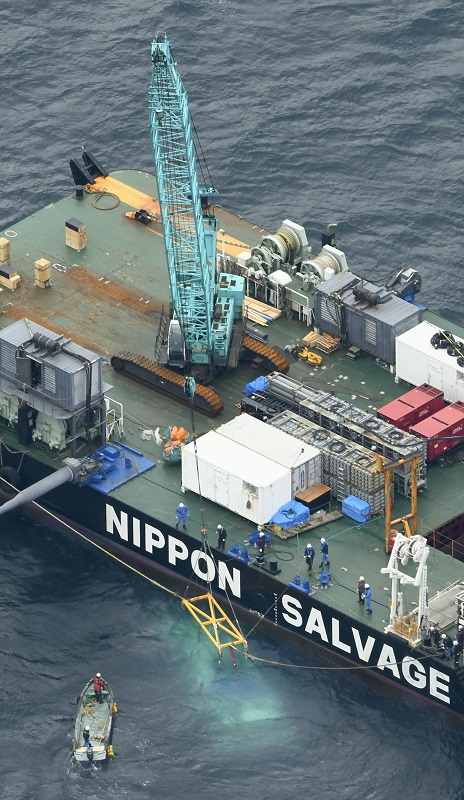 On Monday, the work barge used wires to raise the Kazu I to about 20 meters below the sea surface from a depth of about 115 meters. It then began towing the boat toward an area of shallow water about seven kilometers off the town of Shari. The Kazu I was supposed to be lifted onto the anchored barge there.
The boat is expected to be hoisted up again through saturation diving, in which divers will live in a special pressurized environment to become accustomed to the pressure they will experience at the depth of the stricken boat.
Divers will adapt themselves in a pressurizing chamber on the barge and then descend into the sea using an underwater elevator.
Govt to revoke license
The Land, Infrastructure, Transport and Tourism Ministry said Tuesday it will revoke the license of Shiretoko Pleasure Boat, the company that operated the Kazu I, The Yomiuri Shimbun has learned.
Minister Tetsuo Saito announced the decision, based on the Marine Transportation Law.
The ministry also disclosed Tuesday the results of a special audit conducted on the company after the accident, an audit that found 19 violations of the law. The ministry notified the company that it would conduct hearings necessary for administrative action at the Hokkaido Transportation Bureau in Sapporo on June 14.
Necessary measures will be taken immediately after the hearings.
"The company is highly likely to cause another serious accident if it continues operations without any improvements," Saito said at a press conference after a Cabinet meeting. The revocation of a business license is the most serious administrative penalty under the law, and this would be the first case of a license being taken away after an accident.
Add TheJapanNews to your Google News feed.