Fast, safe bullet trains going strong for 30 years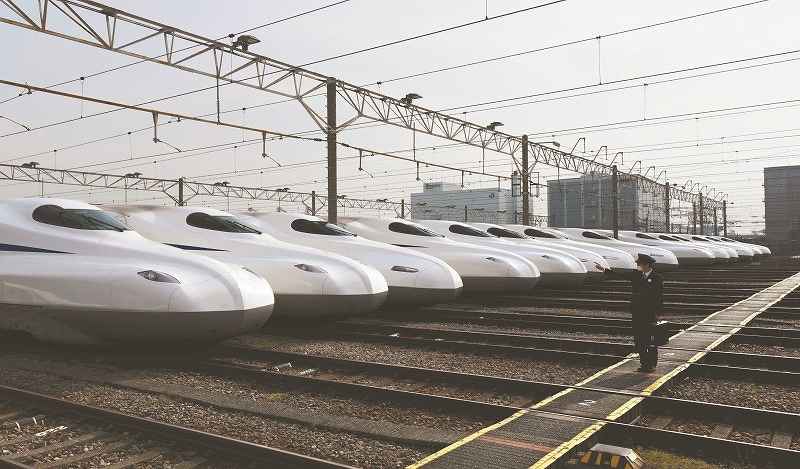 15:17 JST, May 22, 2022
Nozomi bullet trains, the fastest among the Tokaido Shinkansen rolling stock connecting Tokyo and Osaka, celebrated their 30th anniversary of service in March.
The train is now a must-use for business travelers and holidaymakers, but many people in Tokyo have been involved in its operation behind the scenes.
Before the Nozomi series, the older Hikari bullet trains took 2 hours and 49 minutes to run between Tokyo and Shin-Osaka stations. Nozomi trains reduced the time to 2 hours and 30 minutes when they entered service in March 1992. The remodeled Nozomi N700S, the top speed of which is 285 kph, was introduced in July 2020 and now covers the distance in about 2 hours and 20 minutes at the fastest.
The safety of the Nozomi trains is kept up to snuff at the Oi railway depot in Shinagawa Ward, Tokyo, where train cars are examined and repaired.
The most eye-catching sight at the depot is a yard with a series of outdoor tracks to accommodate Shinkansen trains that have completed inspection. At most, nearly 20 bullet trains sit on the tracks side by side, a spectacular sight.
When a Shinkansen train undergoes inspection, each car is scrutinized by a team of two mechanics who check that the driver's cab and the underfloor equipment are properly installed. They also exchange worn-out parts.
"I have good memories about Nozomi because it's the first Shinkansen train I rode, when I was going to my company's entrance ceremony," said Masato Sakaino, 35, who works at the depot. "I want to continue working with a high level of safety awareness so that people can keep making safe and comfortable train journeys on Shinkansen."
The birth of the Nozomi series required tackling numerous challenges related to speeding up Shinkansen services.
In 1972, when the bullet train line was operated by the now-defunct Japan National Railways, a 951-series test train recorded 286 kph — the world's fastest train speed at the time — in a trial run between Nishi-Akashi and Himeji stations in Hyogo Prefecture. The test train was subsequently used in tests that provided the basis for development of new train cars at what is now the Railway Technical Research Institute in Kokubunji, Tokyo, thereby contributing to the better performance of train cars.
Now, one of the test train cars is used as a Shinkansen museum, which is located in front of the institute.
The Nozomi series has increased its speed and safety for 30 years. While I look forward to the launch of Linear Chuo Shinkansen maglev train services, I would like to continue looking at the progress of Nozomi trains, because it has served as a main artery of railway transportation.