Salvage operation begins to raise sunken Hokkaido tour boat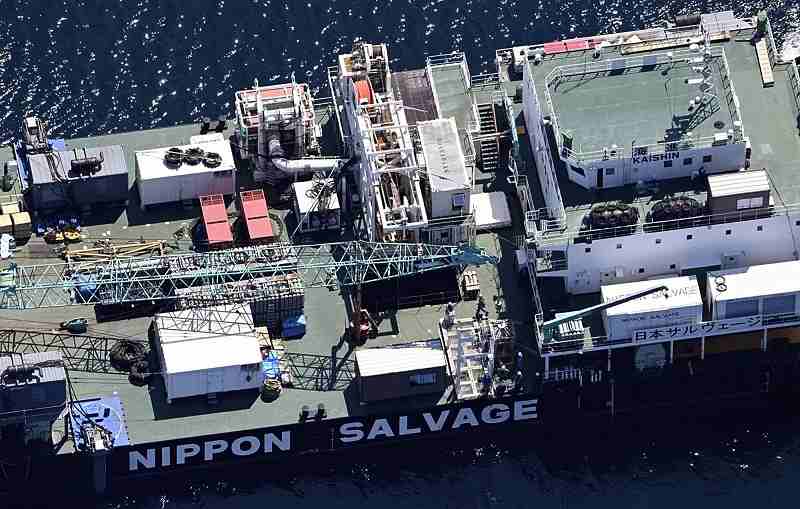 16:22 JST, May 21, 2022
SHARI, Hokkaido — Preparations have begun to raise the Kazu I sightseeing boat that sunk off the Shiretoko Peninsula in Hokkaido with 26 people aboard, the 1st Regional Coast Guard Headquarters said Saturday.
According to the headquarters, the salvage operation began shortly before 8 a.m. after saturation divers descended to a depth of about 100 meters to reach the stricken vessel. The divers planned to close the boat's cabin doors to prevent equipment and other items from falling out while being raised. A forecast of stormy weather prompted a decision not to work in the afternoon.
The salvage operation involves raising the Kazu I from above to a depth of 10 meters to 20 meters below the sea surface, then transferring it — at that depth — to an area off Abashiri Port in Hokkaido. After being brought aboard the Kaishin work barge, the Kazu I will be drained and unloaded onto dry land, likely some time next week.
Of the 26 people on board, 14 have been confirmed dead and 12 remain missing. Divers conducted an internal search of the vessel on Friday, but no persons were found.
Driver's license
The headquarters also said Russian authorities had informed Japan through diplomatic channels that a driver's license bearing the name "Akira Soyama" had been discovered near one of the two bodies recently found on the west coast of Kunashiri Island in the northern territories.
Akira Soyama, a 27-year-old deckhand, is among the 12 people who remain unaccounted for following the April 23 accident.