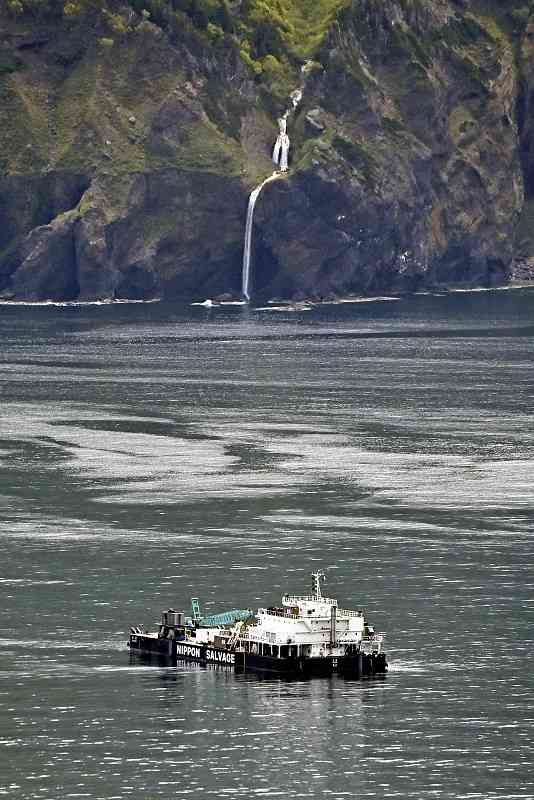 17:01 JST, May 19, 2022
SHARI, Hokkaido — The search for 12 people who remain missing after the Kazu I sightseeing boat sank off Hokkaido's Shiretoko Peninsula on April 23 began Thursday afternoon, involving divers who specialize in saturation diving.
An earlier search was carried out at a depth of about 115 meters by a private ship equipped with unmanned underwater equipment, but the search by divers aims to uncover more details.
Fourteen of the 26 people who were aboard the Kazu I have been confirmed dead.
The Kaishin work barge, carrying specialized equipment and divers tasked with reaching the sunken boat, arrived at the search area Thursday morning.
Three divers, who belong to a private company, will conduct a search for the missing people until Friday. They adapted themselves to the high-pressure conditions in advance.
The sunken vessel will also be examined to consider the possibility of raising it.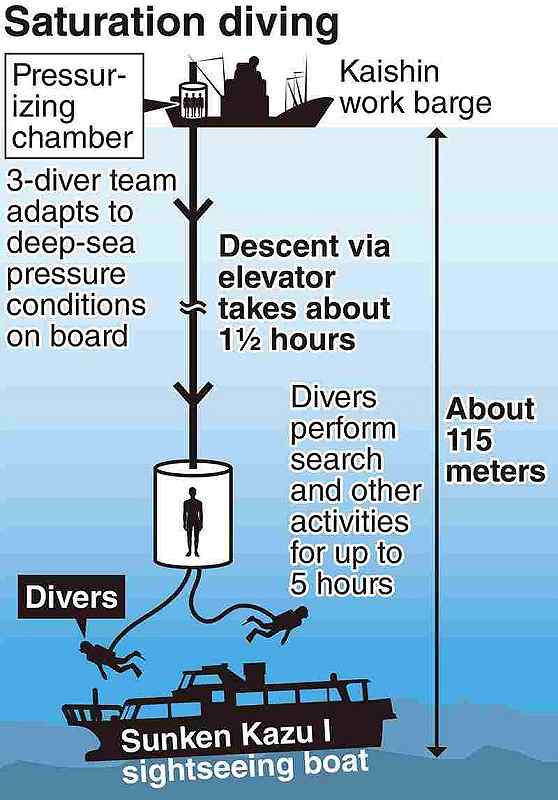 According to the Society of Water Rescue and Survival Research, the pressure at a depth of about 115 meters is about 13 times greater than at sea level. Such pressure poses a risk of "nitrogen narcosis," which causes symptoms such as dizziness as nitrogen taken in through breathing is more easily dissolved in blood.
For this reason, in saturation diving, divers absorb a mixture of helium and oxygen, which has little effect on humans, until they reach a state of saturation, before adapting themselves in a pressurizing chamber to high-pressure conditions matching the depth of their dive. Then, while maintaining the high-pressure state, the divers descend into the sea using an underwater elevator.
The Japan Coast Guard and the Self Defense Forces continued their search by boat and aircraft Thursday. Since a tank top shirt and a pouch were found Wednesday on the seabed near the tip of Cape Shiretoko, JCG divers also searched the waters in that area.
Add TheJapanNews to your Google News feed.