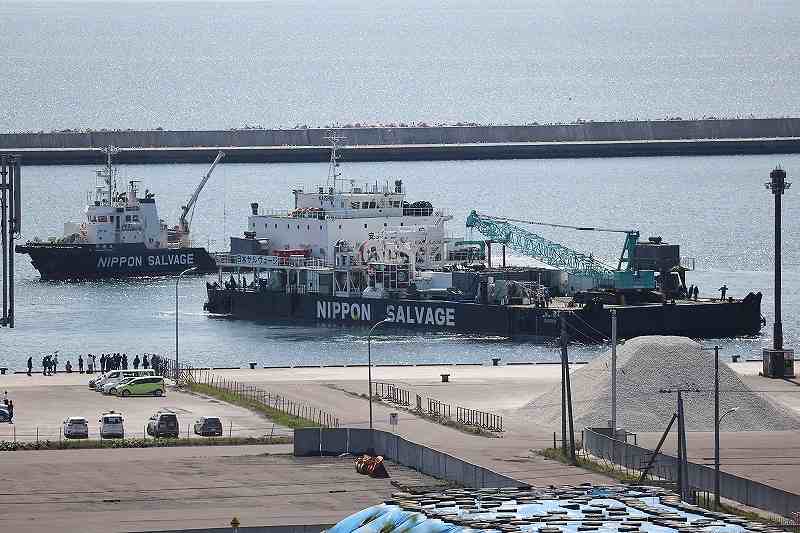 11:37 JST, May 17, 2022
ABASHIRI, Hokkaido (Jiji Press)—A barge carrying saturation diving equipment that would allow divers to reach the sunken Kazu I tour boat arrived at a port in the city of Abashiri in Hokkaido, near the search site, on Tuesday.
The boat sank off the Shiretoko Peninsula in Hokkaido, northernmost Japan, on April 23 and currently sits on a seabed at a depth of about 120 meters. Fourteen of the 26 people on board have been found and confirmed dead, while 12 people remain missing.
Four saturation divers are expected to search the hull on Thursday and Friday to see if there is anybody left inside. After that, they are slated to check how seriously the boat is damaged.
Based on the results of the search and inspections, the Japan Coast Guard's first regional headquarters and others will decide whether to salvage the sunken boat, and start the work shortly if the boat is to be salvaged.
It is said that a diver with a regular diving cylinder can swim to a depth of only up to about 50 meters.
At the Abashiri port, the four saturation divers will enter a compression chamber to acclimatize their bodies to the underwater environment. The barge will then depart the port on Wednesday evening at the earliest, carrying the divers to the search site.
On Tuesday, the regional coast guard headquarters continued to search for the missing people over the ocean, while the prefectural police department of Hokkaido conducted searches on the ground along the coast of the peninsula and the southern side of the peninsula.
On May 6, a woman's body was found on the coast of Kunashiri Island, one of the four Russian-held northwestern Pacific islands claimed by Japan, but the body has not been identified yet.
Add TheJapanNews to your Google News feed.