Japanese doctor provides medicine, support to Ukrainian refugees in Moldova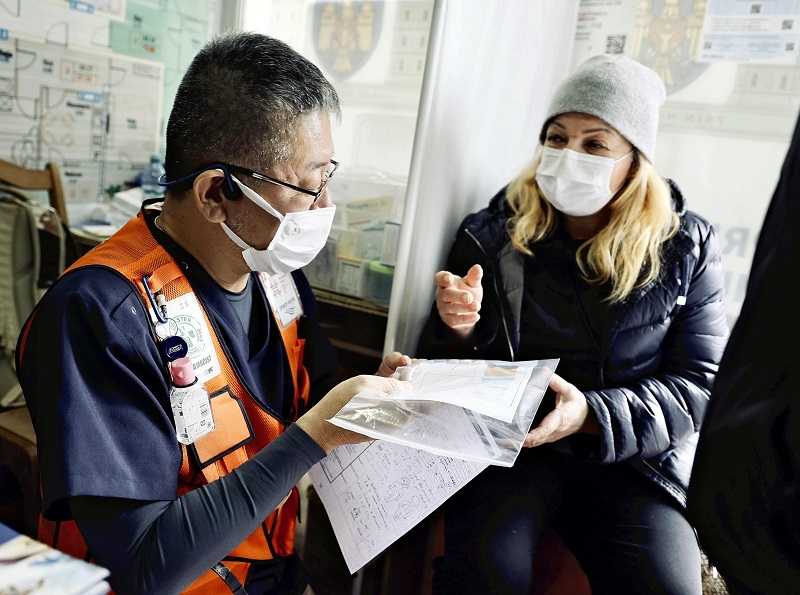 21:35 JST, May 16, 2022
"Lots of people have been wounded for no reason, and they need continuous support," said a Japanese doctor who has provided medical assistance to Ukrainian refugees in Moldova, a country neighboring Ukraine.
Many Ukrainians fled to Moldova after Russia invaded Ukraine.
Takashi Egawa, a 57-year-old professor at Fukuoka University's Faculty of Pharmaceutical Sciences and an expert on disaster medicine, recently spoke online with The Yomiuri Shimbun from Moldova.
Egawa provided medical assistance in the wake of the 2011 Great East Japan Earthquake and also performed similar activities in Kyushu after torrential rains there.
Egawa was approached by Peace Winds Japan (PWJ), a nongovernmental organization based in Jinsekikogen, Hiroshima Prefecture. Egawa had connections to the NGO through his past medical activities.
PWJ told Egawa that Ukrainian refugees in Moldova need the support of pharmacists.
Egawa went to Moldova on April 16 and planned to stay for about one month. At a makeshift aid station in Chisinau, the capital, he provided medical support together with other PWJ doctors and nurses.
Through an interpreter, and occasionally using illustrations, he provided medicine and offered mental care to Ukrainian refugees.
Most of the refugees are women, the elderly and children.
An elderly woman who fled from Mykolayiv, a city in southern Ukraine where fierce battles between Ukrainian and Russian forces continue, said she was hiding in an underground bomb shelter for 18 days. Unable to bathe, her feet became sore and turned red with bacterial inflammation.
Many are worried about relatives back in Ukraine. Some have problems sleeping or headaches. Others would suddenly burst into tears while being examined.
One child is now frightened by loud sounds, such as horns.
"The refugees have been deprived of an ordinary life and separated from their families," Egawa said. "They are under a great amount of stress in a situation with an uncertain future."
Egawa did not directly ask about traumatic experiences, but he would listen attentively when the refugees spoke out.
Some thanked Egawa for helping Ukraine as they received medicine with relieved expressions on their faces, causing him to become emotional, he said.
A boy who came for a checkup because he showed symptoms of a cold smiled when Egawa gave him Japanese sweets.
A woman in her 60s, who had undergone an operation for cancer before the invasion began, was forced to flee the country without having received any postoperative chemotherapy.
When Egawa encountered cases that required a high degree of medical care, he got them to a hospital.
According to the U.N. High Commissioner for Refugees, the number of Ukrainian refugees accepted by Moldova, a small, former Soviet republic with a population of 2.64 million, totaled about 460,000 as of May 11.
As part of Moldova's eastern region has effectively been under Russia's control, there is a possibility of the country becoming a target of Russia's armed aggression.
PWJ has been providing medical services to refugees in Moldova free of charge and independently, using money received from the Japanese government and other sources.
However, medicine supplies are limited and the organization tries to distribute them to as many people as possible. As medicine that refugees buy at drugstores are an out-of-pocket expense, some have difficulty purchasing medicine.
"People have been wounded both mentally and physically," Egawa said. "I cannot help but wonder why such an unreasonable situation like this happened."
Although Egawa has returned to Japan, he intends to continue working from Japan by, for example, helping manage medicine stocks remotely.
Add TheJapanNews to your Google News feed.