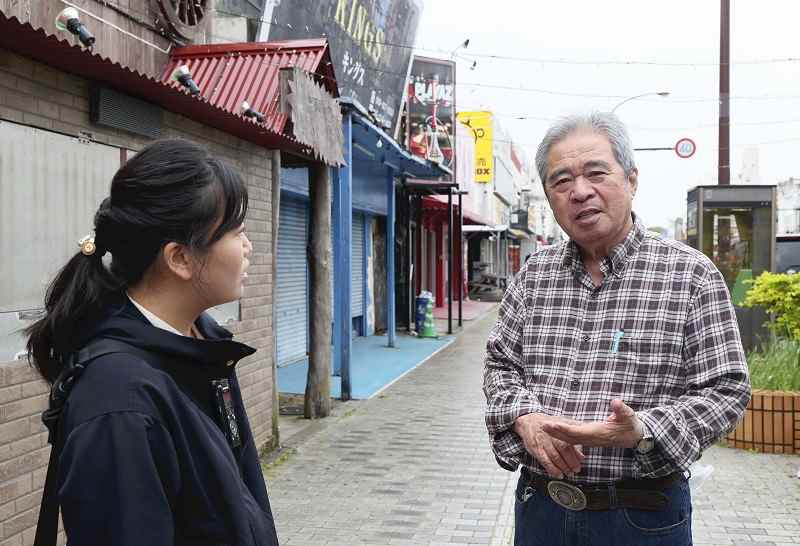 2:00 JST, May 15, 2022
NAHA — The Okinawan culture of eating steak was originally fostered in the Koza area in Okinawa City, which sits right next to the U.S. Kadena Air Base.
A 77-year-old man who ran a steak restaurant in Koza for many years and contributed to the steak culture, is now telling tourists about the history of coexistence between U.S. soldiers and Japanese citizens.
Seiji Tokutomi took over the steak restaurant in 1972, when Okinawa returned to Japan, and kept it open until he closed it about 15 years ago because of his wife's illness. He said that his relationship with the U.S. military cannot be described only in terms of approval or disapproval of the bases.
Sharing real voices
At the end of March, Tokutomi spoke to a 24-year-old student on the street where his restaurant was located. A graduate school student at a Tokyo university, she was visiting Okinawa to study its food culture.
Tokutomi has been a town guide for about 10 years, at the request of the Okinawa City Tourism and Product Promotion Association. He was asked to share the real voices of the people who have lived alongside the base. About once or twice a month he tells tourists and students on school trips stories about the city.
That day, Tokutomi spoke of an episode in which he was invited onto the base by a U.S. soldier who was a regular customer of his. The soldier was going to join the front in the Vietnam War. Tokutomi watched him cry as he flew away.
"I learned that it wasn't only that people were disgusted by the behavior of the U.S. soldiers, but they also had heart-to-hearts with them," the student said.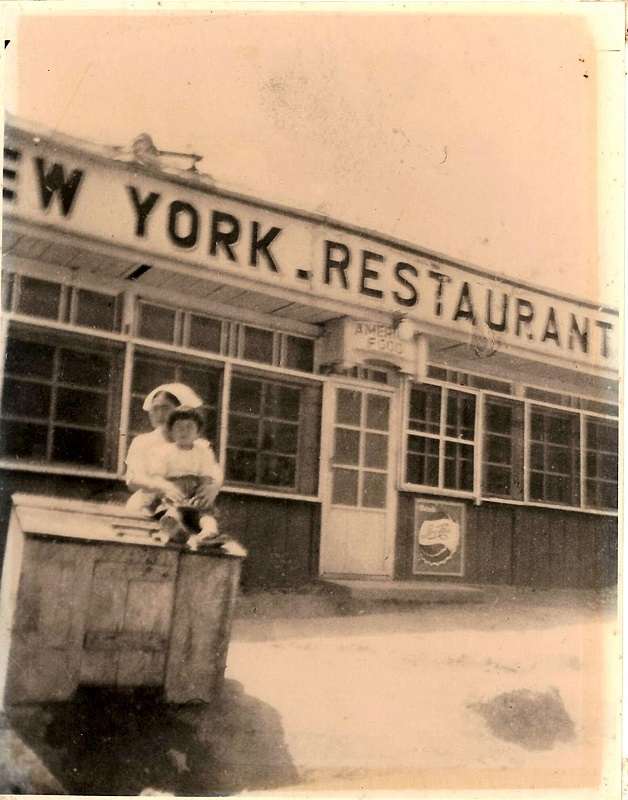 'It's raining dollars'
Tokutomi was born on Kikaijima island in the Amami Islands of Kagoshima Prefecture. His uncle, who used to work in a restaurant in the United States, moved to Okinawa after World War II to open his own restaurant. Tokutomi's family moved there too so that his father could help his uncle.
Tokutomi's father also opened a restaurant as a branch of the family business, and when he was still a junior high school student, he began to help his father chop wood to cook the meat.
At that time, U.S. soldiers were only allowed to enter stores that had an A sign, indicating that the restaurant met the strict sanitary standards of the U.S. forces. Tokutomi's restaurant had to be equipped with flush toilets and other amenities. In the 1960s, when Okinawa was a site of sorties for the Vietnam War, Koza was so prosperous that it was said to be "raining dollars."
U.S. soldiers came to his restaurant late at night with hostesses, and fried chicken for a take-home bag was a hot-selling item.
"I earned $2,000 a day at a time when a 300-gram steak cost less than a dollar," Tokutomi said.
Mixed feelings
The mood among U.S. soldiers, which had previously been calm, changed drastically after the Vietnam War.
"Fights and people who dined and dashed became a constant," Tokutomi said.
After he removed the empty plates from soldiers' tables, they would sometimes claim that they had not eaten when they had to pay the bill.
Even though the business was running smoothly, he was frustrated, though he kept this to himself.
Around 1970, resentment against accidents caused by U.S. soldiers began to erupt among the residents.
At the Koza Riot in December of that year, watching the crowd burning a military official's car, Tokutomi said he felt something like satisfaction.
At the time, the policy was that a portion of the land for bases would be returned to Okinawa when Okinawa was returned to Japan. That is why he had mixed feelings about the return to Japan.
"On the one hand, I hoped that I would have fewer bad feelings, but when it came to business, I was against the return," Tokutomi said.
Affluent tourists
With the return to Japan, the clientele changed dramatically. First, the number of tourists from other parts of Japan increased, and after 1980, the town became filled with families from the wider Okinawa Prefecture on weekends. By that time, the per capita income of residents in the prefecture was about three times what it had been when Okinawa was returned to Japan.
"I was happy to see evidence of the growing affluence of the people in the prefecture," Tokutomi said.
Steak restaurants have spread throughout the prefecture and become a staple of Okinawan tourism. According to the Council of Okinawan Steak House, there are 10.78 steak restaurants per 100,000 people as of May last year, three times the national average.
Through his activities as a guide, Tokutomi feels that the young people who listen attentively to him understand the unique relationship he has had with the U.S. bases.
"Okinawans carved out a life for themselves while dealing with U.S. soldiers. Koza is an area that represents their resilience," Tokutomi said. "I hope that Koza will continue to be a town that values its culture."
Add TheJapanNews to your Google News feed.