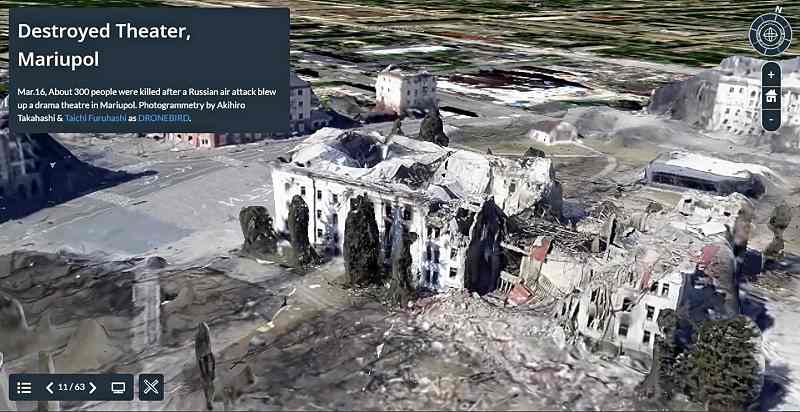 17:00 JST, May 14, 2022
In an effort to convey the reality of Russia's invasion of Ukraine, a Japanese research team is employing state-of-the-art technologies to illustrate the damage caused by the war using 3D graphics on a satellite map.
In the project "Satellite Images Map of Ukraine," the team led by University of Tokyo Prof. Hidenori Watanave collects satellite imagery of the country distributed by U.S. companies and photos provided by local residents and journalists and maps them in 3D.
The latest technologies allow some of the buildings pictured in two-dimensional photos to be rendered in 3D.
A badly damaged high-rise apartment on the map shows flames rising from a room on the top floor, and a number of holes are seen dug in areas around the Azovstal steel plant in Mariupol, along with what appears to be a mass grave.
The team in the past has created digital archives that visualize the trajectories of 2011 Great East Japan Earthquake tsunami victims in order to provide insight into how we should react when tsunamis hit.
"This is what is happening in faraway Ukraine, but it could happen to us at any moment," Watanave said. "I want this map to serve as an opportunity for many people to feel it could be their own problem."
Search online using the keywords "Satellite Images Map of Ukraine" to see the graphics.
Add TheJapanNews to your Google News feed.