Okinawan festival held in Tokyo to commemorate 50th anniversary of return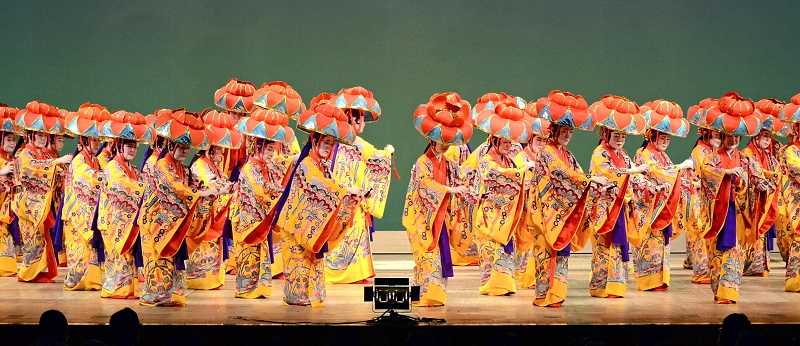 17:01 JST, May 10, 2022
A festival of Okinawan performing arts was recently held at the National Theatre in Chiyoda Ward, Tokyo, to celebrate the 50th anniversary of the return of Okinawa Prefecture to Japanese sovereignty.
The Okinawa Geino Festival featured a daytime and an evening performance, with a total of 1,900 people attending the Sunday event. Performances ranged from traditional Ryukyu dance to Okinawan pop music.
The first section of the three-part program opened with a traditional dance by about 50 people striking bamboo sticks. There were loud cheers from the crowd when the dancers appeared on stage, clad in colorful costumes and hanagasa hats adorned with flowers.
Two living national treasures appeared in the second section: kumiodori dance singer and shamisen player Kishun Nishie, 81, and Ryukyu dance performer Yukiko Miyagi, 88. Nishie's singing and Miyagi's dance created a majestic atmosphere.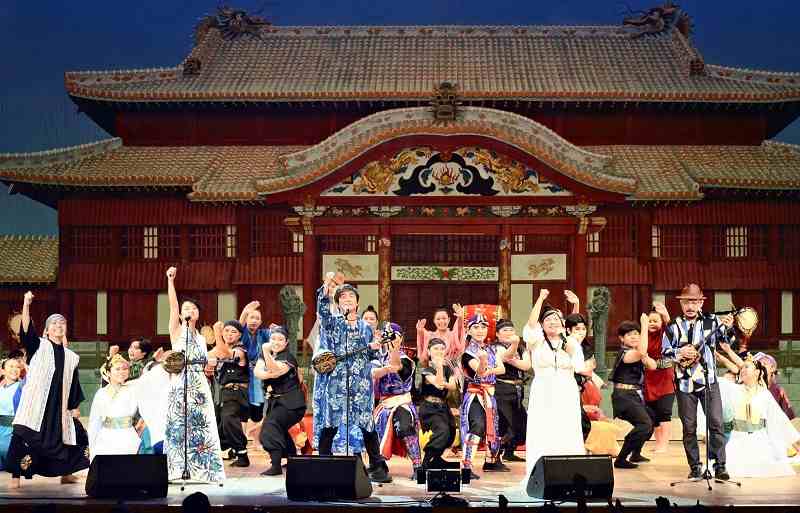 In the third section, former The Boom vocalist Kazufumi Miyazawa sang "Shima Uta" (Island Song), his most popular song, accompanying himself on the sanshin Okinawan stringed instrument. Then, children from all over Japan performed a contemporary, original version of kumiodori dance.
The festival concluded with all the performers from the third section dancing kachashi, an Okinawan folk dance with distinctive hand movements.
The Okinawa Geino Festival was organized by Tokyo Okinawa Kenjinkai, an association of people from Okinawa Prefecture living in Tokyo.
"I'm overwhelmed with emotion that we could put on a show filled with the soul of Uchina [Okinawa], which is appropriate to commemorate the 50th anniversary of Okinawa's return, at a pantheon of traditional performing arts that is the National Theatre," said association chairman Takeo Nakamatsu, 70.
Hometown melody
The festival's stage director, Shoko Hanashiro, belongs to Itabashi-ku Okinawa Kenjinkai, an association of people from Okinawa Prefecture living in Itabashi Ward, Tokyo.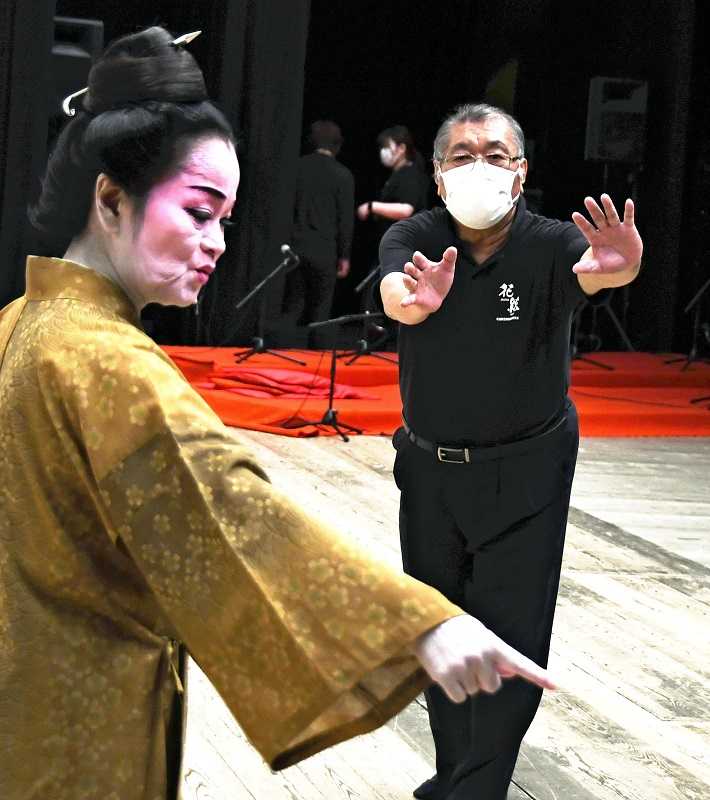 "I'm thrilled," Hanashiro, 68, said with a big smile as he watched more than 60 performers dancing kachashi in the finale.
He was born as the third son of six children on Taramajima island, which is located between Miyakojima island and Ishigakijima island. As a child, he would help his parents grow sugar cane and look forward to Hachigatsu Odori (August dance), a festive dance performed to pray for a good harvest.
Hanashiro came to Tokyo in March 1972 after graduating from high school and shortly before the prefecture was returned to Japan. He happened to see a notice for a job vacancy and secured employment at a company in Itabashi Ward, but he struggled for a long time to adapt to life in Tokyo.
When Hanashiro saw someone from Okinawa Prefecture, they would greet each other in Okinawan dialect, "Shuri-warinsha?" (How are you?), which brought back memories of home.
When he was around 24, he got so nostalgic that he started learning Okinawan folk songs. Hanashiro took lessons in sanshin and singing from a teacher in Tokyo's Shinjuku Ward.
In 1999, he succeeded the teacher as the head of the Tokyo branch of the Ryukyu Minyo Kyokai association of Ryukyu folk songs.
Hanashiro's dream now is to hold a recital with students of his who have struck out on their own. "I want to continue expressing the soul of Okinawa to [people in] Tokyo," Hanashiro said.
Add TheJapanNews to your Google News feed.