149-year-old among missing people declared legally dead by courts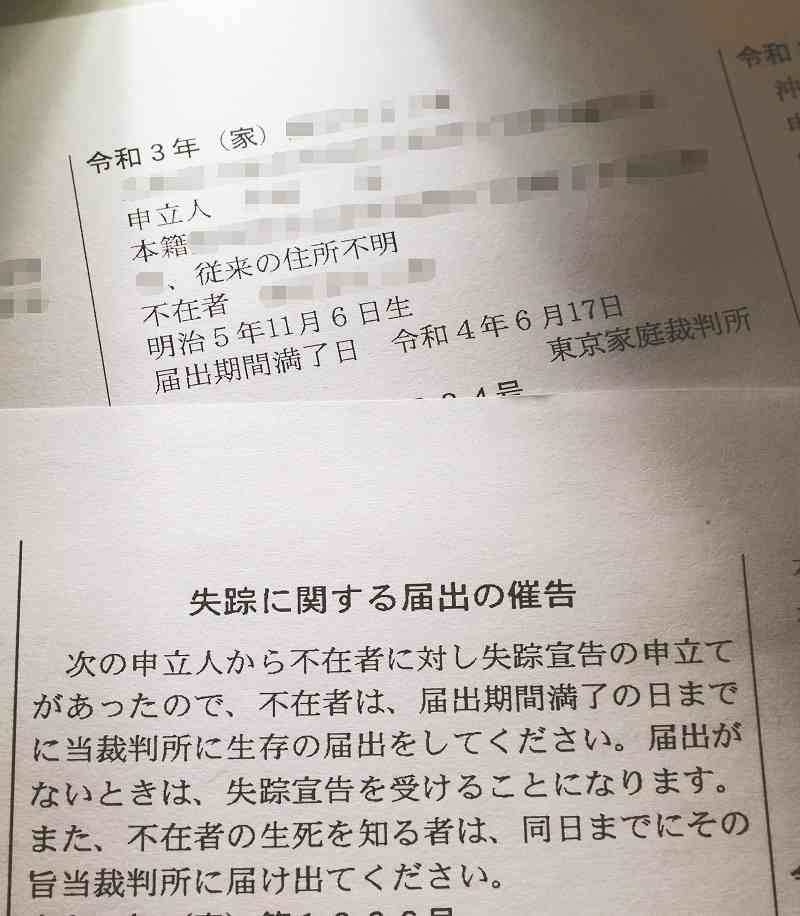 21:00 JST, May 9, 2022
Missing people far beyond the age of Japan's oldest confirmed living person are not declared dead until family or other legal entities file documents in court.
Court filings to have someone legally declared dead are necessary for some families to move ahead with inheritance procedures. As procedures are complicated and time-consuming, measures are necessary to make the court filing less of a burden.
According to a Yomiuri Shimbun survey, 50 missing people ages 120 and older were declared legally dead by courts in a one-year period from April 2021, far older than the nation's oldest known living person, who is 115.
The oldest person declared dead was a 149-year-old man whose name was found when sorting through inheritance proceedings.
Lengthy process
"Born in 1892, a man from Nagoya," read an entry in an official gazette last May about a petition to the Nagoya Family Court for a declaration of this person's death. At that time, the man would have been 128.
The petition was filed by a 79-year-old Osaka woman who became the heir of her maternal aunt, who died in May 2020. Regarding her aunt's bank account, she had to check for other legal heirs. From her aunt's family register, she learned about the existence of this man from Nagoya whose whereabouts were unknown after he divorced her aunt's mother.
She asked a lawyer to find his whereabouts, but nothing came up. After her petition to the court, the man's death was declared. The woman inherited her aunt's savings 1½ years after her aunt's death.
"I'd never imagined that I would have to search for a relative whose name I didn't even know," said the woman, who had to pay fees for hiring the lawyer.
In principle, a family court considers a person who has been missing for seven years or more to be legally dead at the request of the family. The death is pronounced after the family court investigates the whereabouts of the missing person and the filing of a petition announced in an official gazette . If a person is found alive after being declared dead, the declaration is cancelled and the family register is restored.
Supreme Court statistics show the number of petitions — including those for revocation — has remained in the 2,000 range in recent years, with 2,115 in 2020.
Burdensome
Municipalities may delete names of people ages 100 and older whose whereabouts are unknown ex officio for the purpose of sorting out family registers. However, the Civil Code requires a strict determination of whether an heir is alive and a court decision on the heir's death is required for inheritance proceedings.
A petitioner must file a search request with police and submit documents showing the relationship between the petitioner and the missing person. A family court asks relevant authorities about the missing person's records of leaving and entering the country to find the person's whereabouts. It usually takes at least six months until a declaration is made.
"Declaring a person dead should be handled with care, but if the current rules are strictly followed, inheritance will take time and the parties involved will be greatly disadvantaged," said lawyer Nobuyoshi Fujii, an expert on inheritance who was a family court clerk. "Making valid the municipal procedures to remove someone from a family register as legally dead or simplifying procedures for people ages 120 and over are some of the measures that are needed."