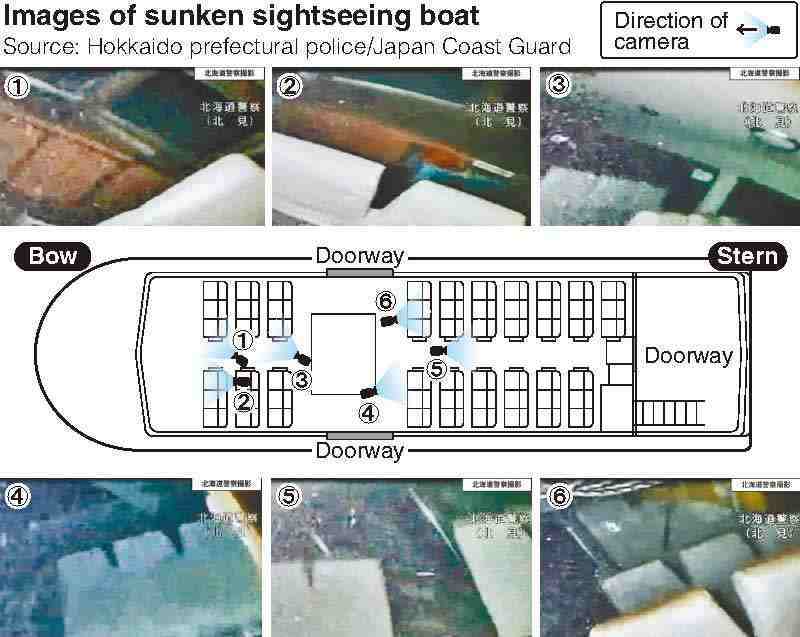 16:13 JST, May 5, 2022
SHARI, Hokkaido — No victims were visible in footage taken inside the sunken Kazu I sightseeing boat with an undersea camera, according to the Japan Coast Guard.
The JCG's 1st Regional Coast Guard Headquarters on Wednesday released images taken inside the sightseeing boat, which was carrying 26 passengers and crew before it sank on April 23 off the Shiretoko Peninsula, Hokkaido.
The images were also shown to the families of the 12 victims who have yet to be found.
The JCG released 10 still images from footage filmed with an underwater camera by the Hokkaido prefectural police on Tuesday. Seating was visible in the vessel's hull, which was found on April 29 on the seabed at a depth of about 115 meters.
Doors at the rear and the left side of the vessel were open, according to the JCG.
None of the remaining 12 victims were found during search operations on Wednesday.
The JCG and other authorities will continue the search, but the large-scale operation was expected to end Thursday, after which trawlers were to resume fishing operations in the area.
Alone at sea
Sources linked to three sightseeing operators claimed that Shiretoko Pleasure Boat, the operator of Kazu I, had conducted solo tours when bad weather had been forecast on several occasions, even though other operators had canceled trips.
According to the sources, other operators were critical of Shiretoko Pleasure Boat's practices because if only one sightseeing boat is out at sea, rescue efforts are more challenging in the event of an accident.
The Kazu I was the only sightseeing boat in the area when it sank on April 23.
Shiretoko Pleasure Boat and three other sightseeing boat operators are based at Utoro fishing port in Shari, Hokkaido. According to the other companies, the four operators had agreed to suspend operations when bad weather had been forecast.
Captains from the four companies usually met in the morning to check sea conditions, the weather forecast and other matters, and to confirm whether conditions were safe to conduct tours.
Experienced captains canceled trips if they thought the weather was going to deteriorate. However, five or six times a year, Shiretoko Pleasure Boat was the only operator to send a boat out, according to the sources.
Add TheJapanNews to your Google News feed.