Okinawan heritage a source of pride for native islanders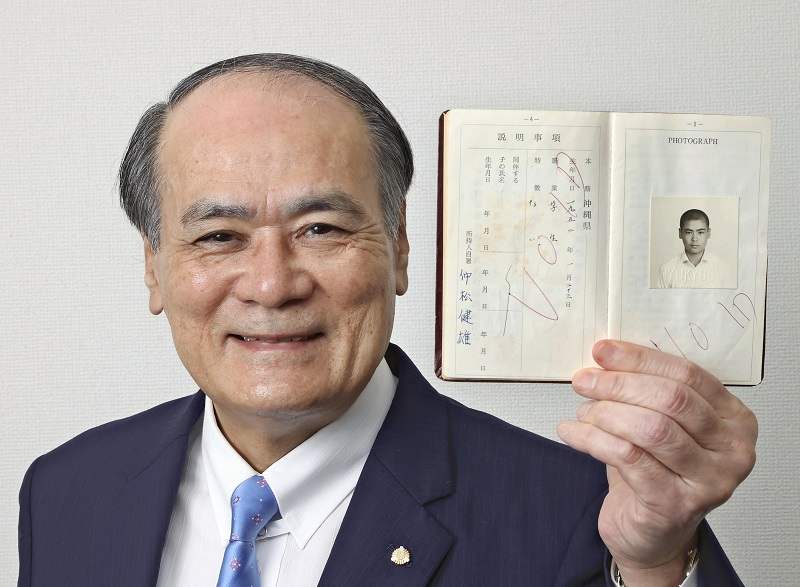 11:50 JST, May 5, 2022
Okinawa marks the 50th anniversary of its return to Japan on May 15. In an interview with The Yomiuri Shimbun, Naha native Kenji Nakamatsu, the chair of a Tokyo-based Okinawa community association, said that although Okinawans were once treated like foreigners in main islands of Japan, he has come to feel proud of his birthplace thanks to the efforts of younger generations.
◇
In March 1970, Nakamatsu boarded a ship for Tokyo from Tomari Port in Naha with a travel certificate, which Okinawans needed to enter main islands of Japan during the U.S. occupation of the islands after World War II.
He traveled to the capital just before his graduation from Okinawa Prefectural Naha Senior High School. Although Nakamatsu failed to get into a college in Tokyo, he was determined not to return to Okinawa. He decided to stay in Tokyo, joining the legion of so-called ronin students who fail entrance exams and apply for places in the following year.
The journey from Naha to Harumi Pier in Tokyo took two days. When Nakamatsu arrived, other Okinawans in the capital told him about the discrimination they faced because they were from the islands, such as landlords refusing to rent them rooms and drinking establishments refusing to serve them.
Nakamatsu, who eventually gained a place at Keio University, said he avoided using the Okinawan dialect when talking with friends from the islands.
Okinawa's return to Japanese control on May 15, 1972, was a happy moment for Nakamatsu, who felt he had "officially become Japanese." However, he said he was still reluctant to reveal to others that he was from the islands.
The year 2000 was a turning point for Nakamatsu, who had been working at a life insurance company in Tokyo. Aged 48, Nakamatsu took over a real estate business run by his parents, who had also moved to Tokyo.
That year he met Tatsuya Shigeta, the president of a software company who was a Naha Senior High School graduate. "Isn't it about time you contributed to Okinawa?" Shigeta asked Nakamatsu. The question made him feel as if he had turned his back on his hometown.
Shigeta suggested joining a Kanto business association comprising people from Okinawa. Nakamatsu was interested in building a network of business contacts, but he said he also cherished the time spent drinking awamori, an alcoholic drink made in Okinawa, and dancing to music played on a sanshin Okinawan stringed instrument.
Nakamatsu subsequently opened an Okinawan restaurant and hired young people from the prefecture because he wanted to "create a space for Okinawans in Tokyo."
Nakamatsu became chair of a Tokyo-based Okinawa community association in May 2015. After a fire devastated Shuri Castle in Naha in October 2019, Nakamatsu worked hard to collect donations for the rebuilding of the heritage site.
Actress Yui Aragaki, baseball player Hotaka Yamakawa and the pop star Namie Amuro are among some of the many famous people who hail from Okinawa.
"Young people from the prefecture have given me a sense of pride about being Okinawan," Nakamatsu said. "I'm thrilled that Okinawa has become a place people can be proud of over the last 50 years."