Govt to lead salvage work on sunken sightseeing boat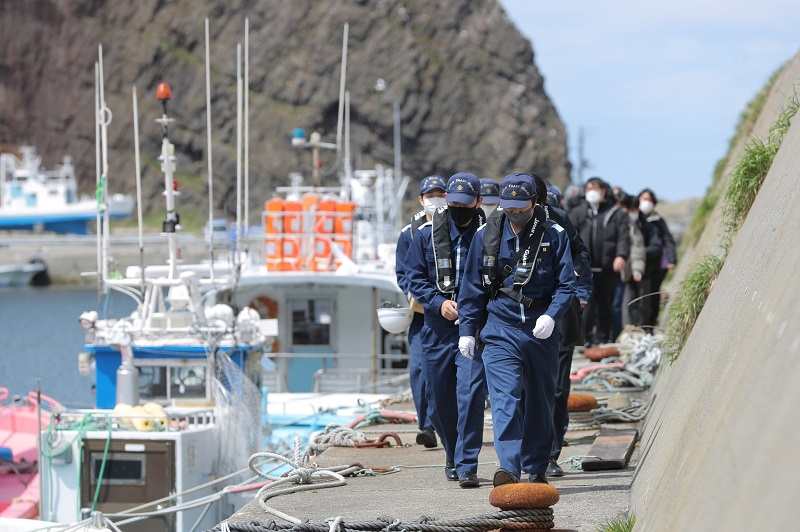 16:18 JST, May 3, 2022
The government on Monday said it will lead the work to salvage the sunken Kazu I sightseeing vessel in waters off the Shiretoko Peninsula in Hokkaido as 12 people still remain unaccounted for.
Also on Monday, the Japan Coast Guard searched the office of the vessel's operator, Shiretoko Pleasure Boat, in the town of Shari in the prefecture on suspicion of professional negligence resulting in death.
"From the perspective of searching for missing persons and investigating the cause of the accident, I want the ministry to make all-out efforts to begin preparations for the salvage of the ship," said Land, Infrastructure, Transport and Tourism Minister Tetsuo Saito at a task force meeting held on Monday evening to discuss the incident.
The hull of the boat was found Friday on the seabed at a depth of about 115 meters and about 1 kilometer off Kashuni Falls on the west side of the peninsula. The site of the boat is deeper than the 60-meter depth limit for JCG divers to operate. The JCG has tried to inspect the inside of the boat with an underwater camera, but the work has encountered difficulties.
So far, the bodies of 14 passengers have been found. The bodies of people still missing may be inside the vessel.
The JCG will first send a saturation diver to inspect the inside of the ship before salvaging it.
Saturation divers adapt themselves to high-pressure conditions in a special chamber in which the pressure is equivalent to the water pressure at the site where they are to work. The JCG on Saturday made a contract with The Nippon Salvage Co., which specializes in the technique and plans to begin preparatory work in early May.
After many marine accidents, salvage work is carried out by the ship operator. However, in the Shiretoko case, the government will take the lead in order to salvage the ship at an early stage.
The saturation diving inspection and relevant preparatory work will cost about ¥877 million, and extra costs will be necessary to actually salvage the ship. The government is considering charging the vessel's operator.
The JCG will further investigate whether there was any misconduct regarding safety management by Seiichi Katsurada, 58, head of the boat's operating company, and Noriyuki Toyoda, 54, captain of Kazu I. Toyoda is among those still missing.
2 more victims named
Also on Monday, the 1st Regional Coast Guard Headquarters in Otaru, Hokkaido, announced the names of two more victims as Tomoya Suzuki, 22, of Kitami, Hokkaido, and Mika Yoneda, 43, of Osaka City. The names of all 14 passengers found so far have been released.