Skiing in the Tohoku region: Paradise with good skiers and slopes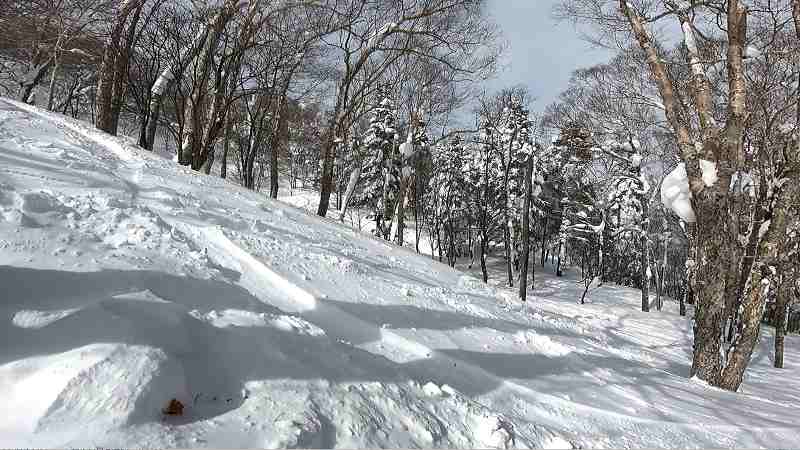 18:06 JST, May 1, 2022
SENDAI — It has been about two years since I was transferred to Sendai. I'm from the warm climate of Ehime Prefecture in southern Japan, but I am also into skiing. When I worked in Tokyo, I only visited ski resorts in and around the Kanto region once or twice a year. But now, I often load my skis and boots into the car early in the morning on ski season weekends and head for the nearby Michinoku (Tohoku region) ski resorts. Wherever I go, the skiing is great. In this story, I will introduce the charms of Michinoku skiing that I have enjoyed at various ski resorts in and around Miyagi Prefecture, where I currently live.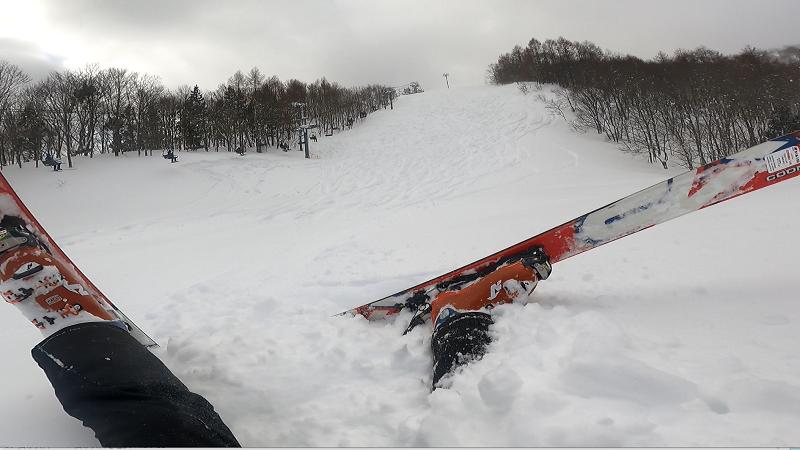 Steep, rough slopes
Once I became able to ski intermediate slopes, I found myself mysteriously gripped by the ambition to try advanced ones. At ski resorts near the Tokyo area, there were many skiers with such an ambition. It was not unusual to see them fall over and then roll crying down the slope on their first attempts. However, ski slopes in the Tohoku region, especially those frequented mainly by local residents, are crowded with highly skilled skiers of all ages.
In February, I skied a course with the scary name "Crazy Traverse" at the Zao Onsen Ski Resort in Yamagata. While I was nervously looking down the steep, rough-looking course, mentally planning how I would make my way down, two girls who looked like elementary school kids caught up with me.
"Look! It's like a cliff!" one girl said, and the other replied, "I'm scared!" As I watched, one of them began skiing on the slope, saying, "I'm sliding sideways!" Pointing her skis into a V-shaped snowplow, she skied across the slope. The other girl followed her. A group of young snowboarders nearby said, "They are so good!" They might have been children, but they had great skills.
60 years on skis
Elderly Michinoku skiers are also excellent. The Miyagi Zao Shiroishi Ski Resort in Shiroishi, Miyagi Prefecture, has a famous course nicknamed "Kuma Otoshi," which means "bear drop." The course's average slope angle is 35 degrees, the same as that of a ski jump. Seen from the top, it looks exactly like a steep cliff. I saw one elderly man who seemed to have difficulty just carrying his skis — but once he'd put them on, he skillfully skied down the bear drop at pretty high speed.
At the Miyagi Zao Eboshi Resort in Zao, Miyagi Prefecture, I rode a gondola up the mountain with a man who said he had been skiing for more than 60 years. He said he built a snow slope in his yard to practice. "I've never been tired of skiing. I need much more practice," he said. I had no choice but to bow down before him. If I keep skiing among such greats, will their skills rub off on me?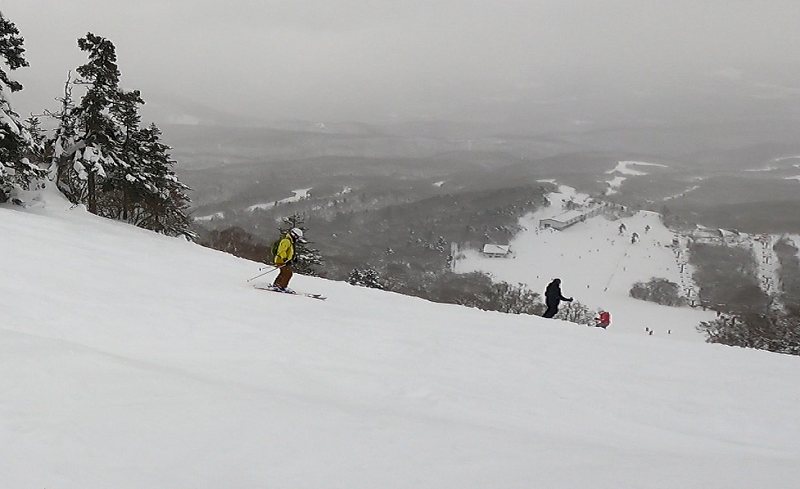 Fat skis for fresh snow
Recently, more and more ski resorts in the Tohoku region have "tree-run" courses that offer skiing through forests. The Geto Kogen Ski Resort in Kitakami, Iwate Prefecture, about two hours by car from Sendai, is known for its tree-run course. I heard it feels like ski mountaineering, so I visited there in mid-January.
The ski resort is in one of Japan's heaviest snowfall areas, with an average accumulation of over 4 meters. Snowfall in the area is so heavy that even the chairlifts are sometimes buried in snow overnight. On this trip, I rented "fat skis" suitable for powder. An ordinary ski is about 7 or 8 centimeters wide at the center, its narrowest point, while a fat ski is more than 10 centimeters wide there. It actually looks fat. I have heard that the shape prevents the skis from sinking into soft snow.
I headed to a ski slope fully covered with fresh snow. As soon as I started skiing, I was surprised by a strange feeling that the fat skis gave me. I had less sensation of the skis being in contact with the ground, which made me feel as if I were floating on air. It was as if my feet literally could not touch the ground. It was an interesting feeling, but at the same time it made me feel very nervous. Just as I expected, I lost my balance, crashed into deep snow on the side of the ski course and fell over on my back.
When I put my hands on the snow and pushed to get up, my arms just sank into the fluffy powder, not supporting my body at all. At the same time, my skis were stuck so deeply in the snow that I could not pull them out. Moreover, the place where I fell over was very close to the chairlift, so people could look down and see me as I wallowed about. I was really embarrassed and upset. I struggled for about 10 minutes while gathering the snow from around my upper body and compacting it beneath myself. When I finally got up, my skiwear was covered with snow and I was thoroughly sweaty.
Tree-run courses have been created at various ski resorts such as the Appi Kogen Ski Resort in Hachimantai, Iwate Prefecture, one of the largest ski resorts in Japan. But most of them are ungroomed and deep in snow. Many of these courses are for advanced skiers only. My embarrassing experience on the ski slope taught me it was too early for me to attempt a tree-run course. But I would like to improve my skills and try one someday.
Season is far from over
In this ski season, there has been a lot of snowfall at many ski resorts in the Tohoku region, and some of them are open until around the Golden Week holiday period in May. There are even some unusual ski resorts that are not open during winter due to too much snow. For example, Mt. Gassan Ski Resort in Nishikawa, Yamagata Prefecture, opens in early April and skiers can enjoy the snow until around early July. The ski season in the Tohoku region is far from over. (I wonder when I should stop using my winter tires?)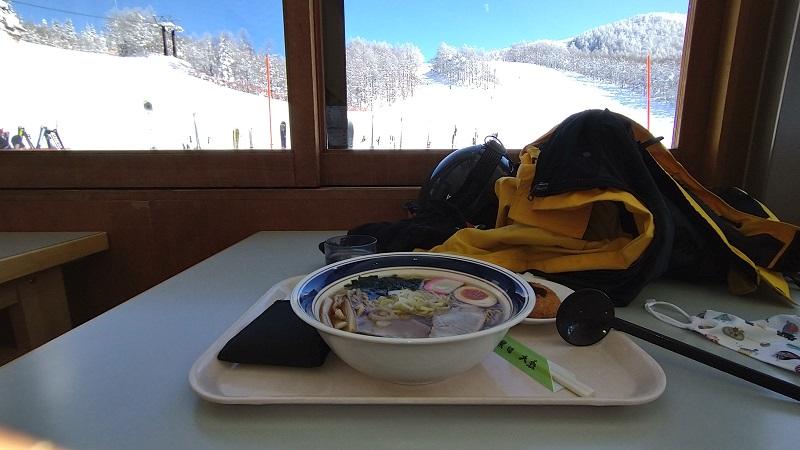 Meals with a view
Lunch menus offered at rest houses are essential at ski resorts. They are called "gere-meshi" or "gere-shoku," both meaning ski slope meals. Recently, many rest houses offer one- and two-seat tables as part of measures to prevent coronavirus infections. You can often enjoy gazing at the slopes while you savor your meal. Some rest houses feature creative dishes using locally produced ingredients. A visit to one is worth your while.