Theory suggests China gave pandas to Japan in 7th century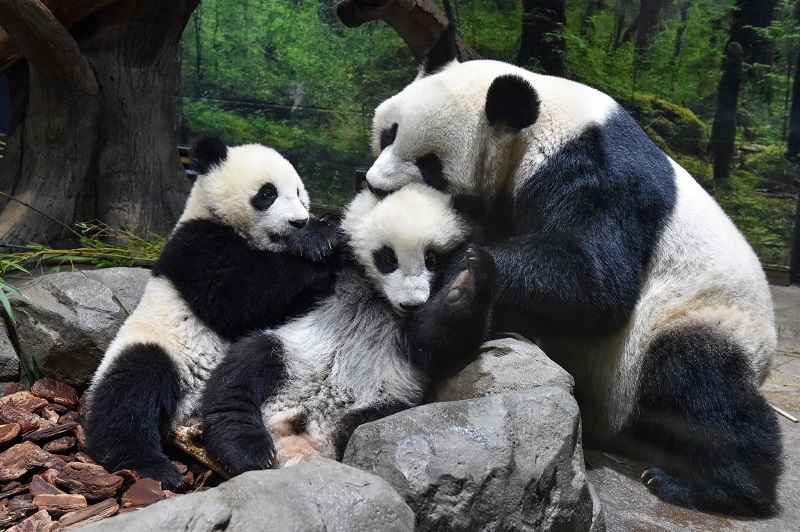 14:19 JST, May 1, 2022
TOKYO (Jiji Press) — As Japan prepares to celebrate the 50th anniversary of the arrival of the first giant pandas from China, some argue that the beloved creatures may have actually been first presented to Japan over 1,300 years ago.
Giant pandas first came to Japan in modern history in October 1972 as a gift from China to commemorate the normalization of the two countries' diplomatic ties.
Currently, 13 pandas are kept in three facilities in Japan including Tokyo's Ueno Zoo. The northeastern city of Sendai and other places are seeking to host pandas.
According to Ueno Zoo's website, there is a theory that Empress Wu Zetian of China's ancient Tang dynasty may have "gifted a pair of pandas and 70 sheets of fur in 685," during Japan's Asuka period.
The website says that information on the gift can be found in "Nihon Shoki," an eighth-century official chronicle of Japan.
But according to Kyoto Sangyo University associate professor Asao Kure, the passage the website refers to can be taken to mean, "Abe no Hirafu subjugated the Mishihase people [in modern-day Hokkaido] and presented two brown bears and 70 sheets of brown bear fur to [Japanese] Empress Saimei in 658."
While the numbers of bears and sheets of fur are the same, other information including the year differs.
Ueno Zoo cites the Japanese translation of the 1956 German book"Auf Noahs Spuren"as a source of the theory, which is also mentioned in the Japanese translation of the book "Men and Pandas."
Both books say that the Chinese Emperor sent two living white bears and 70 sheets of white bear fur to the Japanese Emperor in 685, adding that the white bears are believed to refer to pandas, instead of polar bears that cannot be found in the wild in China.
Both books point to annals of the Japanese Imperial Family as the source of the information. While the translator of "Men and Pandas" claims that the annals are "Nihon Shoki," it is unclear what the annals actually are.
Ueno Zoo also says that it is unclear whether the information included in "Auf Noahs Spuren" is true or not.
The authors of the two books "may have written [about the theory] based on something like an abstract of 'Nihon Shoki' instead of the book itself, resulting in the inaccuracy," Kure said.
In fact, Empress Wu Zetian had yet to ascend the throne in 685.
"People hearing of the theory of [pandas'] arrival in the Asuka period can either seriously research the origins and the ecology or can enjoy the mystery and history," Toshimitsu Doi, head of the Panda Protection Institute of Japan, said. "It is because pandas are so popular that people can imagine many things from a short passage."
"I hope everyone enjoys [the theory] in their own way,"Doi added.