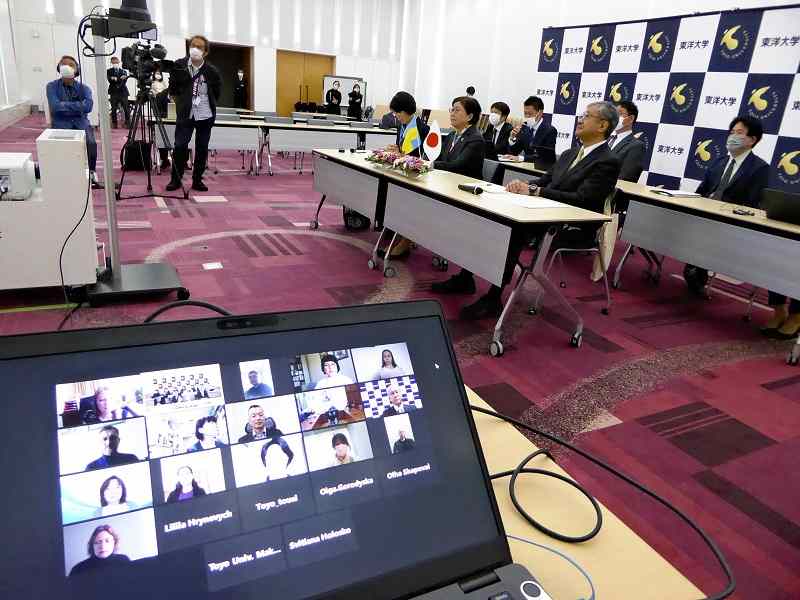 13:35 JST, May 1, 2022
A growing number of Japanese universities are offering support to Ukrainian students whose education was cut short by Russia's invasion of their country. As yet, the two-month-old conflict has no end in sight, and the resident status of displaced students is emerging as an additional concern.
Tearful appeal
Irina Shepelskaya, a Japanese-language teacher at Kyiv National Linguistic University, made a tearful plea during an online press conference at the International Christian University in Tokyo on April 1, saying: "When students are learning, they can forget about the war a little — it's like a 'mental balm.' I hope you'll give Ukrainian students a chance to study. Cities are under constant attack and students [in Ukraine] can't study as they're unable to leave their shelters."
The ICU will provide free dormitory accommodation, in addition to travel and living expenses. ICU President Shoichiro Iwakiri said, "We'll provide opportunities for learning in a peaceful and secure environment and encourage [Ukrainian students] to feel the joy of living."
Additional students
Some universities have began accepting more Ukrainian students.
At the Japan University of Economics in Fukuoka Prefecture, 68 Ukrainian students — 65 who fled their country and three exchange students — are studying their majors, such as business administration and Japanese culture. The university has employed a Ukrainian woman who can speak both Ukrainian and Japanese to act as an interpreter and help support the displaced students.
The university provides living expenses and other types of support, but some students are keen to earn money by working part-time, a university official said.
As of April 21, the University of Tokyo had accepted two women researchers and provided them with free accommodations. Kyoto University is planning to accept about 30 Ukrainian students, while Toyo University in Tokyo will offer free tuition to an as-yet-unknown number of learners. Four students from Kyiv have already applied for Japanese visas.
Website donations
Other pressing issues include the securing of financial resources and renewing students' resident status.
The University of Tokyo has set up an emergency humanitarian aid fund to cover travel costs and living expenses for Ukrainian students. It is calling for donations on its website, and as of April 29, had received about ¥10.4 million.
According to the Immigration Services Agency of Japan, foreign students usually come to Japan on a "Student" visa — a resident status that allows them to stay for a relatively long time. But Ukrainian evacuees enter Japan on a "Temporary Visitor" visa — which precludes working. However, as the Japanese government is willing to provide support, it is expected that such evacuees will be able to switch their status to "Designated Activities," allowing them to seek employment.
As an emergency measure, many universities are accepting Ukrainian students on a temporary basis, according to Hiroaki Ishii, director of Pathways Japan, which has helped educational institutions accept refugee foreign students from Syria and Afghanistan.
"Assuming that [Ukrainian students] won't be able to return home soon, it's necessary to consider how best to help them get involved [in Japanese life]," Ishii said, citing specific support measures such as Japanese language education, finding a part-time job while studying and looking for full-time work.
Online language classes
Educational support for Ukrainian students is expanding in Japan. For example, a Japanese university has uploaded videos to YouTube that teach mathematics in Ukrainian. Volunteers from Kyoto University of Education asked Ukrainian students that had been living in Japan prior to the Russian invasion to translate materials, then made 40 about 3-minute-long videos aimed at elementary to high school students covering such topics as division and simultaneous equation.
Prof. Yasufumi Kuroda of the university, who leads the volunteer group's activities, said, "The basics of mathematics are essential knowledge for everyday life." Kuroda stressed that Ukrainian students need support that will enable them to continue learning, even if their stay in Japan is prolonged.
Tokyo University of Foreign Studies, meanwhile, offers online Ukrainian-language courses for local governments and company officials nationwide. "We want to leverage the internet to help people overcome language barriers," an official of the university said.
Add TheJapanNews to your Google News feed.