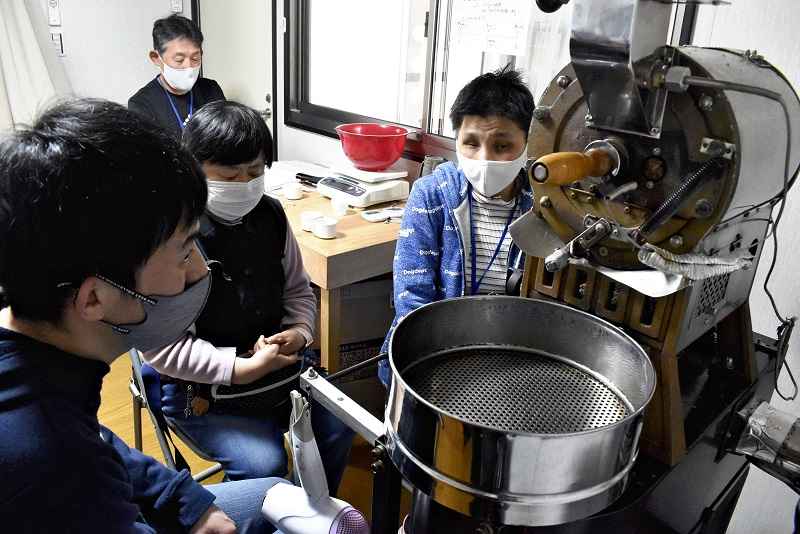 10:58 JST, April 30, 2022
AGEO, Saitama — Young workers with visual impairments carefully listen to the sounds of coffee beans popping while being roasted, using their ears to check for the best timing when the exquisite flavor is brought out.
The coffee, roasted at a welfare workshop Ryoke Green Gables in Ageo, Saitama Prefecture, is labeled "We roast with our ears" on the package, and has gained popularity by word of mouth. The rewarding job has also boosted the workers' confidence.
In a space the size of 4½ tatami mats at the workshop, three members of a processing team sat around a coffee roasting machine, listening to the fizzling sounds emitting from it. The first crackling sound was heard about 15 minutes after the stove was lit.
"Now," said Akira Yamanaka, 31, as he raised his hand. The lid was opened, and beautiful blackish brown beans could be seen.
The coffee beans were a product of teamwork. Members of the team who are completely blind, including Yamanaka, listen to the sounds, while a partially sighted worker checks the time with a stopwatch.
"It tastes rich and bitter," Yamanaka said after he tasted the coffee. "It's excellent."
The workshop, which opened in April 2020, currently has about 25 visually impaired workers. Initially, they were engaged in farming and pastry-making.
Kenji Katogi, 49, head of the facility, has actively been seeking ways to expand the types of jobs the workers can do. About two months after the facility opened, he purchased a coffee roaster at the suggestion of a pastry chef.
800 tastings
Different types of beans have different volumes of popping sounds and require different heating times. Even a difference of a few seconds can change the taste of the coffee. To maximize the richness and acidity of each type of bean, the processing team recorded the roasting time, temperature, humidity and other factors, as well as the impressions of the tastings. The team has records of nearly 800 tastings.
The members' efforts have paid off. The facility has increased its regular customers and profits. Its monthly sales, which were initially around ¥40,000, have risen to ¥500,000.
Yamanaka never liked coffee, but now he's hooked, he said.
"I became confident that I could make delicious coffee beans even though I am blind," he said. "It's fun to get involved in something with everyone else."
It has become a daily routine for other members of the facility to compare their coffee with ones from other coffee shops and discuss how they taste.
"Everyone is energetic," Katogi said.
Ryoke Green Gables sells five kinds of beans at the workshop or online (https://event.ageo-minori.or.jp/). It costs between ¥500 and ¥700 for a 100-gram bag.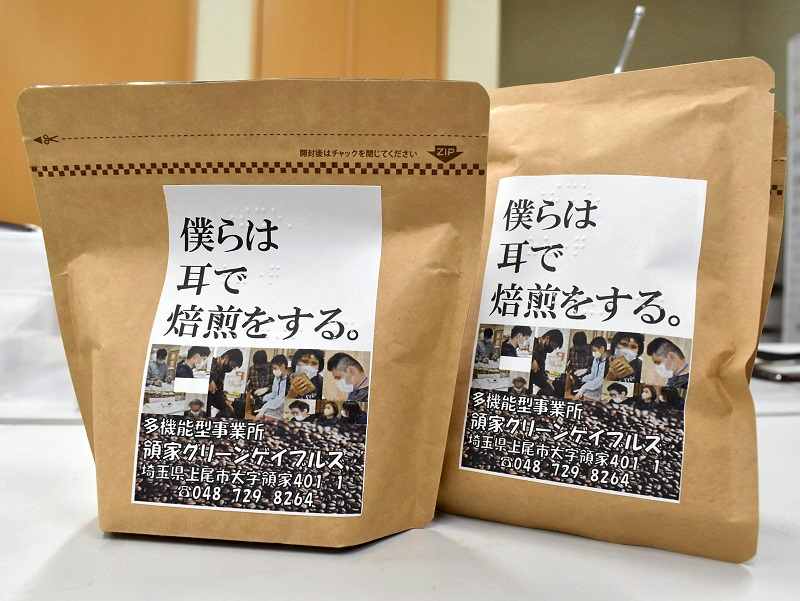 Add TheJapanNews to your Google News feed.