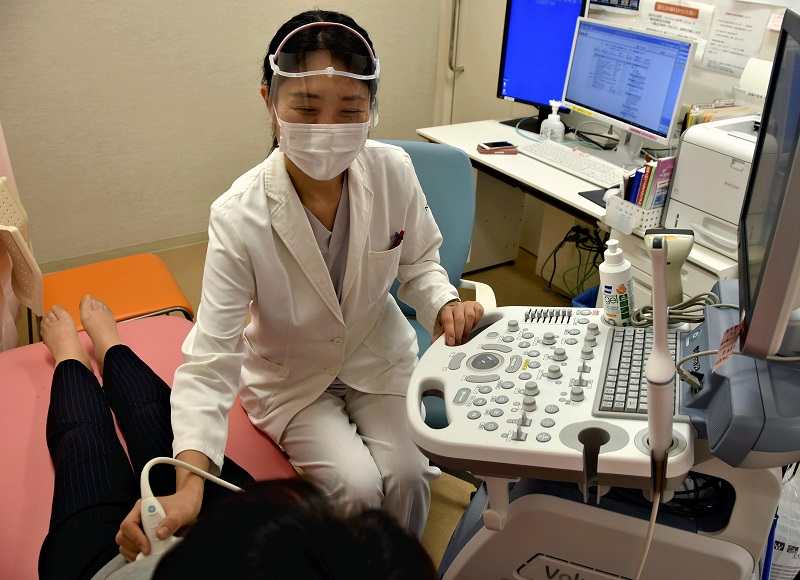 10:30 JST, April 29, 2022
The success rate for women taking Japanese medical school entrance exams has surpassed that for men for the first time in the 2021 academic year that ended in March.
This result was the fruit of universities correcting inequalities between male and female applicants in response to the revelations in 2018 that women were treated unfavorably in entrance exams for medical schools. In one case, Tokyo Medical University uniformly lowered entrance exam scores for female applicants to limit women's enrollment.
The important issue now is building an environment in which female doctors can work and play active roles for a long time, while continuous efforts need to be made to hold fair entrance exams.
Gender hidden
According to an Education, Culture, Sports, Science and Technology Ministry survey regarding entrance exams for medical faculties at 81 national, public and private universities for the 2021 academic year, the average success rate for female test-takers was 13.60%, overtaking that for male examinees at 13.51%. There were 8,421 successful male applicants and 5,880 female applicants.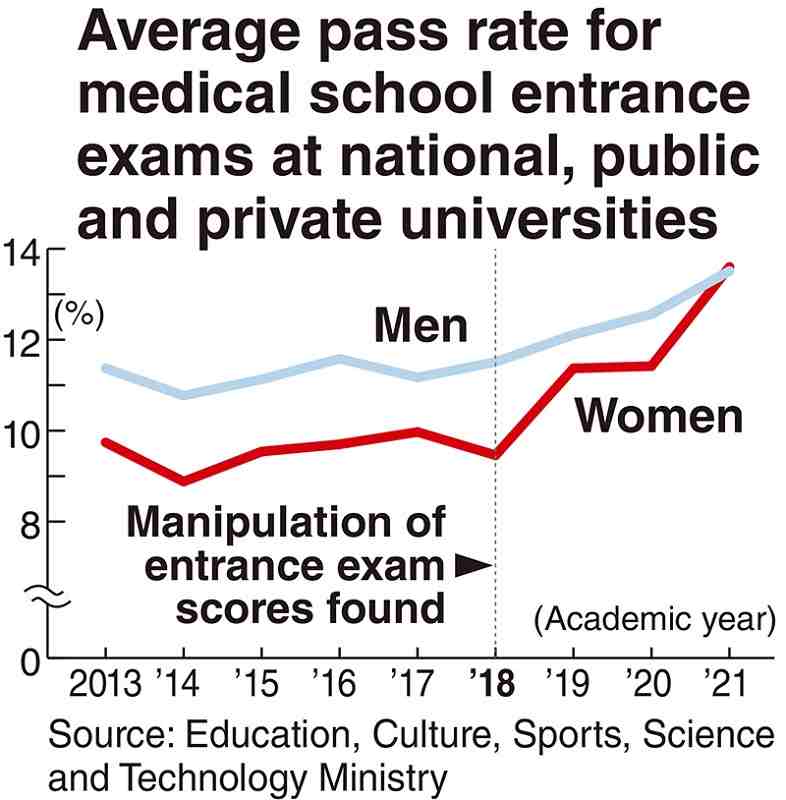 This was the first time that women surpassed men since comparable data became available in the 2013 academic year. The pass rate for women exceeded that for men at 42 universities, about half of the 81.
In 2018, medical schools across Japan were found to have discriminated against female applicants and repeat test-takers. Tokyo Medical University, for instance, was found to have deliberately reduced the scores of women in the general entrance examination. Other universities were also found to have discriminated against women in their entrance examinations.
A female president has since taken office at Tokyo Medical University. The school also overhauled its admissions process. It increased the number of female interviewers and withheld the name and gender of examinees during the process of deciding whether to accept or reject an applicant.
The university also brought outside auditors and lawyers into the admissions process at its entrance exam committee and faculty council, as well as into the process of grading and evaluating test results. Results and rankings in secondary examinations were disclosed to examinees.
In the entrance exam for the 2018 academic year, the success rate for test-takers was 9.04% for males and 2.91% for females. But the disparity was almost eliminated in the exam for the 2021 academic year as the success rate was 15.34% for men and 14.96% for women.
In 2018, the ministry said Juntendo University, Kitasato University and St. Marianna University School of Medicine were also involved in the unfair treatment of female applicants taking university entrance exams. But in the 2021 academic year, the pass rate for women surpassed that for men at Kitasato University and St. Marianna University School of Medicine. The two universities have made some improvements regarding their entrance exams. When filling vacant spots with applicants who had failed to pass, they strictly respected the ranking of scores, instead of giving higher priority to men and younger test-takers as they used to. They also ensured that female interviewers were included in the interview process.
Even among universities where such discriminatory treatment against women was not confirmed, the average acceptance rate of women exceeded that of men at only 17 schools during the 2013 and 2018 academic years. But the figure increased to 40 for the 2021 academic year.
Kenichi Ishihara, director of the college admissions information division of the Sundai Educational Institute, believes that more universities have placed importance on fairness in entrance exams as the public's view of such discrimination has become more severe. Ishihara said that the reversal of male-female acceptance rates may be due to the fact that, under fair exam conditions, women tend to exhibit better reading comprehension and communication skills and are thus more likely to receive higher marks in both exams and interviews.
Needed on front lines
According to the final report by a third-party commission on the manipulation of entrance examination scores at Tokyo Medical University released in December 2018, "there was a perception at the school that it was necessary to keep the enrollment of women as low as possible in order to run an affiliated hospital properly, as their turnover rate is higher than that of male employees due to marriage and childbirth."
A male doctor in Tokyo said, "People who are young, physically strong and able to work long hours are actually in demand [on the front lines of medicine]." In Japan, where child rearing and other household work is still mostly done by women, female doctors are often forced to work shorter hours or leave because they are having a baby or raising children. There are also many female doctors who are forced to quit after getting married due to harsh working environments.
A woman in her fourth year of medical school at a university in the Kanto region failed an entrance exam for the school as she was discriminated against because of her gender. But she was later accepted after the university acknowledged its unfair treatment. "I'm glad that now fewer women will have to go through what we have experienced," she said.
She hopes that the working environment for doctors will be reviewed so that women who have got into medical school do not have to have a hard time later.
Work environment
According to a survey released in 2021 by the Organization for Economic Cooperation and Development, the percentage of female doctors in Japan was 22%, the lowest among 37 member countries. According to the Health, Labor and Welfare Ministry, there were about 78,000 female doctors in Japan as of 2020, compared to about 262,000 male doctors.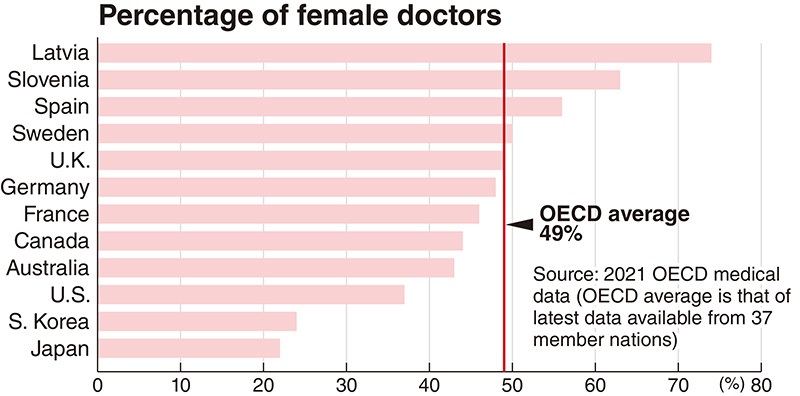 Nippon Medical School offers a 20-hour workweek for male and female doctors who are raising elementary school-aged or younger children while working at its affiliated hospital, Nippon Medical School Hospital. In the past five years, a total of 74 doctors have used the system, and 60% of them said they would have left the hospital if not for the system. The university also offers to assign research assistants to help with experiments and other tasks.
Nearly half the people enrolled in the university's medical school this spring were women.
Tomoko Ichikawa of the department of obstetrics and gynecology at Nippon Medical School Hospital works three days a week while raising two elementary school-aged children. Last summer, the hospital assigned a research assistant for her, and she began full-scale research into miscarriage. Ichikawa said: "Without this system, I would not have been able to continue my practice and research. I would like to interact with doctors involved in cutting-edge treatment and research in order to find new treatment methods."
Ryuji Ohashi, a doctor and a member of the university's Diversity Promotion Center: For Your Good Life and Good Career, said: "Demand is high for female doctors in such areas as obstetrics and gynecology as well as pediatrics. New discoveries and ideas can be expected by ensuring there are diverse experiences and values in the field of research."
The health ministry provides subsidies to universities and general hospitals that support the career development and research activities of women doctors while they are raising children.
The Japan Medical Association's Woman Doctor Bank, commissioned by the ministry, matches female doctors who have left their jobs with medical institutions to help them return to work.
Add TheJapanNews to your Google News feed.