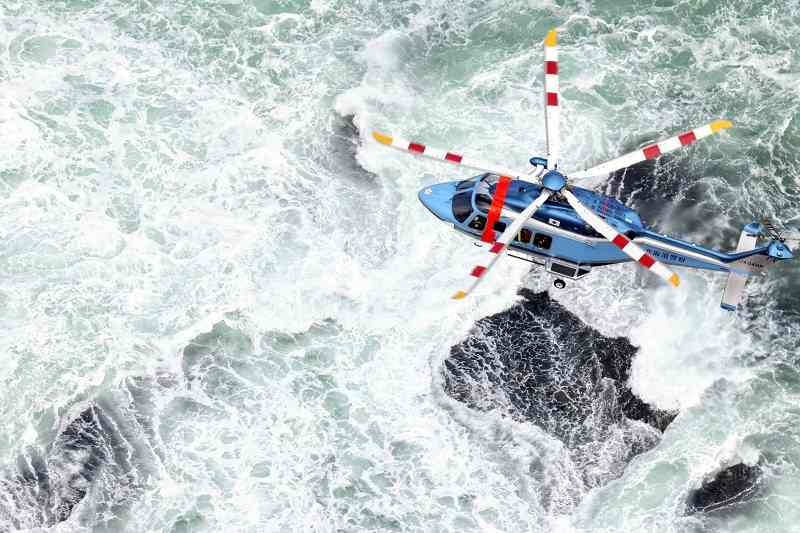 17:28 JST, April 28, 2022
Search operations continued Thursday to find 15 people still unaccounted for after the sightseeing boat Kazu I went missing off Hokkaido with 26 people aboard, but bad weather was complicating those efforts.
Of the 11 people so far confirmed dead, the 1st Regional Coast Guard Headquarters identified Wednesday three more victims, bringing the total number of those identified to six. Among the three identified Wednesday were Yoshiya Hayashi, 78, from Arita, Saga Prefecture, and his friend Kensuke Iwanaga, 74, from the same town.
Iwanaga, who was aboard the ship with Hayashi, was said to have called his wife from the ship and told her: "The ship is sinking. Thank you for everything. Thank you for your support."
Noriaki Furukawa, a 69-year-old brother-in-law of Iwanaga, said Iwanaga had said that he would rent a car to go sightseeing in Hokkaido with his friends and visit Shiretoko. After learning about the accident on Sunday morning, Furukawa contacted Iwanaga's wife and learned that he had called her on Saturday — the day of the accident — sounding alarmed. Furukawa later learned of Iwanaga's death through another relative.
"[His phone call] shows his kind personality," Furukawa said. "He must have been desperate."
After learning that Iwanaga's body had been identified, Furukawa said, "How did this happen? I can't accept it as reality."
According to relatives and friends, Iwanaga had long run a local timber company and served as a communal head of his district. He was actively involved in community activities and was well respected.
Hayashi was known for his cheerful personality and love of travel. He toured foreign countries by rental car and ran marathons in South Korea, Brazil and the United States.
A close family friend, 77, said: "He'd visited so many places in Japan and abroad and shared many stories with me. He was very active and willing to try anything, and I just can't believe he got in an accident during his trip."
Another friend of Hayashi, 72, said he had recently played golf with him in Sasebo, Nagasaki Prefecture.
"He is unflappable and jumps into anything actively," he said, adding that Hayashi had been looking forward to the trip to Shiretoko. "He used to tell me, 'Don't just work, have fun.' I'm suffering a real loss."
Grieving uncle
The 1st Regional Coast Guard Headquarters on Monday identified the body of a child as that of 3-year-old Nanako Kato from Tokyo.
Her uncle told reporters Wednesday in Tokyo, "I am consumed by grief for her to lose her life at such a young age."
He said the last time he saw Nanako was about six months after she was born. After that, the coronavirus pandemic kept him from visiting her.
"She was such a lovely baby, and I heard that she was growing up well," the uncle said with a strained voice. "She just started kindergarten this spring, and I was looking forward to seeing her as the infection situation has been settling down."
Nanako is believed to have been on board with her parents, who are still missing. Her uncle hoped they would be found soon.
Add TheJapanNews to your Google News feed.