Video linking Hitler with Emperor Showa draws ire; Ukraine apologizes to Japan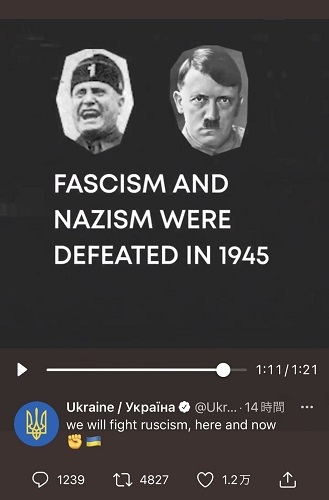 13:00 JST, April 26, 2022
The Ukrainian Embassy in Japan apologized Monday for a video clip posted on a Twitter account bearing the name of the Ukrainian government, showing Emperor Showa with Adolf Hitler and Benito Mussolini. The photo of Emperor Showa has been deleted from the video.
Deputy Chief Cabinet Secretary Yoshihiko Isozaki said Monday at a press conference that the Japanese government had issued a protest and demanded that Ukraine delete the image.
"Treating Hitler, Mussolini and Emperor Showa in the same way is completely inappropriate and extremely regrettable," Isozaki said.
The video was posted April 1 criticizing Russian President Vladimir Putin of invoking a fight against "fascism" as a pretext to Russia's invasion of Ukraine.
The embassy issued an apology on its Twitter account reading: "We were not aware of the posting. We received many rebukes. We deeply apologize to everyone who has felt displeasure with the posting."
Later tweets said, "We believe the person who created the video lacked knowledge of history," and "We would be grateful if you could still continue to help us bring peace to Ukraine."