Poor handling of tour boat suspected in Shiretoko accident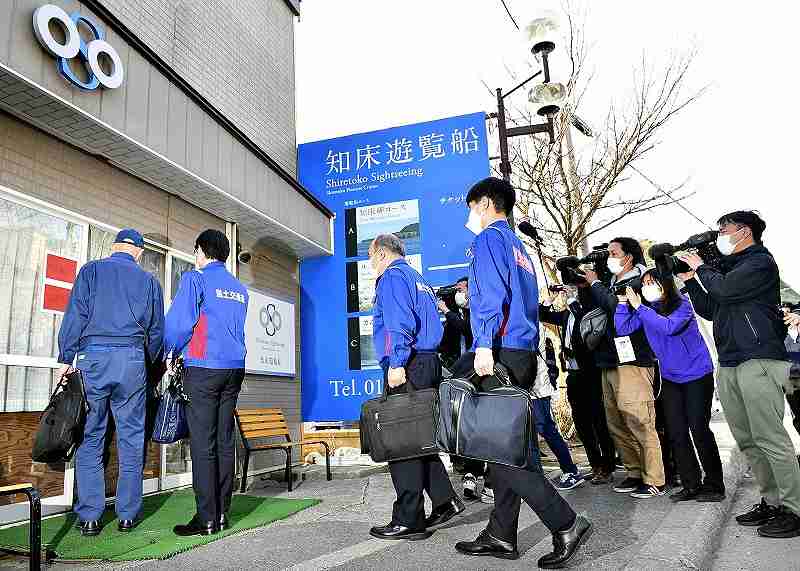 8:39 JST, April 26, 2022
Boats run by the operator of a sightseeing vessel that went missing Saturday off the Shiretoko Peninsula had been seen sailing too close to shore or passing near fixed fishing nets, suggesting poor handling, The Yomiuri Shimbun has learned.
According to a captain at a different boat company, such poor handling came to be observed after five people quit Shiretoko Pleasure Boat, the operator of the sightseeing vessel.
"Sightseeing vessels usually do not run aground. I was worried that one day there may be a big accident that could involve human life," he said.
According to the Japan Coast Guard, 11 of the 26 people from the missing boat have been found and confirmed dead as of Monday morning.
A man who used to work as a captain for Shiretoko Pleasure Boat in Shari, Hokkaido, and retired at the end of 2020, said five staff members had quit the firm by March 2021 because of disagreement with the company's personnel reduction plan.
Suspension of service
An association of four small local sightseeing boat companies, including Shiretoko Pleasure Boat, decided Sunday to suspend their boat operations from Thursday to May 8.
Since the full-fledged tourist season on the peninsula — a World Natural Heritage site — usually starts during the Golden Week holidays, some at local leisure companies and accommodation facilities are worried that their businesses may be affected by the suspension.
"I have always told tourists that they should get on a sightseeing boat first. Now it's hard to do that," said a 66-year-old woman who has been working at a local tourist facility for more than 30 years.
According to websites including that of Shari, about 1.16 million people visited the town and about 150,000 people boarded tour boats departing from the port of Utoro in Shari, in 2019. The number of visitors decreased to about 710,000 in 2020 amid the COVID-19 pandemic, but the boats, which allow visitors to enjoy views of unspoiled nature from the sea, are a major tourist attraction.
"If people develop the idea that sightseeing boats are scary, they may not visit us in the future," said a man who works at a local souvenir store.
Shiretoko is about to enter the season when cherry blossoms bloom, attracting many tourists. An employee at Shari Daiichi Hotel said: "We have received reservations for the Golden Week holidays. I'm worried about the impact of the accident."
Katsunori Seki, 68, president of Shiretoko Diving Co., a firm offering diving programs in waters around the peninsula, said, "We are going to operate our business while putting safety first."
Newly hired crew
A newly employed deckhand is one of two crewmen that were aboard the missing boat named Kazu I.
The mother of the 27-year-old deckhand, Akira Soyama, spoke to The Yomiuri Shimbun at her home in Chofu, Tokyo, on Sunday. "I don't know what is going on at all," she said, looking fatigued.
According to her, in April Soyama was hired by Shiretoko Pleasure Boat. He had no prior experience of working as a seaman.
After graduating from university, he traveled to many countries before finding work at a tax accountant's office. He joined the boat operator in Hokkaido because he wanted to work aboard a ship.
On Sunday, the company told the mother that Soyama was aboard the Kazu I, but she received no detailed explanation on the situation.
"My son may be among the people who have been found. [I don't know] what on earth has happened," the mother said dejectedly.