Ceremony held to mark 2005 Japan train disaster for 1st time in 3 years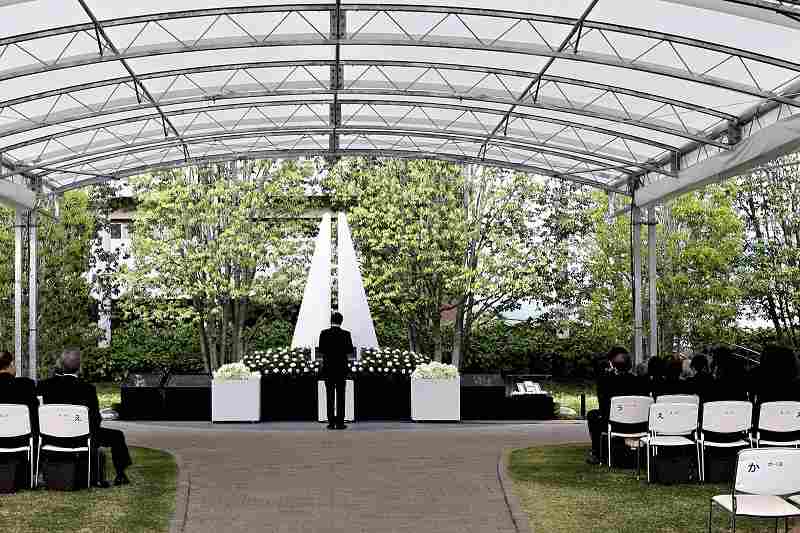 15:27 JST, April 25, 2022
AMAGASAKI, Hyogo — Monday marked the 17th anniversary of a 2005 train accident in which 107 people died and 562 were injured.
A ceremony commemorating the fatal derailment on the JR Fukuchiyama Line in Amagasaki, Hyogo Prefecture, was held Monday, for the first time in three years.
West Japan Railway Co. had held a memorial service every year since the disaster, but had to cancel the event for the past two years due to the novel coronavirus pandemic.
Monday's ceremony was attended by 244 people, including bereaved families, people injured in the accident and a delegate from the company. Participants mourned the dead at Inori no Mori, a memorial facility set up by the railway operator on the site of the disaster.
The company also livestreamed the proceedings for people who did not attend due to fears over COVID-19, setting up a venue in Itami in the prefecture to show the stream.
West Japan Railway President Kazuaki Hasegawa offered an apology during the ceremony, saying: "We deprived people of their precious lives in a single moment, forcing you to make sudden farewells to your loved ones. We have sincerely taken to heart lessons learned from the accident, and will strive to achieve safe railways."
The disaster occurred at 9:18 a.m. on April 25, 2005. Seven cars from an express train that had left Takarazuka Station bound for Doshisha-mae Station derailed, and the train crashed into an apartment block near the rail tracks.
Add TheJapanNews to your Google News feed.