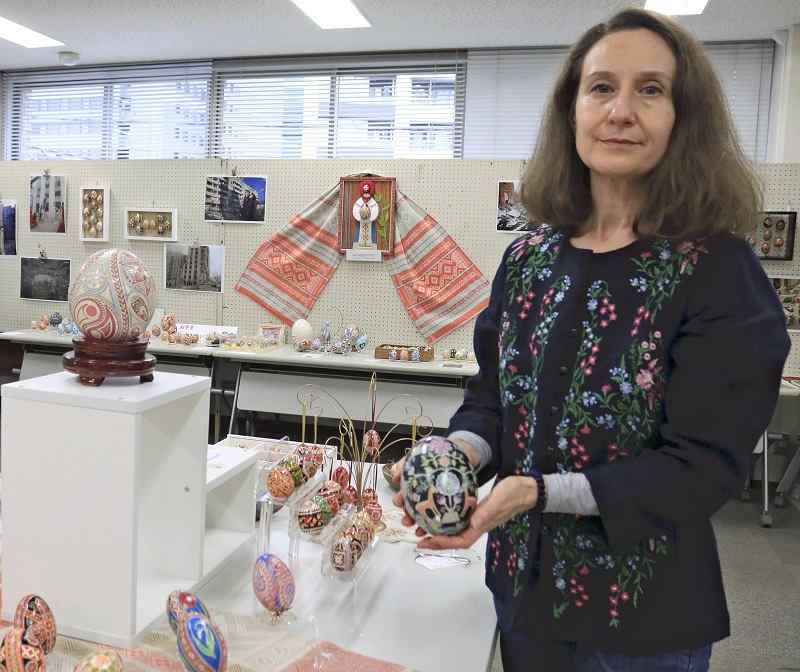 21:00 JST, April 25, 2022
A Ukrainian artist living in Japan recently organized a charity exhibition of traditionally decorated pysanky eggs in Shinagawa Ward, Tokyo, to help support her home country.
Tetyana Solotska, who lives in Kawasaki, is planning more exhibitions featuring the Ukrainian craft in Tokyo and its surrounding suburbs. "I hope the circle of support will expand through Ukraine's beautiful culture," she said.
Pysanky involves painting chicken and duck eggshells with elaborate patterns featuring motifs including flowers, the sun and stars using wax-resist dyeing.
The craft has been popular in Ukraine for more than 1,000 years and the finished products are considered to be good luck charms. However, during the period when the country was ruled by the former Soviet Union, pysanky was forbidden, so when Solotska was born, neither she nor her parents knew about its existence.
Solotska, 50, came to Japan from Ukraine's capital city, Kyiv, at the age of 28 due to her husband's work. In Japan, she met a friend from Lviv in western Ukraine by chance, who gave her a pysanky decorated egg as a gift. Solotska was intrigued by pysanky and learned about it on the internet.
Fascinated by the vivid patterns, she resolved to spread the culture of Ukraine in Japan. In 2014, she began running workshops at culture centers in Setagaya Ward and Kodaira, Tokyo, teaching Japanese students how to create their own pysanky eggs. She also began holding exhibitions in various locations.
Solotska explained that following Russia's invasion of Ukraine, her mother and college-era friends in Kyiv have been spending anxious days amid the bombardment. She said she felt a growing desire to do something for Ukraine and decided to rally support via pysanky.
She managed to secure a venue at the ward's International Friendship Association for free — partly because her eldest daughter, Iryna, lives there. More than 230 people attended the event, and donations totaling ¥380,000 were sent to the Japanese-Ukrainian association of friendship, Kraiany, a non-profit organization.
Solotska thanked the visitors and the ward for their support, saying: "There are still many people who have no place to return to. I hope you'll continue to think of Ukraine in the future."
The next exhibition will be held on May 7-8 at the Kawasaki International Center. More information can be found on the Facebook page "Pysanky No Tabi."
Add TheJapanNews to your Google News feed.