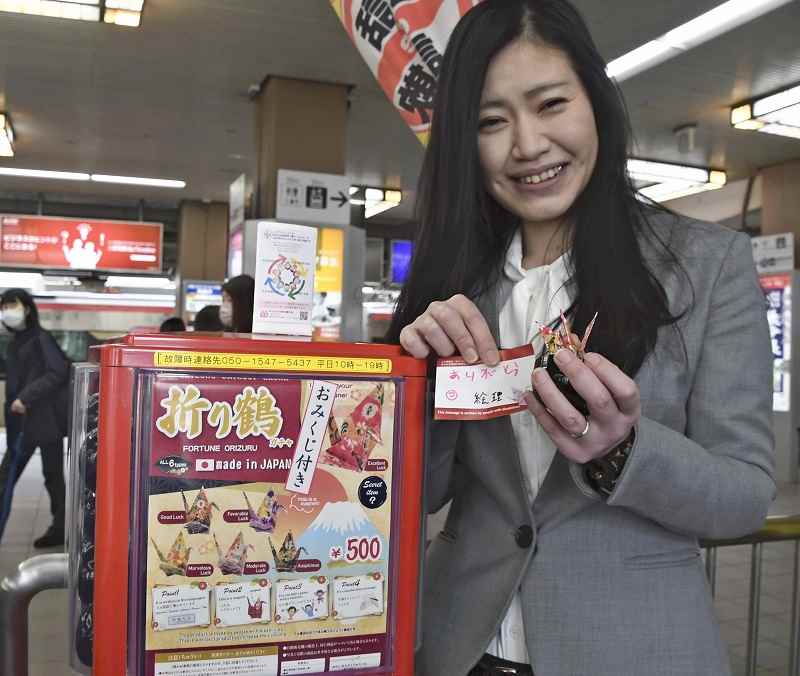 2:05 JST, April 25, 2022
NARITA, Chiba — Capsule toy machines that dispense paper cranes along with fortune-telling slips in Narita, Chiba Prefecture, and elsewhere are providing a means of work for people with various types of handicaps. The unique items reflect wishes that days of bustle with many inbound tourists will return after overcoming the COVID-19 crisis.
One of the machines has been installed at Aeon Mall Narita in the city. After inserting a ¥500 coin and turning the nob, a plastic capsule containing a paper crane along with a fortune-telling slip written in five languages, including English, Chinese and Korean, falls out.
There are six types of fortunes on the slips, and because it comes out of a machine, no one knows what fortune they will get.
"It's very Japan-like and fun. It's also good for a souvenir," said a man from Britain who lives in the city.
Three such machines have been installed in Narita since end of last year, as well as one at Keisei Ueno Station in Taito Ward, Tokyo.
The machines are operated by the Support Network P&P for Employment of Handicapped People based in Kashiwa, Chiba Prefecture, in cooperation with nine workshops that support the employment of handicapped people. People with mental and physical handicaps share the production steps, such as folding paper into cranes, putting items into capsules and writing messages.
"Even people with handicaps can contribute to the production with skills they are good at," said Yoko Okutake, the representative of the network.
Amid the prolonged coronavirus crisis, support workshops for handicapped people have suffered. Especially, according to Okutake, cancelations of music concerts and other events have especially impacted such workshops, because jobs as such checking and packaging event-related goods, which the workshops often take on, have drastically declined.
To overcome this, Okutake started to consider what kind of products with compatible production steps the network of workshops could produce.
Noticing that foreign tourists have a habit of grabbing unique souvenirs right before they leave Japan, Okutake came up the idea of combining paper cranes — easy to make even for handicapped people — capsule toys, which are popular among foreigners, and the fun of fortune-telling.
Setting the price a bit high means wages are higher than conventional jobs available at such workshops.
"People from various countries will learn about Japanese culture [through the items]," said a woman in her 50s who works at a workshop in Kashiwa, the same prefecture. "I'm also happy that the wage is rather high."
Entry restrictions for newly arriving foreigners were significantly eased in March, but there is no bright outlook for the return to normal on inbound tourism.
"I hope sales of our product will lead to more support for handicapped people getting jobs," said Okutake.
Add TheJapanNews to your Google News feed.