Missing Shiretoko boat was journeying on popular World Heritage course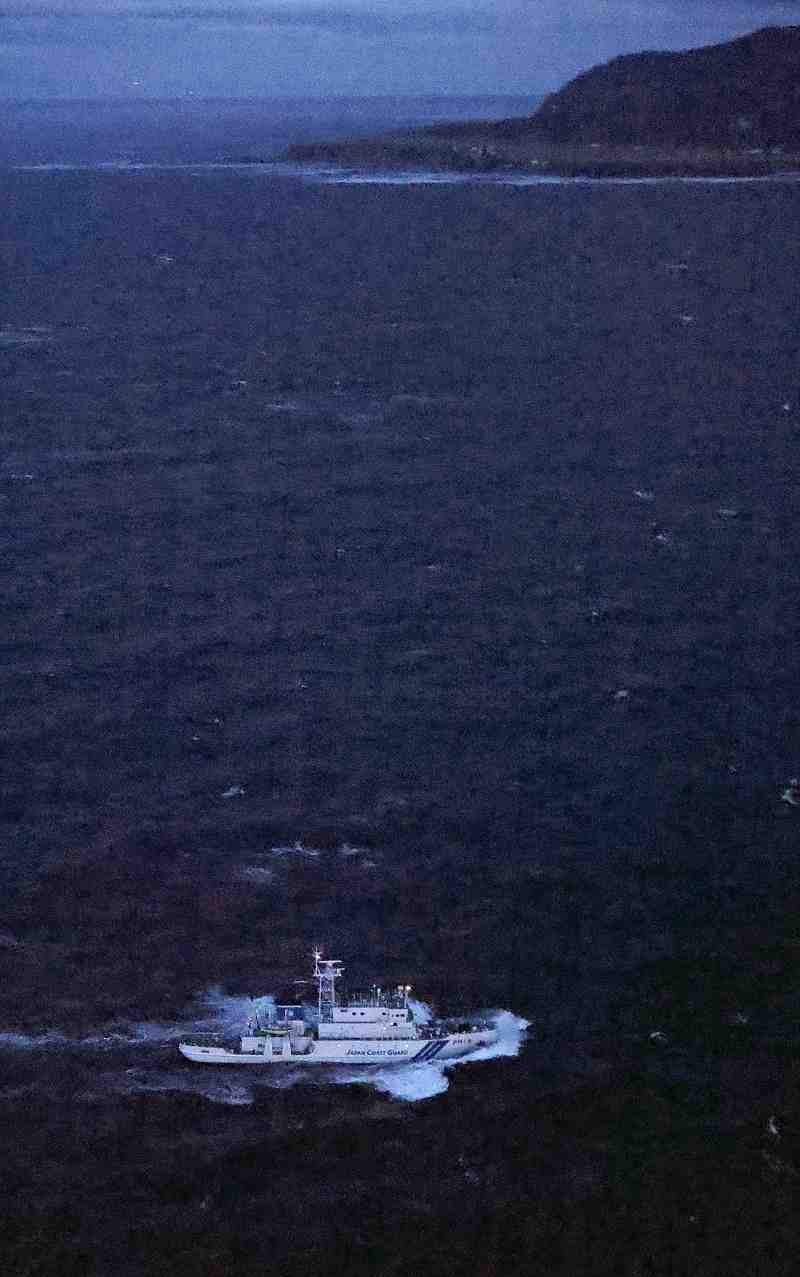 17:00 JST, April 24, 2022
The area off Shiretoko Peninsula where a sightseeing boat went missing is part of a natural World Heritage site inscribed by UNESCO in 2005.
The incident on Saturday comes just ahead of the Golden Week holidays that span late April through early May.
A key base for Shiretoko sightseeing is the port of Utoro, where the sightseeing boat operator Shiretoko Pleasure Boat has its office. The company's 19-ton Kazu I was carrying 26 people when it disappeared.
After the incident, Utoro was packed with Japan Coast Guard officers, police officers and other people scrambling to gather information.
According to the 1st Regional Coast Guard Headquarters, the site where the boat went missing is about 160 kilometers from Kushiro Air Station. A helicopter arrived at the site at about 4:30 p.m., more than three hours after the JCG was first alerted to the incident.
A man at a lodging facility along the coast said that the sea was quiet Saturday morning, but in the afternoon the waves were high and local fishing boats were returning to port.
A sightseeing cruise business in Abashiri, Hokkaido, is set to operate boats from Utoro from Thursday, when its summer schedule starts. According to the business, careful maneuvering is required as there are many reefs in the vicinity of the site, and a collision could cause a hole in a vessel's hull.
Tourism for Shiretoko usually reaches its peak after the Golden Week holidays, drawing many visitors from all over the country. Sightseeing boats leaving on round-trip tours from Utoro fishing port to Cape Shiretoko are particularly popular, as passengers have the chance to view brown bears, dolphins, cliffs and other natural attractions in the land and sea area that encompass the World Heritage site.
Five companies operate sightseeing boats that tour the western coast of the Shiretoko Peninsula. According to the Shiretoko Shari-cho Tourist Association's website, Saturday was the first day such boats operated this season.
"The sea is often rough through late April," said Yoshiaki Okazaki, chairman of the Shiretoko Guide Council, which comprises tour operators and other people. "I hope the passengers and crew members are safe."
According to the Japan Meteorological Agency, the sea water temperature in the area was 4 C on Friday and its forecast for Saturday was about 5 C.
"In general, if people enter water at a temperature below 5 C, their body temperature is rapidly lost and life is in danger within about an hour," said Hidetoshi Saito, chairperson of the Society of Water Rescue and Survival Research, which conducts research on water accidents.
Add TheJapanNews to your Google News feed.