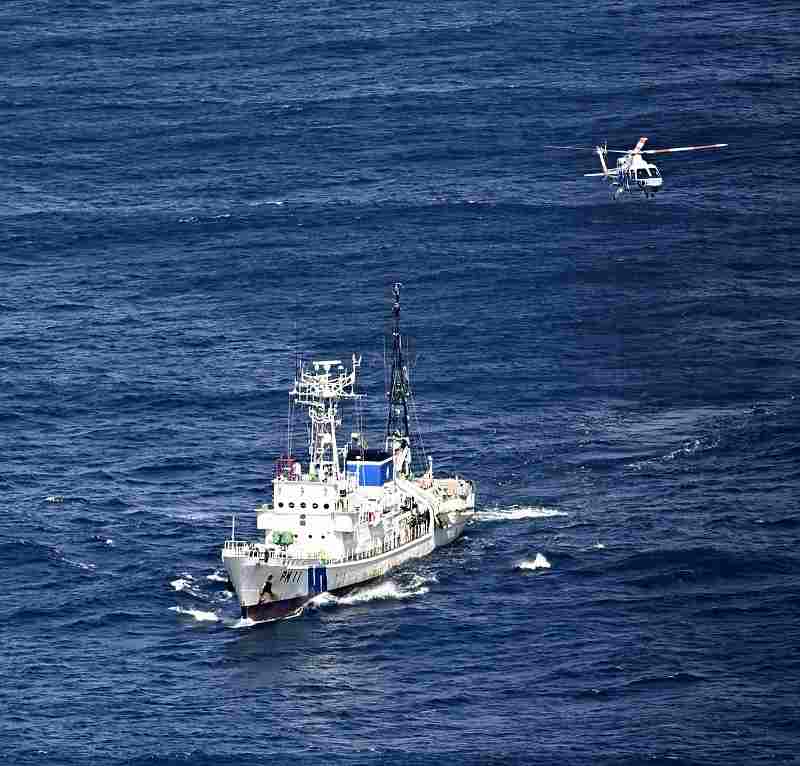 17:33 JST, April 24, 2022
SAPPORO — A sightseeing boat with 26 people on board went missing Saturday off the Shiretoko Peninsula in Hokkaido, after an emergency call said the boat was sinking, the Japan Coast Guard said. As of Sunday, the JCG said 10 people had been found near Cape Shiretoko and confirmed dead.
The 1st Regional Coast Guard Headquarters said it received a call at about 1:15 p.m. on Saturday saying the vessel's bow was flooded and the boat was sinking. Final contact with the boat was made at about 2 p.m., when a message was received saying the craft was listing about 30 degrees. The coast guard has dispatched ships and aircraft to the area, but the boat has yet to be found.
According to the coast guard, the Kazu I, operated by Shiretoko Pleasure Boat, based in Shari, Hokkaido, was carrying 24 passengers, including two children — thought to be a 7-year-old boy and a 3-year-old girl— and two crew members.
They are believed to have ranged in age from the preschool child to men and women in their 70s, and from nine prefectures, including Tokyo, Osaka, Fukuoka and Hokkaido.
The vessel departed from Utoro fishing port in Shari at 10 a.m. on Saturday, and was scheduled to return at Cape Shiretoko after a three-hour trip, according to the boat's operating company and other sources. The final call was received when the vessel was in the Kashuni Falls vicinity, on the west side of the peninsula.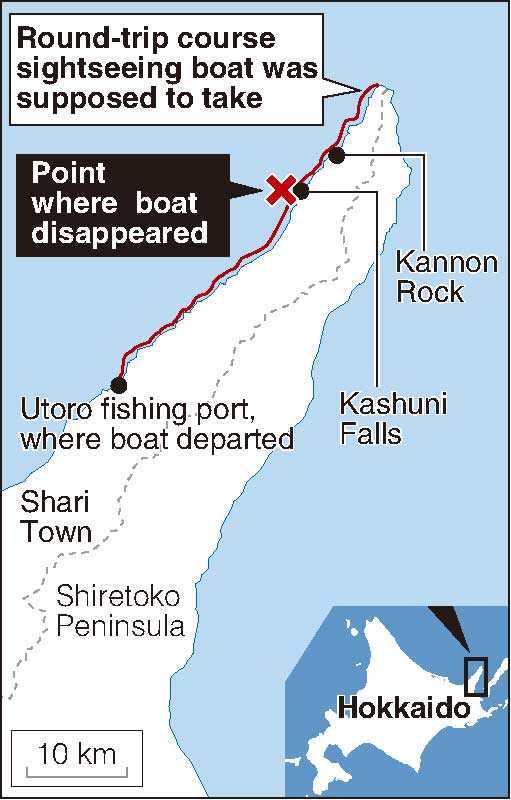 It is believed that everyone on board was wearing a life jacket.
From around noon on Saturday, there were high waves and poor visibility in the area where the Kazu I went missing. Fishing boats that had earlier departed from Utoro fishing port were forced to turn back in the morning.
Steep coastal cliffs near the area where the vessel went missing make it difficult for rescuers to approach from land. The coast guard began its search using six ships and two aircraft on Saturday. The Air Self-Defense Force also dispatched a search and rescue aircraft following a request from the coast guard on the day.
Prime Minister Fumio Kishida was visiting Kumamoto Prefecture on Saturday, but cut short his trip and returned to Tokyo the same day on a Self-Defense Force plane. He canceled a Sunday inspection of areas hit by heavy rains in Kyushu.
The Kazu I ran aground in June last year. There are frequent accidents involving sightseeing boats off the Shiretoko Peninsula.
Shiretoko was registered as a UNESCO World Natural Heritage site in 2005 for its waters and ecosystem. Many parts of the peninsula cannot be reached by car, and sightseeing boats are popular among tourists, as they can view brown bears and waterfalls from the sea.
---
---
Add TheJapanNews to your Google News feed.