Work to improve Japan's water pipe infrastructure moving at glacial pace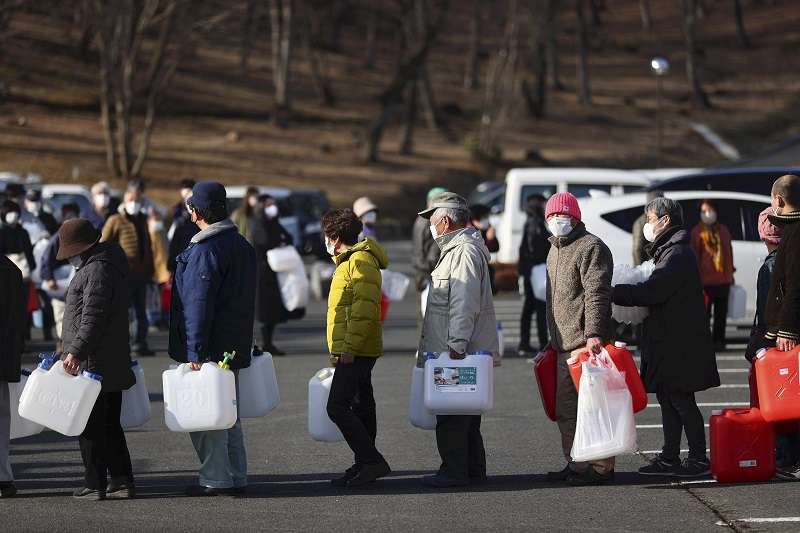 7:06 JST, April 24, 2022
The overwhelming majority of major water service pipes damaged by a large earthquake off the coast of Fukushima Prefecture last month had not been made quake-resistant, the Yomiuri Shimbun has learned.
About 70,000 households in Iwate, Miyagi and Fukushima prefectures were left without water as a result of the quake's detrimental impact on pipes in around 100 different locations.
Currently, only about 40% of the nation's water pipes have been readied to withstand temblors, prompting experts to emphasize the need for such work to be expedited.
5 days without water
Shigetaka Hara, a 77-year-old farmer in Minamisoma, Fukushima Prefecture, was among those affected by the late-night March 16 quake, which measured upper 6 on Japan's seismic intensity scale of 0-7. "I couldn't wash things, or even flush the toilet," he said of his 5 days without water. "The hardest part was getting to a supply facility in the city."
Hara explained how he drove daily to the facility with five, 20-liter storage containers and waited in line for up to two hours to fill his tanks. He also collected rainwater to flush the toilet and bathed repeatedly in the same bathwater.
About 60% of the water pipe damage in Fukushima Prefecture occurred in the municipalities of Minamisoma, Soma and Shinchi, with some 23,092 houses left without water for up to a week.
The Soma District Water Supply Authority logged instances of damage in about 40 spots, including water pipes linking a purification facility to a distributing reservoir, and pipes linked to general households.
The Health, Labor and Welfare Ministry has encouraged local governments to accelerate quake-resistant work, which includes securing pipe joints with special components, among other measures.
In Fukushima Prefecture, 56.3% of water service pipes have been enhanced to withstand earthquakes; the pipes damaged by the recent quake had not been upgraded.
The same area was hit by a similar upper 6 temblor in February last year, cutting water supplies to about 630 homes. "It was all we could do to repair the damaged pipes; we weren't able to start on quake-proofing work," said the chief of the facilities section at the water supply authority.
Population decline
The Yomiuri Shimbun contacted local governments and water supply authorities in 27 cities, towns, and villages in the three prefectures where water supplies stopped. As of April 5, water pipes were found to have been damaged at one location in Iwate Prefecture, 51 spots in Miyagi Prefecture, and about 50 sites in Fukushima Prefecture.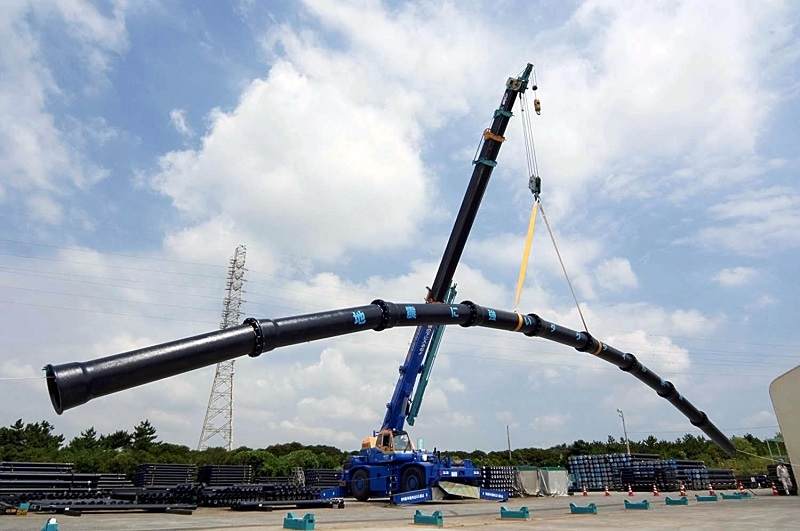 Investigations are ongoing in Kakuda, Miyagi Prefecture, where 1,682 houses were affected by water-supply cuts, meaning more instances of damage will likely be uncovered.
Water was cut to about 700 houses and a hospital in Yamamoto, Miyagi Prefecture, which registered the recent quake as lower 6. In 2011, the whole town was left without water following the Great East Japan Earthquake, which killed 637 local residents. As of the end of 2010, the town's population was 16,735. However, many people have subsequently left the area, and, as of the end of March, the population stood at 11,909, a drop of around 30%.
An official in charge of the town government said: "Fewer people are using the town's water services, so we can't pull in the same kind of revenue we did previously. This makes it difficult to pay for the water pipe quake-proofing in one go."
Though water pipes have undergone quake-resistant work in Osaki and Taiwa — both of which are administered by the Miyagi prefectural government — a water main suffered damage due to component failure. The prefectural government is investigating the cause of the failure in the pipe, which runs along a bridge that crosses a river. "We're closely examining the reasons behind the water supply cut-off," an official said.
Financial difficulties
In 1995, 1.3 million houses lost access to water due to the Great Hanshin Earthquake. The Tokyo metropolitan government reportedly has learned lessons from this and has been upgrading its water pipes since fiscal 1998. At present, 65.3% of the capital's water pipes have undergone such work, second only to Kanagawa Prefecture, at 72.8%.
Despite this, however, it is expected that about 35% of Tokyo households will be left without water if the Tokyo metropolitan area is hit by an earthquake with an epicenter directly below the area. The metropolitan government has been prioritizing water-related infrastructure that links key facilities, including evacuation centers, stations, and medical institutions.
In the wake of the Great East Japan Earthquake, about 2.56 million houses in Tokyo and 18 other prefectures were left without water. At the time, there were calls to increase the ratio of Japan's quake-resistant pipes, which then stood at a national average of 31%. According to the health ministry, this figure had risen to 40.7% as of March last year.
Most water service businesses are run by local governments on a self-paying basis. In Kochi Prefecture, which is expected to suffer sizable damage if the area is struck by a major Nankai Trough temblor, 23.8% of water pipes have undergone quake-resistant work. An official in charge of the prefectural government said, "It's difficult for municipal governments of cities, towns, and villages with scant financial resources to scrape together cash for such work."
Masakatsu Miyajima, a former professor at Kanazawa University and an expert in disaster prevention engineering who conducted on-site inspections following the latest Fukushima earthquake, said: "The efficacy of water pipes that have been made quake-resistant is obvious. As such, the state should increase subsidies to local governments in financial difficulties. If funds for related work is secured by hiking water service charges, local governments need to carefully explain to residents that the rise is part of measures to ready against natural disasters."
Add TheJapanNews to your Google News feed.