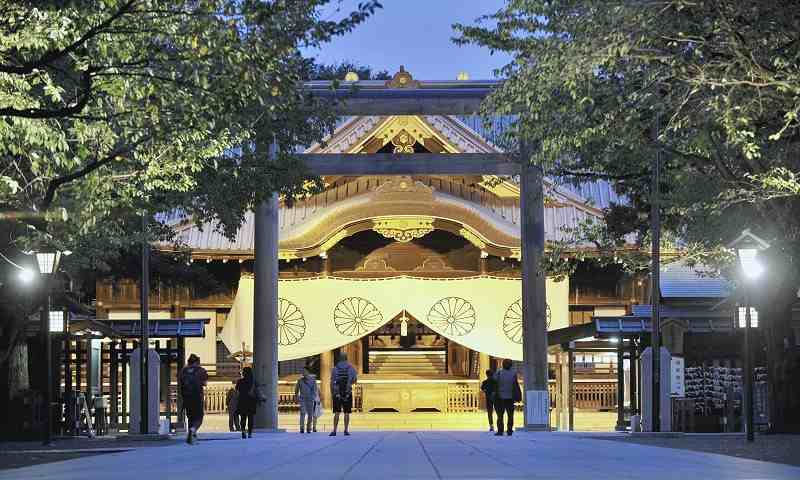 17:00 JST, April 23, 2022
TOKYO (Jiji Press) — Over 100 lawmakers from Japan's ruling and opposition camps made a group visit to Yasukuni Shrine in Tokyo on Friday during the Shinto shrine's spring festival.
They are members of a suprapartisan team of lawmakers promoting visits to Yasukuni Shrine. This the first group visit to the shrine by members of the team since December 2021.
The 103 lawmakers included members of the ruling Liberal Democratic Party, opposition Nippon Ishin no Kai (Japan Innovation Party) and the Democratic Party for the People, another opposition party.
LDP participants included State Minister of the Environment Shunsuke Mutai, Parliamentary Vice Foreign Minister Shingo Miyake, LDP election strategy committee head Toshiaki Endo and Tsuyoshi Takagi, the party's parliamentary affairs leader.
"The world's peace is significantly endangered. We prayed for the peace of the souls of the war dead and of the world," LDP lawmaker Hidehisa Otsuji, who heads the suprapartisan group, told a press conference after the visit.
Members of the group usually visit Yasukuni Shrine together during the spring and autumn festivals and on the Aug. 15 anniversary of Japan's surrender in World War II every year.
But the spread of the novel coronavirus has led to cancellations of such visits. Friday marked the group's first collective Yasukuni visit made in a festival period since October 2019.
Add TheJapanNews to your Google News feed.