Local governments in Japan work to streamline disaster victim certification process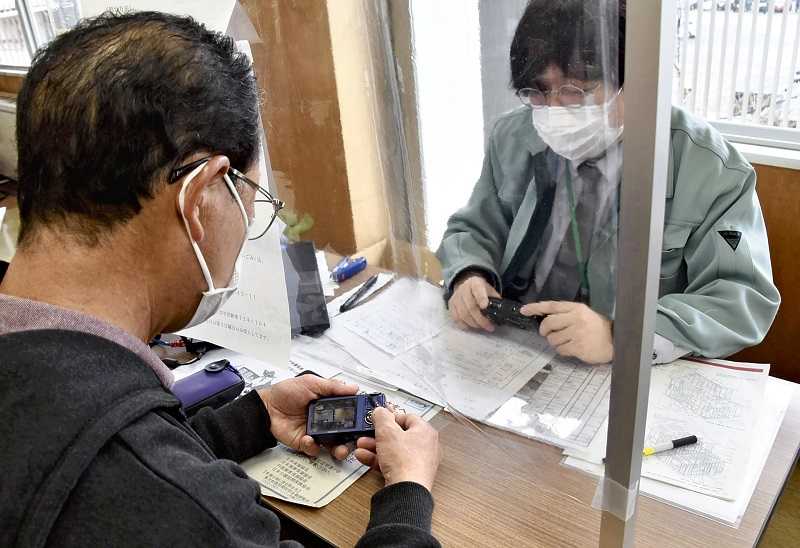 17:00 JST, April 23, 2022
Local governments in Miyagi and Fukushima prefectures have been issuing disaster victim certificates since a large earthquake occurred off the coast of Fukushima Prefecture, as certification is required when applying for aid for damaged or destroyed housing.
Municipalities that have adopted a system — in which damage is determined based on photographs taken by disaster victims — have significantly shortened the time required for issuing the certificates.
"I'm glad it was completed so quickly," said a 59-year-old man who applied for a disaster victim certificate on Friday at the city office in Shiroishi, Miyagi Prefecture. The earthquake registered an upper 5 on the Japanese seismic intensity scale of 7 in Shiroishi.
At the application counter, the man showed photos he had taken of some loose roof tiles on his house. A decision was made in about 10 minutes that the house was damaged. He now plans to apply for aid.
Disaster certificates are issued by local governments. Damage is determined based on the degree of destruction of a home using a six-level scale.
Local government officials conduct on-site inspections in principle, but the central government allows evaluations to be made based on photographs regarding damage that affects less than 10% of a structure.
Shiroishi was the first city to introduce the system. As of April 15, the city had received 961 applications, of which 687 cases were evaluated using photos. Shiroishi has an issuance rate of 68.4% and expects to finish issuing the certificates by the end of April.
After an earthquake occurred in February 2021 off the coast of Fukushima Prefecture, the city's on-site inspections took about two months to complete even though the number of houses damaged in the quake was about half the figure this time.
"Now we can concentrate our personnel on surveying major damage," a municipal government official said.
Kunimi, Fukushima Prefecture, which registered an upper 6 on the seismic intensity scale, opened an application counter at the town office 9.5 hours after the earthquake struck.
The quick response is the result of lessons learned from last year's earthquake, when it took four days to open a similar application counter.
Kunimi made a list of the personnel who responded to last year's quake and prepared a support system throughout the town office.
"Last year, I had to wait a long time," said a 76-year-old man who applied for a certificate. "But I was surprised at how fast it was this time."
Waiting for 4 hours
Some municipalities, however, have been struggling to issue certificates.
Soma, Fukushima Prefecture, accepts applications via the internet or postal mail in principle, partly due to the coronavirus pandemic, and posted an announcement on its website about the policy. However, many residents went to the city office, resulting in a four-hour wait.
"We didn't sufficiently inform the public," a city official said.
A 73-year-old man who went to the office said: "Older people who do not check the internet have no choice but to come to the office."
Of the 5,708 applications submitted as of April 13, 60% were handled in-person, while only 30% were filed online.
Add TheJapanNews to your Google News feed.