Survey: 36% of major firms to hire more graduates next year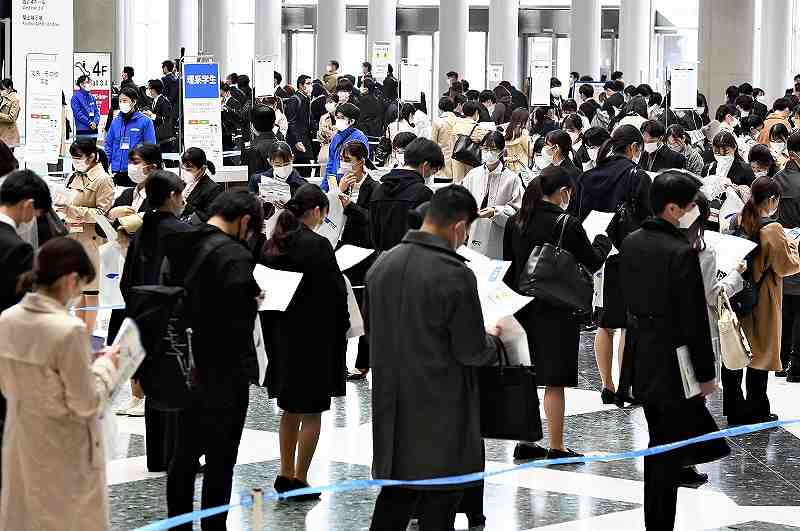 7:00 JST, April 20, 2022
More than one-third of major companies will increase the number of graduates they employ in spring next year, according to the results of a survey by The Yomiuri Shimbun and the Nippon TV network.
Amid expectations of a recovery in the pandemic-hit economy, 36% of the 118 surveyed firms said they would increase the number of graduates they plan to hire next spring, up from 14% in the previous year's survey and 9% in the year before that. The figure was 23% in the 2019 survey on 2020 recruitment that was conducted before the coronavirus outbreak.
According to the latest survey, which was conducted from mid-March to early April, increased recruitment is planned in the airline and retail industries, which have been pummeled by the pandemic.
Nine percent of firms said they will decrease recruitment, down from 21% in the previous survey, 29% in the survey two years ago and 15% three years ago.
Many companies in industries hit hard by the pandemic said they will resume or increase recruitment. Japan Airlines Co. will resume its graduate recruitment drive for the first time in three years for flight attendants and two years for clerical and technical positions, aiming to increase the uptake of new hires threefold compared to the previous year. JTB Group will also resume hiring graduates for the first time in two years.
In the retail industry, Daimaru Matsuzakaya Department Stores Co. said it plans to increase recruitment, and in the manufacturing sector, which has seen strong earnings results, Honda Motor Co. and Mitsubishi Electric Corp. will increase hiring by about 20%.
Yamaha Motor Co. said it plans to increase recruitment by about 60% to strengthen the development of new technologies linked to such fields as decarbonization, and Nippon Steel Corp. plans to boost hiring by about 50% to replace employees approaching retirement age and for other reasons.
Meanwhile, East Japan Railway Co. and Central Japan Railway Co. will cut recruitment by around 30%.
Forty-four percent of firms said they plan to hire the same number of employees as in the previous year, slightly down from 49% in the previous survey.
It is thought that many firms plan to maintain a certain level of recruitment to avoid a generational imbalance in the workforce.
The survey also revealed moves among companies to review the entrenched custom of mass graduate recruitment in Japan, with 54% of firms saying they had increased or plan to increase mid-career hires, up from 40% in the previous year's survey.
Regarding the impact of Russia's invasion of Ukraine, some companies expressed concern, with an official of a major chemical company saying, "We haven't changed our recruitment plan, but we are keeping a close eye on the situation as the rising cost of raw materials will negatively affect our business."
According to Takayoshi Kurita, head of Recruit Co.'s Research Institute for Graduate Recruitment, the war in Ukraine might mean companies cut recruitment costs, which could lead to tougher hiring criteria.
"Competition for human resources, including mid-career employees, is intensifying as companies look to focus on new growth areas in the post-pandemic era," Kurita said.