Invasion of Ukraine evokes traumatic memories for Sakhalin repatriates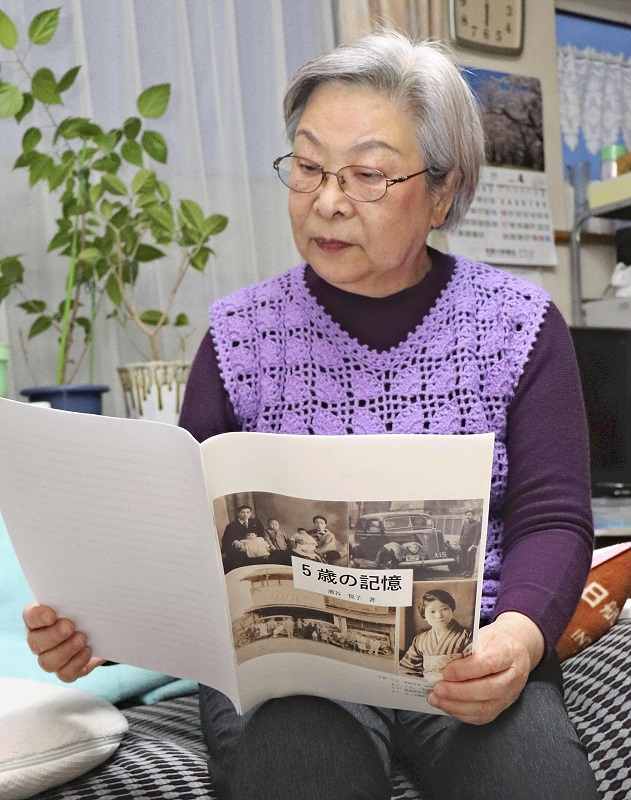 12:36 JST, April 19, 2022
WAKKANAI, Hokkaido — Russia's ongoing invasion of Ukraine has brought back painful memories for Japanese people who fled from Sakhalin to escape the Soviets shortly after World War II.
Horrible experiences at a young age leave a lasting scar on the heart. War shouldn't happen," said Etsuko Hamaya, an 82-year-old woman who currently lives in Wakkanai, Hokkaido.
Seeing Ukrainian citizens flee as their cities are ravaged by bombs brought back Hamaya's memories of leaving Toyohara, a Sakhalin city now called Yuzhno-Sakhalinsk, when she was around 5 years old.
"I can't bear to watch the news about Ukraine. It's heartbreaking," she said, fervently hoping that the war will end soon.
The oldest daughter of a woman from Wakkanai and a man from Rebun Island, Hokkaido, Hamaya was born in Odomari, present-day Korsakov, and the family soon moved to Toyohara.
She was just a child but her memories of Toyohara are still clear — women's clothes displayed in a shop window and a tofu store in the neighborhood. Hamaya also remembers making a necklace of dandelions that bloomed all over a nearby area.
However, Hamaya does not miss Toyohara. She said her nostalgic memories had been buried by the agonizing scenes she saw and the fear she felt when escaping from the Soviet offensive.
"That's something I don't want to go back to," Hamaya said.
Narrowly escaped airstrikes
"We're going to the place of your grandfather and grandmother," Hamaya's mother told her. Together with her mother and her three siblings, she headed to Odomari by train, where evacuation ships departed for Wakkanai, around Aug. 20, 1945. Only children and women were eligible to evacuate, and her father was detained by the Soviets.
Trains and ships were overflowing with escapees. Hamaya said the image of people is burned into her mind of people waving and chasing a train that they couldn't get on. Soon after her family fled Toyohara, the city was bombed, causing many casualties. The ship they boarded was so crowded they could hardly move, and the aisles reeked of excrement. The crying of a baby echoed through the darkness.
It took three days to reach her grandparents. Her father was long unaccounted for, but returned safely to Japan in March 1948. Hamaya said her father did not want to talk about his internment, only saying that someone he knew was shot dead in front of him while trying to escape.
'Memories of a 5-year-old'
For many years, Hamaya remained silent about her harrowing experiences. However, in September 2020, when she was over 80, Hamaya compiled a memoir about her life in Sakhalin and repatriation to Japan.
She decided to write the memoir, titled "Memories of a 5-year-old" as she saw the number of attendees at peace memorial events in Wakkanai decrease year by year, making her aware of the graying of the people who experienced the war.
The All Japan Federation of Karafuto, composed of returnees from Sakhalin, was also dissolved in March last year due to the aging of its members.
Hamaya has donated copies of her memoir to local libraries and museums. Last autumn, she delivered her first speech about her experiences at a local university.
As she renewed her determination that "we must not forget the folly of war," the tragic war in Ukraine began.
"Even if people survive a war, the wounds of the conflict will remain," Hamaya said. "If I can help stand against a war, I want to tell people as much as I can."
Unwavering opposition to war
Morio Iwasaki, 84, is a former executive of the federation and now lives in Kushiro, Hokkaido. For him as well, the situation in Ukraine is horribly personal.
Iwasaki was born in Dorokawa in southern Sakhalin. He was 8 years old when World War II ended. Soviet troops advanced into Dorokawa, and a soldier on patrol entered his house with a gun.
Watching the news on Ukraine, Iwasaki said: "This reminds me of those days, when I didn't feel like I was alive. I know exactly how [the Ukrainian people] feel now."
Iwasaki barely escaped with his life, returning to Japan aboard a smuggling ship. After working at the Kushiro city government and then serving as a Hokkaido prefectural assembly member, he became an executive of the federation and worked to pass on the history of Sakhalin, through such means as taking charge of exhibitions about Sakhalin.
"Wars should not happen without a reason," Iwasaki said. "I want people to learn from history."
A year has passed since the federation was disbanded, but his antiwar stance has remained steadfast. Based on his own hardships while fleeing Sakhalin, Iwasaki hopes support will be extended to the people escaping from Ukraine.
"I hope people will provide generous assistance, with warm accommodations, food, education and other relief supplies," he said.
Add TheJapanNews to your Google News feed.