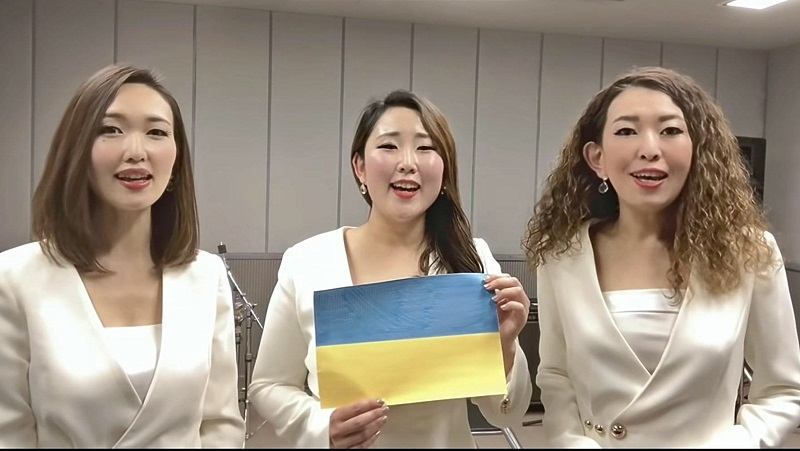 16:59 JST, April 17, 2022
An online video of female vocal trio The Yokohama Sisters singing the national anthem of Ukraine has drawn appreciation from thousands of people, including some in war-torn Ukraine.
"We want to share our hope for peace with many people," said Maho, the leader of the group, which performs mainly in Yokohama.
In the minute-long video, Maho, Ai and Miwa sing the anthem in their clear voices, with a piece of blue and yellow paper representing the Ukrainian flag in front of them.
The short video was uploaded to YouTube in mid-February, just before the start of the Russian invasion. Ukrainian Ambassador Sergiy Korsunsky spread the video via social media, and Yokohama's sister city of Odesa posted the video on its official website and expressed its gratitude. Since then, the video has surged in popularity.
The video had racked up 670,000 views on YouTube as of Sunday, and was picked up by Ukrainian media. It has received more than 8,000 messages on the site.
Maho said she has received messages including one from a Ukrainian saying: "Hearing your voices while sitting here in a blackout, you look like angels blessing us for the fight. Glory to Ukraine!" One in Russian said: "I'm sad that we're hated by the rest of the world. I want you to sing the Russian national anthem."
Maho said, "I can't call our video a help. But I felt the power of singing."
Some of the messages are accompanied by photos of people hiding in the basement or in destroyed houses, which she finds heartbreaking.
The women formed The Yokohama Sisters seven years ago after meeting in a music class. Since 2018, they have sung the national anthems of countries that have sister-city relationships with Yokohama, and have posted videos as a plea for peace.
The Ukrainian national anthem is the 34th anthem they have sung, and they studied the lyrics before singing to the camera.
"We put our thoughts of the country's tough history into the song," Maho said. "We want to become close to the local people through our singing."
Add TheJapanNews to your Google News feed.