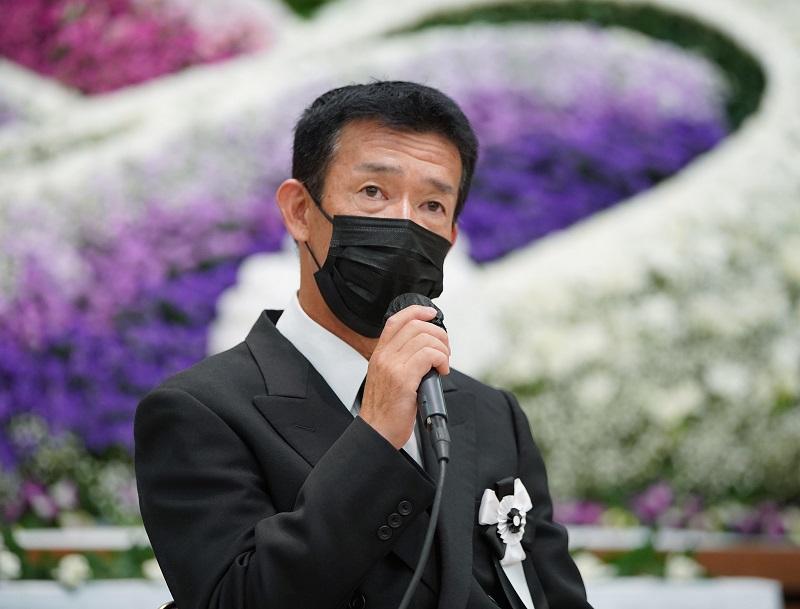 16:21 JST, April 14, 2022
KUMAMOTO (Jiji Press) — A ceremony was held Thursday to remember victims of a pair of deadly earthquakes that hit Kumamoto Prefecture, southwestern Japan, six years ago.
Thirty people, including relatives of those killed in the disaster and Kumamoto Governor Ikuo Kabashima, participated in the ceremony, which took place at the prefectural government building. The ceremony was scaled down to reduce the risk of novel coronavirus infection. It was livestreamed on YouTube, as in the previous year.
The attendees offered a minute of silence at the start of the ceremony, followed by a speech by Kabashima, who said, "We pledge to build a Kumamoto where people can live with a peace of mind."
"We are still far from postdisaster reconstruction, but we, family members, will continue moving forward as the restoration of Kumamoto, our hometown, progresses," Yoshimasa Mochida, 54, who lost his mother, Tetsuko, in the disaster, said in a speech representing the relatives of the deceased.
Later, the governor and some of the bereaved relatives laid white chrysanthemums at an altar set up for the ceremony.
Kumamoto experienced the first of the two quakes, a 6.5-magnitude foreshock, on the night of April 14, 2016, and the 7.3-magnitude main shock in the early hours of April 16. Both temblors registered up to 7 on Japan's seismic intensity scale, making it the first time on record that the highest grade was marked twice in the same region during a series of seismic activity.
The nearly 100-year-old house of Mochida's parents in the Kumamoto town of Mifune was completely destroyed by the April 16 main quake. While his father was rescued by firefighters, his 70-year-old mother was confirmed dead.
Mochida's parents, who were living separately from their son and the son's family, were slated to mark their golden wedding anniversary two months later.
The parents and the Mochida family were planning to start living together by rebuilding the old house and go on a family trip, according to Mochida.
Mochida said he has never forgot his mother over the past six years. But he also stressed that he needs to start living positively again, saying: "I can't move forward if I only continue feeling sad. I have to look forward and work hard."
The death toll from the quakes, including three in Oita Prefecture, a neighbor of Kumamoto, totaled 276, including 50 who were killed directly by the disaster.
Ninety-five people were still in temporary housing as of the end of March this year.
Add TheJapanNews to your Google News feed.