Tohoku Shinkansen line reopens 1 week early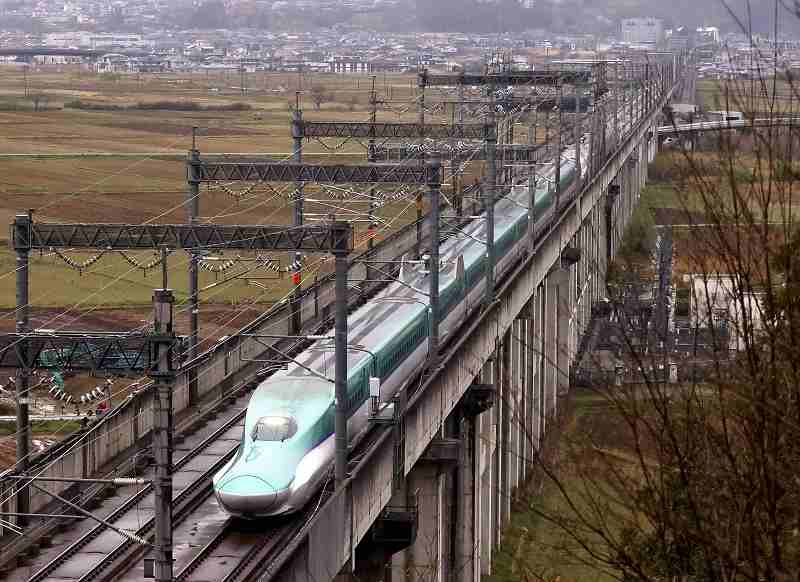 15:14 JST, April 14, 2022
East Japan Railway Co. (JR East) resumed operation along the entire length of the Tohoku Shinkansen line on Thursday, 29 days after it was suspended due to the earthquake off the coast of Fukushima Prefecture last month, with the section between Fukushima and Sendai stations coming back into service on the day.
The March 16 earthquake caused the section between Nasu-Shiobara and Morioka to be suspended. Since then, service has been resumed section by section as repair work was completed.
The Tohoku Shinkansen's Yamabiko 223 train derailed in Miyagi Prefecture due to the earthquake. Damage to viaducts, utility poles, overhead wires and other items was reported at about 1,000 locations.
The entire Tohoku Shinkansen line, which was initially scheduled to reopen around April 20, resumed operation one week earlier because repair work progressed smoothly.
On Thursday, the bullet trains operated as scheduled from the first departures from Tokyo and from Sendai.
"I had some work in Miyagi Prefecture from today," said a 50-year-old company employee from Ichikawa, Chiba Prefecture, who boarded the train at Tokyo Station. "The service resumed without trouble, so I didn't have to change my schedule."
To ensure safety, Tohoku Shinkansen trains will be operated on a temporary schedule for the time being with the number of trains in service reduced by 10% to 20%. The schedule is expected to return to normal after Golden Week holiday next month.
---
---