Bereaved man's traffic safety message resonates with young people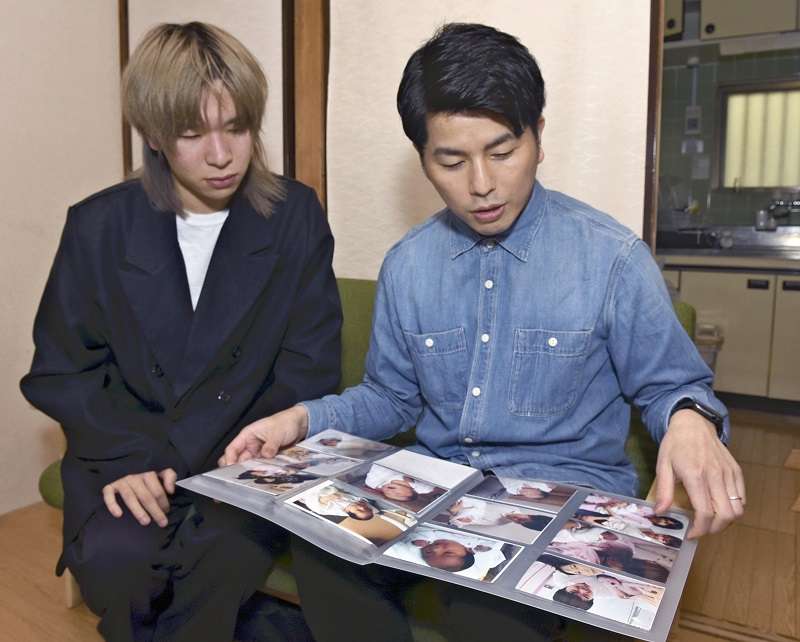 21:00 JST, April 14, 2022
It was three years ago on April 19 that an 87-year-old man accidentally ran a red light and plowed his car into a crowd of pedestrians and cyclists in Tokyo's Ikebukuro district, leaving two dead and injuring nine others, some severely.
In September 2021, the driver of the car, Kozo Iizuka, a former senior government official now aged 90, was sentenced to five years in prison for negligent driving resulting in death and injury. The court determined that the cause of the accident was Iizuka mistaking the brakes and accelerator.
Takuya Matsunaga lost his wife Mana, 31, and their 3-year-old daughter Riko in the accident. The 35-year-old company employee has since been speaking out publicly to prevent a recurrence of such accidents and keep others from experiencing the same pain of loss.
It is a message that is also resonating with young people.
Out of the blue
About a year after the accident, Matsunaga received a message on Twitter from a high school student. "In the future, I would like to get involved in activities to support the bereaved families of traffic-accident victims," the message read.
Matsunaga had been holding press conferences and posting messages on social media to express his feelings at each juncture of Iizuka's trial. He believed that if he could prevent even one traffic accident by conveying his emotions as someone who had lost a family member, it would be his way of honoring his late wife and child.
Matsunaga said he first thought the Twitter message was a prank. But then he was grateful that someone had taken an interest in the accident. "It's a wonderful sentiment," Matsunaga replied.
The sender of the message was Hirotaka Kogamiya, then a third-year student at a private high school in Tokyo. A few days later, Matsunaga set up an online meeting with Kogamiya and Juri Ozawa, 41, from a Kanto association of bereaved families of traffic-accident victims known as "Ai no Kai."
Matsunaga, who had been receiving emotional support from friends who visited him almost every day after the accident, told Kogamiya, "It is important to stay close to the bereaved families and listen to what they have to say."
Spreading the word
Kogamiya, now 19, said that after talking with Matsunaga, he came to realize that the prevention of traffic accidents should be regarded as a matter of concern for everyone in society. Wanting others of his generation to hear the message, he set up an online seminar for Matsunaga to speak at, inviting participants through social media.
The first seminar, held in the summer of 2020, drew about 50 participants ranging from junior high school students to university students. Matsunaga shared his memories of his two lost loved ones and the pain he was feeling. The young participants had many questions, making the seminar run 2½ hours longer than planned.
The seminar, called the Amane Project, has been held four times so far under the auspices of the Ai no Kai. The Land, Infrastructure, Transport and Tourism Ministry also offered its support last year. Kogamiya, who entered Keio University last spring, continues to administer the project.
"It was the first time to hear a bereaved family member talk of their experience," said Saki Mizutani, 24, a company employee from Kawasaki who participated in the event in her fourth year at university. "I felt that there was a lack of a system to support them."
Mizutani now helps out in putting on the seminar as a volunteer.
New ideas
The Ikebukuro accident prompted the government to push measures dealing with elderly drivers, and has resulted in an increase in the number of elderly voluntarily returning their driver's licenses.
From next month, those aged 75 and older with a certain history of traffic violations will be required to take a practical driving test when renewing their license.
But Kogamiya, who obtained a driver's license himself in January, said he felt there was inadequate instruction on accident prevention in the teaching program. He then conceived an idea of having prospective new drivers hear the stories of bereaved family members of traffic-accident victims. Kogamiya plans to seek the support of driving schools to put the idea into action.
"I am glad that he shares my thoughts and is willing to take action," Matsunaga said. "I'd like to help him in any way I can."
Matsunaga added: "If more people listened to my experience and are reminded of how important it is to spend time with loved ones and cherish every moment, I believe it will lead to more considerate driving. For this reason, I want to continue spreading the word to others."