Map of Japan made with gold dust from every prefecture completed after 15 years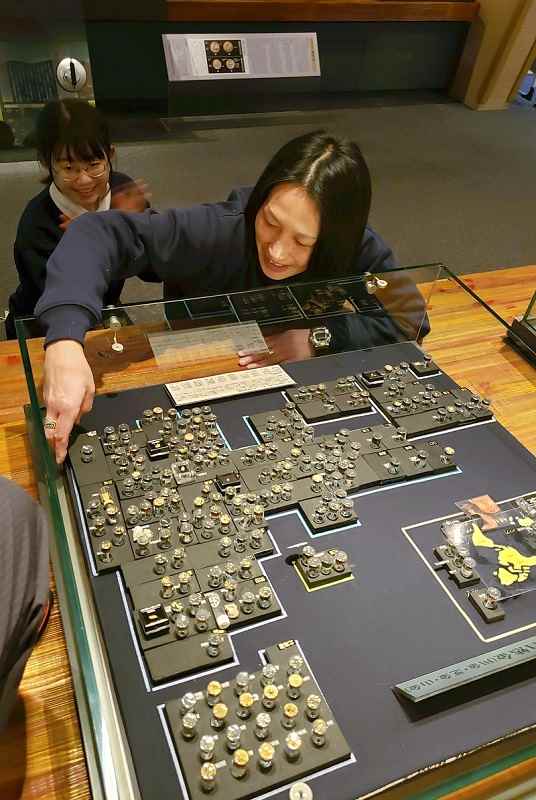 10:49 JST, April 14, 2022
KOFU — A museum in Minobu, Yamanashi Prefecture, gathered gold dust from all of the nation's 47 prefectures for 15 years and completed a map of Japan in March, when gold dust from Chiba Prefecture supplied the last piece.
The so-called gold dust map of Japan was made by the Yu-no-Oku Museum of Gold Mining History, a facility that introduces the history of gold mines that helped the local Takeda clan flourish during the Sengoku (warring states) period (1493-1573).
The endeavor involved 48 collectors from across the country.
"This project is thanks to the efforts of collectors," said Misuzu Komatsu, the curator of the museum, which marked its 25th anniversary this month.
At the museum, which is dedicated to gold mines, visitors can try panning for gold themselves. It also serves as a meeting place for gold mine enthusiasts to share information.
Komatsu prospected for gold in a river in Minobu when the facility opened in 1997.
About 15 years ago, the museum held a special exhibition showcasing gold dust from Hokkaido, Tochigi, Gunma and Yamanashi prefectures.
The event encouraged collectors to bring gold dust from other prefectures for exhibition at the museum. It served as the catalyst for the idea to collect gold dust from across Japan.
Once a permanent exhibit of an 80-square-centimeter gold dust map was launched, the museum began receiving gold dust from around the country.
The exhibit drove collectors to complete the entire map by the museum's 25th anniversary, and gold dust from Shimane, Tottori, Hiroshima, Mie and Kagawa prefectures arrived last year.
Only gold dust from Chiba Prefecture was missing, and that was panned by Kenji Hayashi, a 58-year-old office worker from Hadano, Kanagawa Prefecture. The 20-year veteran miner found it on a beach in the city of Asahi.
"I'm glad to contribute to the completion," Hayashi said.
Add TheJapanNews to your Google News feed.