Govt cautious on quasi-emergency measures as Okinawa Pref. virus cases rise again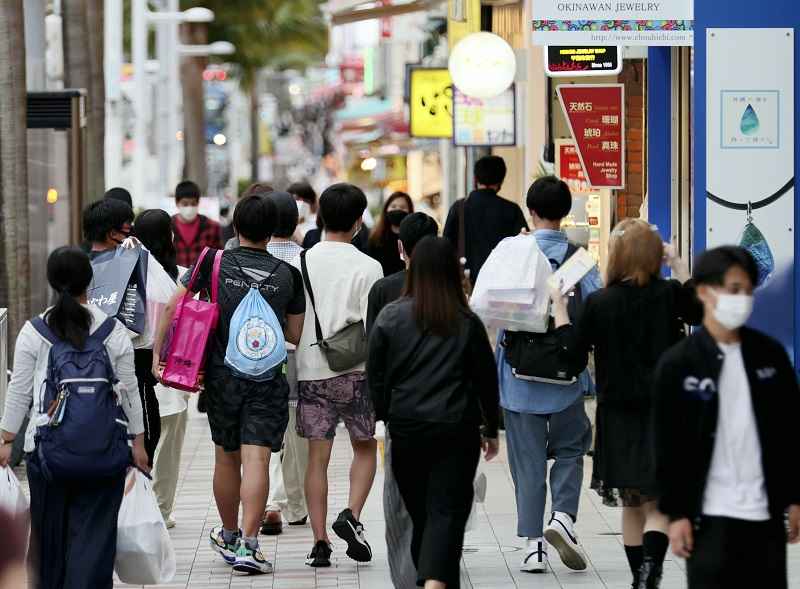 14:40 JST, April 9, 2022
The Okinawa prefectural government is considering requesting a return to quasi-emergency measures as the coronavirus surges again, but the central government wants to avoid it due to the negative impact on the economy.
When asked what the central government would do if the prefectural government made the request, Chief Cabinet Secretary Hirokazu Matsuno said at Friday's press conference, "Focusing on the basics of firmly operating the health and medical systems, we will respond appropriately by closely monitoring the situation regarding infections and medical services."
The Cabinet of Prime Minister Fumio Kishida has so far responded positively to all such requests from prefectures. But Matsuno's remarks implied that it is cautious this time.
The number of new cases in the prefecture totaled 1,328 on Friday, exceeding the number from a week earlier for the 17th consecutive day.
"If infections continue to spread, we'll have to consider implementing stronger measures, including the quasi-emergency measures," Okinawa Gov. Denny Tamaki said at a press conference Thursday.
The utilization rate of hospital beds in the prefecture has not yet reached 50%, which is a key factor in determining whether to apply the measures. Taking this into consideration, the central government will monitor the effectiveness of the current countermeasures.
Having peaked at 70.6% on Jan. 29, the rate of infections in the prefecture was on a downward trend after the measures were lifted on Feb. 21. However, it began increasing again this month, reaching 39.9% on Friday. The central government is now keeping a close watch on the situation.
Even if infections spread again, experts and some within the government are cautious about implementing strict measures including shorter hours for restaurants and other businesses, because they could have a major impact on people's lives such as a rise in unemployment.
At a meeting of the government subcommittee on coronavirus measures on Friday, there were arguments both for and against implementing restrictions on social activities.
"We reached a certain consensus to get the economy running, but there were various opinions about the restrictions," Shigeru Omi, who heads the panel, said after the meeting.
Add TheJapanNews to your Google News feed.