15:25 JST, April 5, 2022
Randoseru schoolbags for the incoming class of first-year elementary school students show an expanded range of colors and features.
Prices for the schoolbags rose as parents tried to get the very best bags for their children. Randoseru companies have already begun targeting parents whose children are set to start school in April 2023.
A rainbow of options
The typical randoseru used to be black for boys and red for girls. But that began to change in 2001, with Aeon Co. offering 24 different colors at the time.
"It caused a deep shock in the industry," said Kuniyo Hayashi, 66, head of Randoseru Kogyokai, a business association of randoseru manufacturers.
The trend of offering a wider color variety spread even among more traditional makers.
When the association conducted a survey on parents with children who had enrolled in elementary schools last year, about 22% of the girls surveyed chose purple or pale purple, 21% chose red and 19% chose pink.
Although 61% of boys chose black, that was nine percentage points lower than the previous year. More boys chose navy blue, blue and green.
A recent trend is genderless bags. When Toyama-based company Kurokawakaban surveyed 800 children ages 4 and 5 across the nation in October last year, 1 in 10 boys replied they wanted red schoolbags.
Tokyo-based Tsuchiya Kaban offered five colors in its catalogue of randoseru for children who would enroll in elementary schools in 2022, promoting them with the slogan encouraging customers to choose "colors regardless of sex."
Earlier and earlier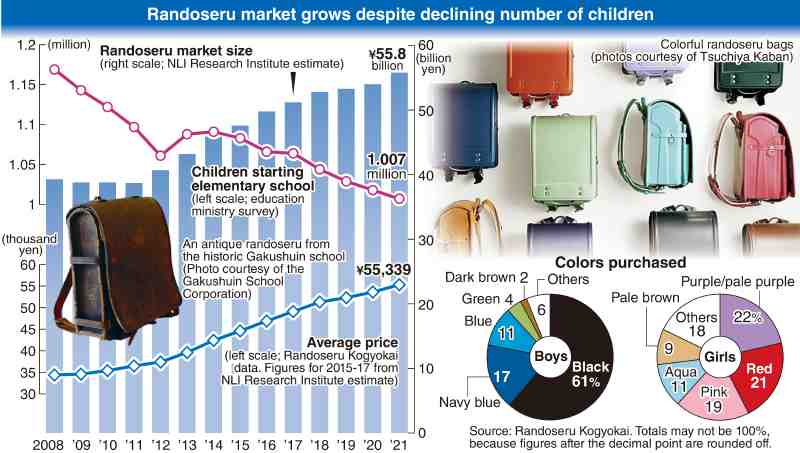 Parents can get caught up in "randoseru craziness" as they eagerly seek the best ones and buy the bags earlier and earlier.
Some of them request catalogues a year and a half before their children's enrollment and visit many stores selling the schoolbags around March, about a year before their children's first day of school.
Among Kurokawakaban's products, there are models that sell out on the first day of release in March, bought up by parents of children who will start school a year later. The buying spree is so heated that the company stops accepting orders for all models in May.
In the 2000s, it was most common to buy randoseru in the January-March period just before enrollment, according to the Internal Affairs and Communications Ministry's Family Income and Expenditure Survey and other sources.
The start of shopping began to come earlier in the 2010s. Since around 2015, there have been more and more cases in which parents and grandparents choose schoolbags together during family visits the grandparents' house during the summer holidays.
Recent years have seen a trend of buying even earlier.
The randoseru market in 2021 was worth ¥55.8 billion, according to statistics of NLI Research Institute. The figure was up 40% from a decade earlier.
This happened even while the number of children who enrolled in elementary schools decreased by about 90,000 over the same period.
"As there are fewer children, there has been a rising trend of parents and grandparents willing to spend more on one child," said Naoko Kuga, a senior fellow of the institute.
Joining the race
Many companies have entered the randoseru market.
The Green Label Relaxing brand began selling the schoolbags in March for children who will begin elementary school next year. The brand is operated by Tokyo-based United Arrows Ltd., a company of popular shop chains selling specially selected goods.
The brand has an established reputation for well-designed clothing suitable for children to wear during entrance ceremonies and other formal occasions.
"We want to also offer randoseru that can match the clothes," said a spokesperson of the brand.
The brand collaborated with Ikuta & Co., an Osaka-based handmade randoseru makers with a long tradition.
Their randoseru bags have plaid interiors, a popular choice.
Yoshida & Co.'s schoolbag, Porter Satchel Bag, also attracted keen attention. The Tokyo-based bag manufacturer's products are popular among adults.
The basic material of the randoseru bags is firm nylon, with a magnetic latch for opening and closing the covers. The products are meant to appeal to the tastes of parents who buy Porter brand bags for themselves.
"A sizable number of guardians spare no expense when it comes to school supplies," said Prof. Takeshi Shirado of Taisho University, an expert on consumer behavior related to children. "It may be easy to find new business opportunities in industries related to children, especially those related to children's education."
Add TheJapanNews to your Google News feed.