Japan offers financial assistance, housing to Ukrainian refugees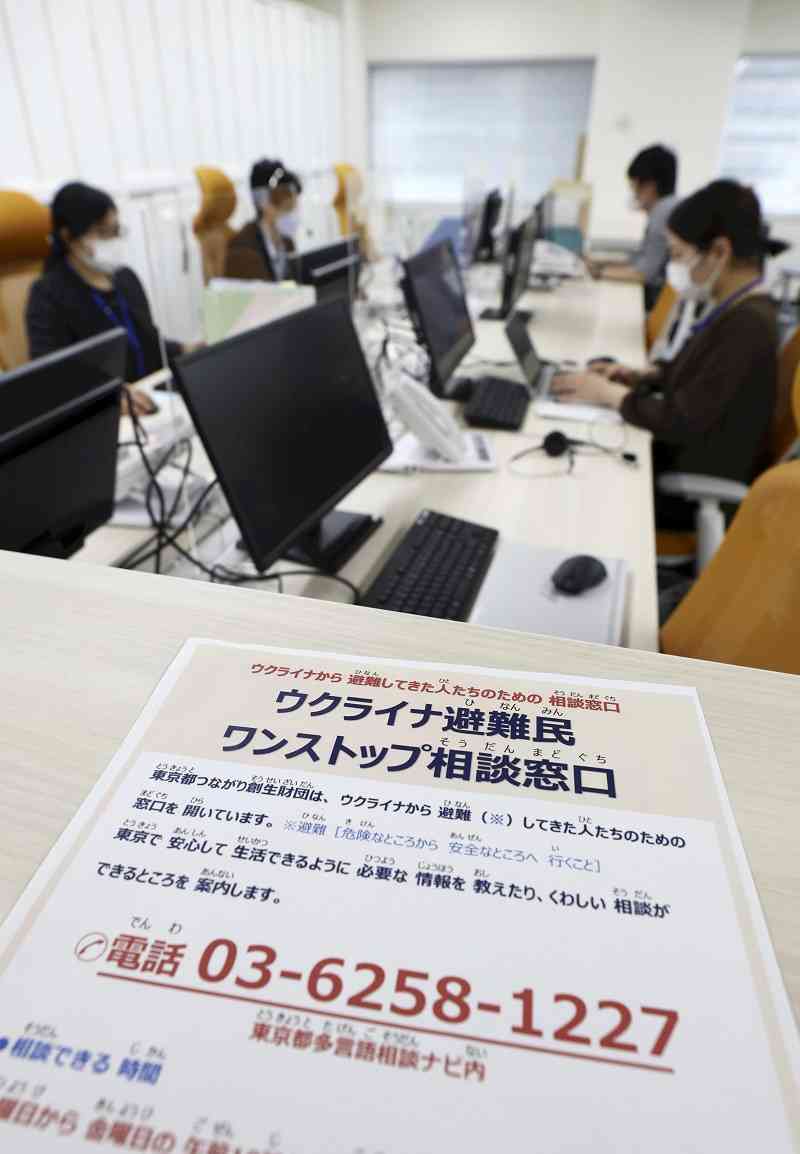 21:00 JST, April 2, 2022
People fleeing Russia's invasion of Ukraine are receiving support from municipalities and organizations in Japan, which have offered free housing, financial assistance and employment opportunities to Ukrainian refugees who have traveled to Japan from Europe.
Last month, a Ukrainian woman in her 20s who had just arrived in Japan was inquiring at the Tokyo metropolitan government office about housing options.
The woman, who has an acquaintance in Tokyo and can speak basic Japanese, fled Ukraine with her mother and arrived in the country on March 12, according to the metropolitan government.
The two women initially stayed in private accommodation. The daughter visited the metropolitan government office after learning that it was assisting Ukrainian refugees.
The metropolitan government has secured 100 units for Ukrainian refugees at housing complexes in five wards and municipalities.
Ukrainian refugees can stay at hotels for two weeks free of charge before moving to designated accommodation. During the period the metropolitan government will deliver bedding, home appliances and other necessities to the units the refugees will be housed in.
The two Ukrainian women moved into metropolitan government-allocated accommodation on Monday.
A helpline for refugees from Ukraine and Ukrainians living in Japan has received about 20 calls a day since Tokyo launched the service on March 11.
The metropolitan government currently plans to provide housing to refugees for up to one year. Living expenses may become an issue if their stay in Japan is prolonged.
"We will consider what support will be necessary for the future based on how the situation develops and through consultations [with refugees]," a metropolitan government official said.
More than 4 million Ukrainians have fled their country since the start of the invasion, according to the U.N. High Commissioner for Refugees. Preliminary data indicates 337 Ukrainians had traveled to Japan as of Wednesday.
The need for assistance will likely increase as more Ukrainians are expected to arrive, comprising mainly relatives of the about 1,900 Ukrainians currently living in Japan.
Four Ukrainian refugees are currently staying in two housing units in Kashiwa, Chiba Prefecture, according to the local government, which will start offering financial assistance this month.
The cash handouts will be determined based on criteria used to calculate welfare payments. This month, a group of three refugees staying in one of the housing units in Kashiwa will receive about ¥170,000.
"We hope the money is used for transportation costs, cell phone fees and other necessary items that cannot be provided by physical donations," a city official said.
The Nippon Foundation has pledged to provide about ¥5 billion over three years, with funds covering travel expenses for Ukrainian refugees who want to come to Japan and their living costs. Funds will also be available for Ukrainians living in Japan who travel abroad to help relatives and others seek refuge in the country.
Tokyo-based temp agency Outsourcing Inc. said it will help Ukrainian refugees find accommodation in dormitories operated by its clients depending on where they decide to settle.
The company, which runs a business in Ukraine, plans to accommodate 100 families, offering refugees employment opportunities and Japanese language classes.
"We want to help them live in Japan with peace of mind," an Outsourcing official said.
Meanwhile, transportation firm Seino Holdings Co. said it will offer Ukrainian refugees vacant units at 20 of its employee housing complexes and offer job opportunities to those who want to work.