Technological advancements herald era of wooden skyscrapers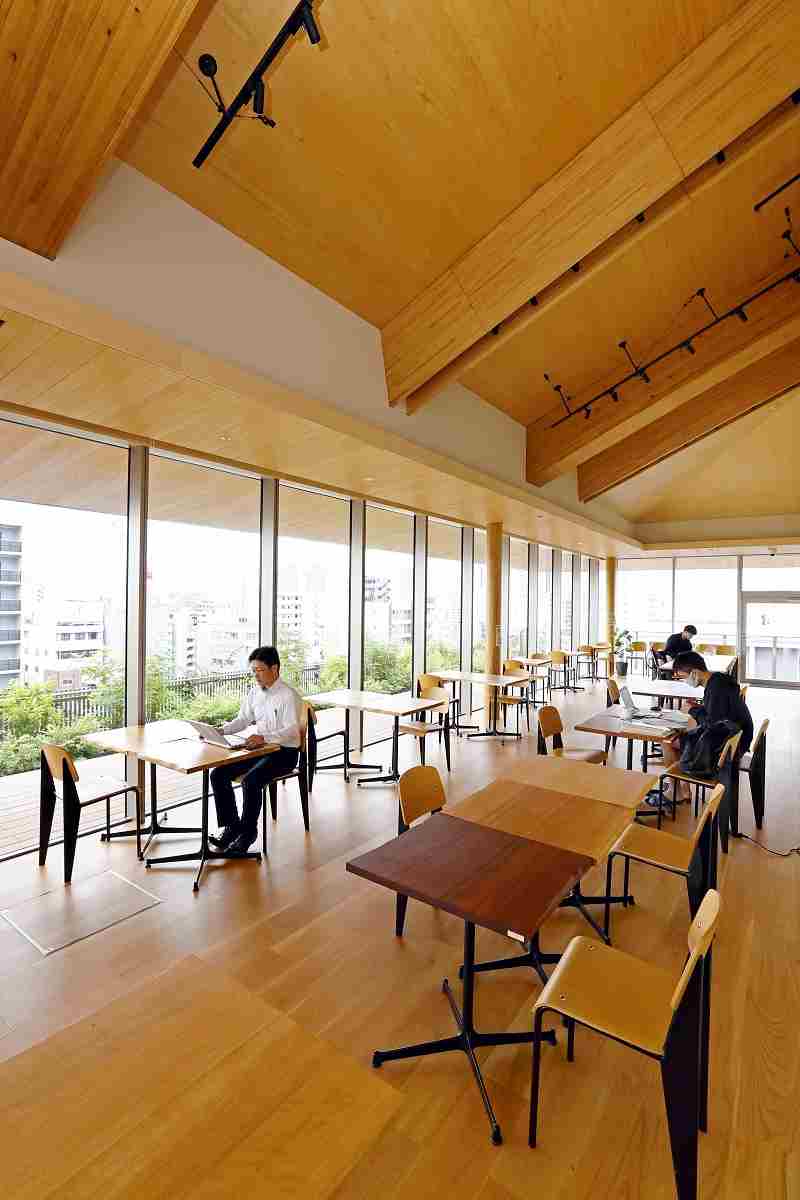 17:50 JST, April 1, 2022
The development of high-rise buildings utilizing timber is progressing due to advances in fire-resistance and earthquake-proofing technology amid a global push to reduce greenhouse gas emissions.
A plan to build a 350-meter wooden skyscraper is underway in Japan, where legislation was revised in October to promote the use of wood, which includes expanded support for private-sector businesses and other measures.
One of the nation's tallest condominiums that features a large proportion of wood is a 12-story building near Kiba Station in Tokyo's Koto Ward that was completed in February 2020.
Although floors one to four were built mainly with reinforced concrete, 56 fire-resistant wooden columns were used on floors five to eleven, and wood was also used widely for the ceilings, walls and floors of common areas, which are filled with the scent of cypress and cedar.
The condominium houses employees of several companies, including Takenaka Corp., which constructed the building.
"When I telework in common areas, I feel as if I'm in a forest," said Takenaka employee Akira Naito, 47.
Construction in which timber is used for pillars, walls and other key structural parts traditionally comprises low-rise buildings. However, the development of timber with superior strength and fire resistance has made it possible to construct mid- to high-rise wooden buildings in recent years.
Cross-laminated timber (CLT), which is made of multiple layers of wood, is as strong as concrete, and CLT columns that include mortar or gypsum can withstand several hours of exposure to flames.
The number of wooden mid- and high-rise buildings has increased across Japan. Mitsubishi Estate Co. built a 10-story wooden condominium in Sendai in 2019. In Tokyo, Tokyu Land Corp. plans to complete a 13-story wooden building in June this year, and Mitsui Fudosan Co. and others plan to build a 17-story wooden structure in 2025. Tokio Marine Holdings Inc. is scheduled to complete a 19-story office building in fiscal 2028.
40% emissions cut
The government has promoted the use of wood in architectural structures for more than a decade. The initiative is mainly aimed to make effective use of forest resources that were planted after World War II and are ready to be used.
In 2010, a law was put in force to promote the use of wood in public facilities. By floor area, the use of wood in such facilities increased from 8.3% in fiscal 2010 to 13.8% in fiscal 2019.
The trend for decarbonization has given further momentum to such initiatives.
When the law was revised in October last year, "the realization of a decarbonized society" was stated as its basic principle, and its target was expanded to include the promotion of wood in private-sector buildings.
Businesses can receive subsidies for timber development costs and technical assistance if they reach agreements with the central and local governments.
According to the Forestry Agency, the amount of carbon dioxide emitted during the construction of wooden housing structures can be reduced by 40% compared to steel-frame or reinforced concrete structures.
Furthermore, by using timber as a building material instead of burning it, carbon dioxide can be stored, while planting more trees increases the amount of carbon dioxide being absorbed.
Cost challenges
In 2041, Sumitomo Forestry Co. plans to complete the construction of a 350-meter wooden structure, taller than Abeno Harukas in Osaka, which is currently the tallest building in Japan, standing 300 meters high.
Under the Building Standard Law, columns and beams require fire resistance ratings corresponding to the height of the building. Fire resistance ratings are determined by the duration a material can withstand fire exposure. In buildings with 15 or more floors, a fire resistance rating of three hours is required.
In addition to the technical aspects of advanced fire and earthquake resistance, Sumitomo Forestry has also conducted research on the psychological effects of wooden spaces on people's ability to concentrate, among other factors.
"If the performance of wood improves, it can be used in more settings," said Ichiro Nakajima, 63, director of the company's Tsukuba Research Institute. "Our goal is to turn the entire city into a 'forest.'"
The main challenge is the high cost of materials. According to Takenaka, mid-rise wooden buildings cost 10%-15% more than structures made from steel or other conventional materials.
The production of timber involves many entities, including forest owners, lumberers, processing businesses and sales firms, which adds to intermediary costs.
To cut costs, Mitsubishi Estate and other firms set up a company in 2020 to comprehensively handle the process from lumber production to sales. In May, the new company plans to begin full operation of a processing plant in Kagoshima Prefecture, which has abundant forest resources.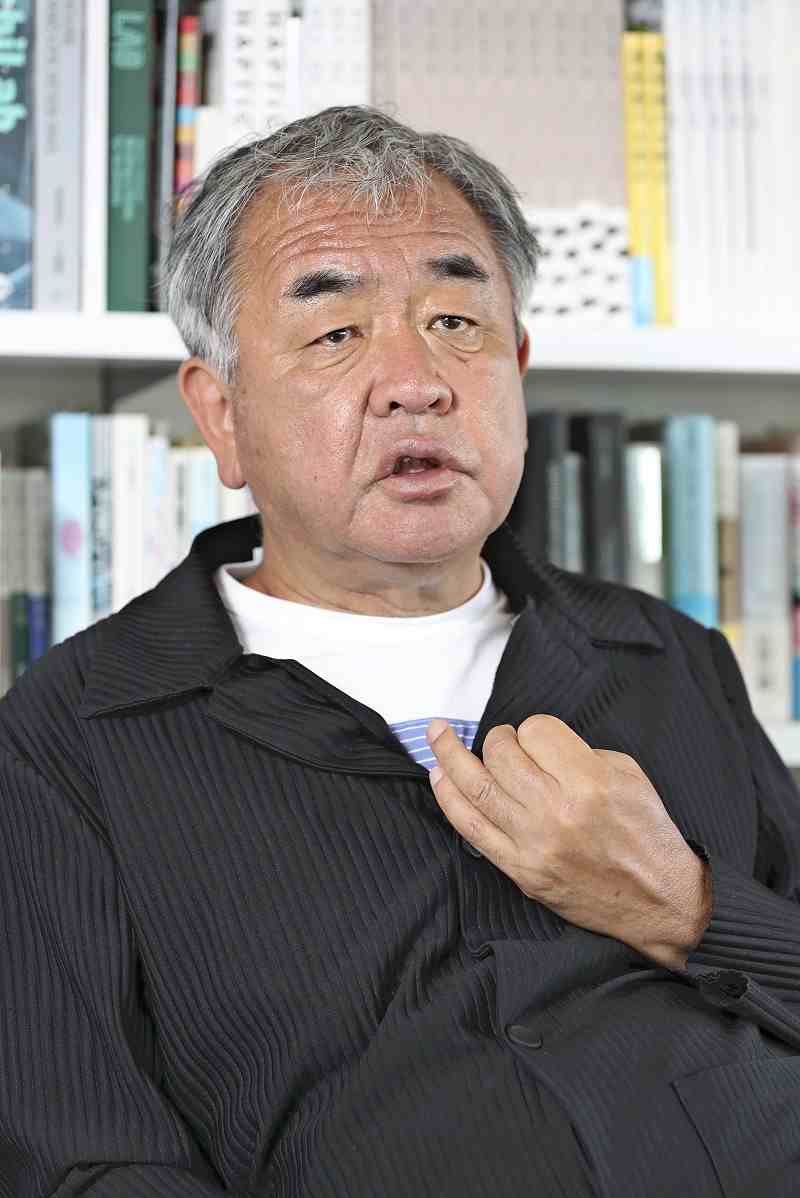 Architect Kengo Kuma, who has been involved in designing many structures that make extensive use of wood such as the National Stadium, acknowledges that materials such as concrete are sometimes needed for the foundations of buildings, but highly values wood as a material that meets the demand of the times as it contributes to decarbonization.
"Technological advances in earthquake proofing and fire resistance have overcome the weaknesses of wooden construction, and an increasing number of public and private sector clients are commissioning wooden buildings," Kuma said. "As it also brings intangible benefits such as peace of mind, wood is a material that is being sought after to enhance the appeal of cities."